By Mark Bern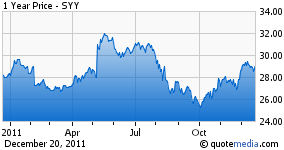 Sysco SYY is the largest food service distributor in North America. Restaurants account for about two-thirds of its revenue; other customers include educational institutions, hospitals, nursing homes, and hotels/motels. The company has over 400,000 customers and distributes food, equipment, supplies and related products.
While many of its customers get hit during recession, others do not. The company is not recession-proof, but has significant support that makes it fairly resilient in hard times. Cash flows and earnings, therefore, did not suffer much during the worst recession since the Great Depression; the impact was barely negligible. Being a conservative, long-term investor I like that about Sysco.
Another thing I like about Sysco is that when competitors are weakened by economic malaise, this company has the financial capacity to acquire those smaller companies that can help add market share and new customers. In other words, the bad times can actually help Sysco enlarge its foundation from which to build as the economy recovers.
As an investor looking for good income I like the 3.7 percent yield the Sysco dividend currently gives me. I also like the fact that the dividend has increased in every year for 41 consecutive years. I see no reason for that streak to be broken any time soon. Over the past five years, the company has averaged and increase in dividends of over seven percent per year. While the economy has some issues and growth is relatively slow, I still expect annual increases over the next five years of at least four percent per year on average.
The current price-to-earnings ratio (P/E) is about 14.8 on the current price of $29.06 (as of the close on December 20, 2011), but prior to 2007 the P/E was above 20. I don't think the expected future growth will be able to sustain those lofty multiply levels, but I do believe that a P/E of at least 16 or 17 could be sustainable as the economy picks up some momentum over the next five years. Sysco has several projects under way to improve efficiencies and control costs. I believe that beginning 2013 investors could see improvements from these efforts rolling to the bottom line.
With a solid, well covered dividend of 3.7 percent, earnings growth prospects in the high single-digit area, and a strong financial position, I think investors should consider Sysco as a potential long-term core holding.
Disclosure: I am long SYY.