A correction in the price of gold is well on its way after a substantial run up from July to early September. Gold reached an intraday high close to $1900, formed a double top and has been in a correction mode ever since. A question on many people's mind is; how far will the price of gold correct and how long will this correction last?
An aggressive run up in prices, like we witnessed this summer, usually leads to a correction in itself sooner or later. We have also had strong deflationary forces due to the debacle in Europe, pushing asset prices down, and strengthening dollar. All this is bearish for gold.
However, it is important to keep the focus on the bigger picture and not let the volatility of the market shake you out of your gold positions. The fundamentals are still in favor of gold. The problems in the world have not gone away; we still face sovereign debt wows, record deficits, high unemployment, and depreciating currencies. There is no quick fix for these problems and until these issues goes away gold will continue to outperform.
How far will gold correct?
We of course don't know for sure how far gold will correct. It has already had a 16% correction since its September high. To help answer this question it may be helpful to look at previous corrections. The chart shows any meaningful corrections since 2000 when the Bull Market began. The current correction is rather significant and has only been matched by two other corrections over the last 10 years. The steepest correction was by far in 2008, during the financial meltdown, which caused gold to correct by about 28 percent.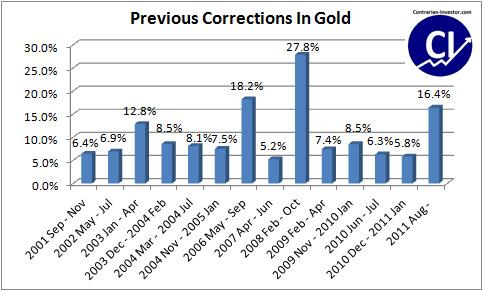 When will a bottom be established?
During previous corrections it has taken anywhere from 2 to 7 months for the market to find a bottom. The chart compares the size of each previous correction with the time it took the market to find a bottom. A 3 to 4 month period seems to be the average.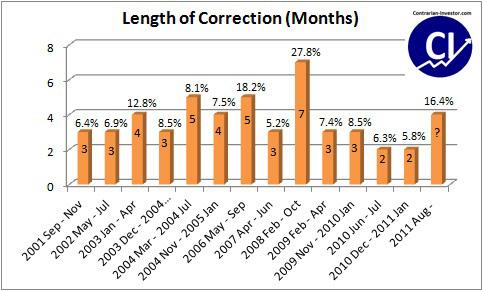 How long will this correction last?
The chart shows how long it took the market to make a new high after a correction. It has previously taken anywhere between 5 months to 11 months for gold to make new highs after similar magnitude correction. Although the past is not indicative of the future, historical date may provide us with some helpful guidance for the future.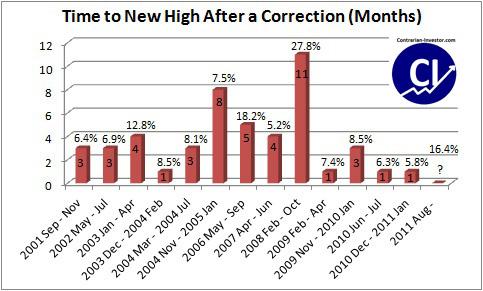 The secular bull market in gold is far from over and the latest price action is just one of many corrections. The problems in the world that has made gold desirable are still present, and the trend toward depreciating fiat currencies worldwide is intact. Gold have stood the test of time as an inflation hedge and a safe haven. I believe that this current sell-off is a grand opportunity to buy these assets at discounted prices. I suggest retail investors buy gold (NYSEARCA:GLD), gold ETF's such as Market Vectors ETF Trust (NYSEARCA:GDX), and senior mining shares such as Barrick (NYSE:ABX), Goldcorp (NYSE:GG), Newmont (NYSE:NEM), Kinross (NYSE:KGC), Yamana (NYSE:AUY) and New Gold (NYSEMKT:NGD).