Summary
Energold Drilling Corp. (OTCPK:EGDFF) is turning into a phenomenal growth story and likely one of the better investment opportunities for 2012 and beyond. The company has been firing on all cylinders with an aggressive growth strategy that has transformed an insignificant mineral exploration business into a global designer, manufacturer, and contractor of diamond drilling products and services that now operates on 5 continents and in over 20 countries. With an outstanding management team, continuing market penetration and organic growth, new market opportunities, and an astonishingly low valuation, Energold is poised to be a very successful business and investment.
Business Overview
Energold originally developed its niche by focusing on drilling technologies that are less environmentally damaging than those technologies currently in use. The desire to cater towards a more environmentally sustainable and socially responsible mandate by mining corporations turned into a research and development project resulting in drilling rigs that are sectioned into components and transported by human labor to specified locations. Demand for the company's product started to unfold, and Energold began to align core operations around designing, manufacturing, and contracting specialized drilling rigs and associated components in the mineral exploration industry.
This modular component, man portable rig technology created two very significant advantages for Energold. First, the company could focus on the niche market of "frontier" exploration drilling. Frontier drilling includes drilling in remote areas where access is difficult or impossible for traditional drilling due to lack of infrastructure or social and environment issues; this segment of the drilling and exploration market often commands higher pricing and margins, and is thus inherently more profitable than other segments. Second, these smaller, transportable rigs allow Energold to avoid high transportation costs associated with more conventional rigs that are moved by air or truck and require the construction of roads and bridges to gain access to drilling sites. Instead, Energold puts its rigs together on site and employs local capital, significantly reducing the costs of labor and transportation while benefiting local communities. Higher pricing in the frontier markets, coupled with lower costs has made Energold a highly profitable business with some of the highest margins in its industry.

Market Opportunities/ Addressable Markets
Early into their strategic initiatives, management embarked on a growth plan that would launch Energold from a specialty drilling services provider into a vertically integrated designer, manufacturer, and contractor of drilling rigs, components, and services. This allowed the company to continue its organic growth while opening the doors to new markets, better servicing of these markets, and improvement through scalability and cost efficiencies. By way of two strategic acquisitions, management transitioned Energold into three operating divisions, mineral, manufacturing, and energy.
Mineral
The mineral division is responsible for drilling services catered to the mineral exploration industry. Within this segment Energold focuses on frontier drilling, and has a clear advantage by providing the specialized and innovative technology both majors and juniors need to access the frontier space. Additionally, CEO Fred Davidson's mantra of "We'll work where no one else will," has separated his company apart from many competitors, allowing Energold to win contracts and take market share. In the third quarter 2011 this division drilled 170,300 meters, up 66% from the 102,500 meters drilled in third quarter 2010. Third quarter revenues were up 90% in 2011 versus third quarter 2010. Average revenue per meter also has been on the rise and management expects this trend to continue as demand outstrips supply.

Manufacturing
In the first quarter of 2011, Energold acquired Dando Drilling International Ltd. Headquartered in the United Kingdom, Dando designs and manufactures specialty/customized drilling rigs and ancillary equipment for water well, mineral exploration, and geotechnical drilling companies. The manufacturing division is an important and brilliant addition to the Energold profile because the company can now manufacture in house. As such, Energold can control the design/innovation phase, the production, and the supply of its products to effectively meet customer demand. Management states that it can now design more specialized rigs and produce and deliver them faster than many competitors. Additionally, Energold now benefits from cost and manufacturing efficiencies due to the fact that its rigs are less expensive to build than more conventional rigs and less expensive to build in house versus relying on a third party contractor; further efficiencies will also come from scalability as the company continues to grow.
According the company's 3rd quarter 2011 MD&A, Dando is experiencing increased demand for large multi-purpose drilling rigs primarily in West Africa. During the quarter, Dando shipped 9 rigs and year to date 20 rigs in total have been built and shipped to organizations in the mining and water well sectors. The company has also commented that West Africa is growing strongly and commands some of the highest margins they have seen. Energold's strategic objective for this division is to profitably expand Dand's core business, source additional rigs to broaden Energold's scope of services, work with Dando's engineers to develop and supply next generation drilling rigs for Energold, and capitalize on Dando's expertise to build a separate water well drilling services division for Energold. As an example of how effective management has been with this acquisition, 3rd quarter 2011 profits from the Dando division just about paid for the entire acquisition and management expects 2012 to be busier than 2011, with more than 23 rigs to be delivered.
Energy
In the third quarter of 2011, Energold acquired Bertram International Corp. a specialty drilling company servicing the energy sector in Canada and the United States, which has now been amalgamated with Energold Energy Drilling Corp. located in Alberta, Canada. Bertram currently has a fleet of 119 rigs that are designed for oil sands coring, shot-hole seismic and geothermal drilling services. According to the 2Q 2011 earnings call, Western Canada has one of the largest oil reserves in the world and Energold expects to capture this market. The acquisition of Bertram opens up an entirely new market for Energold, and management expects to develop this particular division into a much larger business. According to management, preparations are underway to undertake contracted coring services with and number of international oil and gas clients.
Outstanding Management
Rarely does a phenomenal business come without a remarkable leader, and Energold is no exception. CEO Frederick Davidson is by far one of the most important elements of the Energold story, and his unique qualities make him quite capable of turning Energold into a leading international player. Mr. Davidson holds an international MBA, is a Chartered Accountant, and has held senior executive positions in the mining industry for over 35 years, including President, CEO, and CFO; his international experience spans over 20 countries. As a public accountant, a professor, and a consultant, Mr. Davidson has compiled many areas of expertise and channels each into the success of Energold. Mr. Davidson truly is a best-in-class leader and certainly the kind of CEO that any long-term investor would want running the show.
It's important to see that Mr. Davidson has remained laser focused on maintaining a strong working capital and overall balance sheet position, so that Energold has the flexibility to maneuver through commodity cycles while capitalizing in markets where many fail. Although not an anomaly from an overall business perspective, such a strong position and ability to deliver is quite rare for a micro cap company and reinforces Mr. Davidson's prowess and business savvy.
Additionally, management's large stock ownership aligns interests with shareholders. Mr. Davidson is one of the largest holders of Energold stock.
Risks
Undoubtedly, Energold faces significant risks. The company is not immune to the cycles within the commodity industry. However with regards to this issue two points are note worthy. First, as mentioned above, Energold is well capitalized and has a history of riding out tough times. Second, with expenditures on exploration increasing throughout 2011 and expected to continue in 2012 and beyond, it seems that Energold will unlikely suffer from any cyclical downturns in the foreseeable future, paving the way for continued growth and profits.
The company operates in many corrupt and dangerous countries. This is a tremendous risk, especially considering that Mr. Davidson spends much of his time traveling to remote locations. Unfortunately, it's not out of the question to consider the possibility of a negative event directed towards Mr. Davidson, which would very likely cause serious problems to the fate of Energold. This is an unfortunate cost associated with the Energold growth story, but if anyone can maneuver the Third World terrain, it is definitely Fred Davidson. While on this topic, it should be noted that Energold has a strict and merit worthy anti- bribery policy. As stated by Mr. Davidson in a recent article, "We don't pay people off", another indication of fantastic management at work.
Competitors are an additional source of risk. Much of the niche drilling market is dominated by smaller, very fragmented private companies; Black Hawk is a good example. Smaller players do pose a risk, however as is evident by the ability to secure contracts on multiple continents and in many countries Energold is quickly gaining speed through new innovative technology, faster manufacturing times, and relationships developed as a result of doing business; smaller competitors will likely have a difficult time remaining a threat to Energold's operations going forward.
What about larger public players like Major Drilling Group, the world's second largest mineral driller? Major is very aware that mining companies continue to deplete the more easily accessible global mineral reserves, and thus attractive deposits will increasingly be in more remote locations that are either difficult to access and/or deep in the ground. Major has positioned its business strategy around this theme, focusing on "specialized drilling" services. Specialized drilling, as defined my Major, is any drilling project that, by virtue of scope, technical complexity or location, creates significant barriers to entry for smaller drilling companies. Again, Energold by passes competition by being the true leader in a niche market, and even Major's specialized focus misses Energold's core operations.
Valuation
Energold has had astonishing growth lately. Quarter over quarter percent increases in top and bottom line metrics throughout 2011 have consistently been over 100%. Top and bottom line margins have continued to improve as well. From a balance sheet perspective, on a per share basis the company has $2.17 in book and $1.55 in working capital. Before going further into the discussion of valuation, let's reiterate that this is a phenomenal growth story with outstanding management. This story is currently profitable, becoming increasingly more profitable per quarter, has a developed market niche, and is moving into areas that have potential to significantly expand scale and profits. The speed at which Energold is executing on its growth strategy is absolutely remarkable, and making even analyst predictions look sheepish. As an example, in its Mineral Drilling Industry Update, Beacon Securities pegged 2010 revenue growth at 69%. Energold actually grew YOY revenues by 139%. Beacon also pegged 2011 revenues to grow at 42%. Given the first three quarters of 2011, Energold has already grown by 79% over FY 2010 figures. Management continues to reinforce on earnings calls that growth is the trend for Energold, not the exception.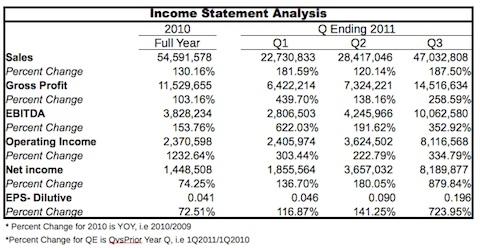 So what is Energold worth? What multiple should such a growth business trade for? It can't be said for sure, but what is certain is that the company isn't there now. Energold currently sells for ~$4.50 per share. The company is on track to do $1.00 in EPS by 2012. What if it does a $1.20? What forward multiple would be appropriate for this business? It's currently selling for just around 4.5X 2012 earnings. Please point me to other profitable companies selling for 2X book and 4.5X earnings, growing 100% YOY, blowing past professional estimates, and that have such wonderful leaders.

Jennings Capital is one of the few firms following Energold, and based on their November 2011 report Energold should be priced at a 10X forward multiple. If Energold were to do $1.00 in earnings in 2012, this would suggest the company is worth around $10, a double to today's price. What is interesting, however, is that since 2006, according to Jennings, Energold has traded at an average multiple of 16X and a high of 63X. Using these metrics, the company could theoretically trade anywhere between $16 and $63. What's more interesting is that Energold is now better positioned and more rapidly executing on its aggressive growth strategy than it has in any other time in its existence, indicating a premium will certainly be warranted as investors warm up this little company.
Why this Opportunity Exists
Such an amazing opportunity rarely presents itself to investors at such a bargain price. There seem to be a few main causes for the existence of this one. The company is small and thus overlooked by larger buy-side firms and sell-side analysts. Also, on a stock exchange that is often highly promotional, no one is promoting this company. Management is clearly focused on operations, not on stock promotions. In fact, Mr. Davidson does not seem to be even slightly concerned with how his stock trades; his concerns are execution related, not stock market related. Thus, the opportunity is left for bargain hunters to seek out. Finally, drilling is somewhat of an opaque business to understand; as a result investors and analysts likely have either ignored Energold or misunderstand its operations. Let's not forget the huge variance between Beacon's estimates and actual results.
Will the Opportunity Continue
Perhaps, but I suspect that it will not last much longer for the following reasons. Investors painstakingly seek out growth opportunities, and presently we are presented with fewer and fewer investments that can be picked up at good prices. At current prices, I would not be surprised to see a buyout offer, as investors of all types look for opportunities, especially in new innovative and niche areas. Growth is not easy to find in the developed markets, and much harder to find at bargain values. Finally, smaller investors are beginning to warm up to Energold, and this investment thesis has already been filtered through a small and intelligent circle. Additionally, Jennings Capital placed Energold on its top 2012 buy list, which came out December 16 2011. This likely will further the interests of those who have not yet looked at the Energold story.
Conclusion
As the global engine continues its pace, all economies will be forced to deal with macro issues such as availability of food, clean water, energy, resources, and habitable land. These will remain key components, as will the exploration for and development of these components. According Metals Economics Group estimates, nonferrous mineral exploration expenditures for 2010 reached $12.1 billion, up from $8 billion in 2009 and just shy of the $14 billion peak reached in 2008. Spending in 2011 is expected to increase 23% YOY, and gold was the most favorable metal accounting for 51% of exploration spending, reaching a new high of $5.4 billion. Global financings have recovered since 2009, creating more access to capital to major, intermediate, and junior mining companies.
Global gold reserves have been decreasing since 2001, while the number of significant discoveries has also continued to diminish, as outlined by U.S. Geological Survey. As noted by Beacon, exploration is critically important to intermediate and senior minors with existing reserves. Rio Tinto (NYSE:RIO) stated, "As fewer than 0.1 percent of exploration targets will deliver a discovery, we need a continuous pipeline of opportunities", highlighting the ongoing challenge of replacing reserves. Thus, the search for new discoveries will likely require miners to move further into remote locations; both Major and Energold understand this quite well.
All this bodes well for Energold. The company remains centered within many of these macro themes, and is very well positioned. With Frederick Davidson leading the way, Energold is poised for further success and investors currently are presented with an entry point if they would like to participate along the way.
* The author of this article hopes for intelligent comments on this thesis. We are open to, and hope for, counter arguments why Energold is a good investment and/or what we may be missing.
Disclosure: I am long OTCPK:EGDFF.