As part of our process, we perform a rigorous discounted cash-flow methodology that dives into the true intrinsic worth of companies. In Republic Services' (NYSE:RSG) case, we think the firm is significantly undervalued at today's prices. We think its fair value is $39 per share.
For some background, we think a comprehensive analysis of a firm's discounted cash-flow valuation, relative valuation versus industry peers, as well as an assessment of technical and momentum indicators is the best way to identify the most attractive stocks at the best time to buy. This process culminates in what we call our Valuentum Buying Index, which ranks stocks on a scale from 1 to 10, with 10 being the best.
If a company is undervalued both on a DCF and on a relative valuation basis and is showing improvement in technical and momentum indicators, it scores high on our scale. Republic Services scores a 6 on our scale (reflecting its undervaluation, but bearish technicals). We are currently evaluating adding to our position in Republic in the portfolio of our Best Ideas Newsletter.
Primer on the Waste Industry
As Benjamin Franklin once said, "nothing is certain but death and taxes." If he had lived during our time, Franklin would probably have added a couple other certainties - and garbage would have been among them.
The U.S. non-hazardous solid-waste services industry generates annual revenue in excess of $50 billion, a staggering number just to keep our streets clean. Public companies (like Waste Management (NYSE:WM), Republic Services, Waste Connections (NYSE:WCN), etc.) dominate this market, generating greater than 60% of industry revenues and controlling an equal percentage of valuable disposal capacity. The top line for the group can be expected to expand at a nominal-GDP rate, with pricing growth in the industry adding an additional tailwind thanks to recent consolidation (Republic Services/Allied Waste), a rational focus on return on invested capital, and cost pressures facing independent mom-and-pop trash companies and municipalities.
There are a couple reasons to be fans of the waste-services industry:
1) Operators generate strong and predictable cash flow.
Within the collection line of a waste hauler's business (typically 60-70% of revenue; about 75%-plus in Republic's case), residential services provided to municipalities and individual households are on a service-based model (not-volume based) and can largely be viewed as insulated from economic pressures. Such a constant revenue stream helps to mitigate cyclical pressures in a trash taker's commercial collection and industrial roll-off lines, which also fall into the overall waste-collection category.
Cell-by-cell landfill build-out provides additional flexibility with respect to capital outlays, as haulers can scale back expenditures during troubled economic times. Waste Management's results speak to the cash-flow stability of this business, and Republic's free cash flow margin will return to double-digit levels this year following its acquisition of Allied Waste a few years ago.
2) There are huge barriers to entry in the landfill business.
Transfer and disposal (typically 20%-30% of revenue; about 18% of revenue in Republic's case) is the most lucrative revenue stream in the waste business. Landfill ownership can largely be viewed as the primary competitive advantage for a solid-waste operator. Though anyone that can finance a truck can bid on collection routes (service is undifferentiated), new entrants are at a significant disadvantage for disposal.
For starters, building a landfill is expensive, time-consuming (permits can take 3-7 years to obtain, sometimes longer), and NIMBY (not-in-my-backyard) opposition has only increased with suburban sprawl. Subtitle D of the Resource Conservation and Recovery Act (1991) significantly increased the cost and complexity of landfill ownership (composite liners, leachate collection systems, zoning, etc.). As a result, many landfills in the U.S. have been closed, and disposal airspace should only become more valuable over time.
Since collected waste must go somewhere (direct haul is only practical for 40-50 miles), the company that controls the disposal assets in a given "wasteshed" (locality) often dictates pricing. Owning the only dump in town also limits hefty tipping fees paid to other participants. Waste Management and Republic Services internalize--dispose of into their own company-owned landfills--more than 60% of collected waste, bolstering operating margins relative to privately-held, independent operators. Importantly, landfilling still represents the most prominent form of disposal, declining only 3 percentage points (as a percentage of generation) during the last decade. Materials recovery (including recycling) should continue its march upward, but the pace of this trend is far from tragic for the waste-hauling sector.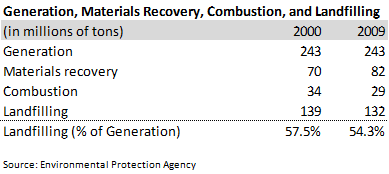 Our Report on Republic Services
click to enlarge images
Investment Considerations
Investment Highlights
Republic Services earns a ValueCreation™ rating of EXCELLENT, the highest possible mark on our scale. The firm has been generating economic value for shareholders for the past few years, a track record we view very positively. We expect the firm's return on invested capital (excluding goodwill) to expand to 21.6% from 20.2% during the next two years.
Republic Services 's valuation is compelling at this time. The firm is trading at a nice discount to our estimate of its fair value, even after considering an appropriate margin of safety. The firm's forward earnings multiple and PEG ratio also look attractive versus peers.
Republic Services 's cash flow generation is robust, but its financial leverage could potentially be concerning down the road. If cash flows begin to weaken, we'd become more cautious on the firm's overall financial health.
Relative stock price performance, undervaluation, and dividend yield of 3.3% may make it attractive to a variety of investors. Having more types of investors interested in its shares increases the potential for future stock price appreciation, in our opinion.
The firm sports a very nice dividend yield of 3.3%. We expect the firm to pay out about 46% of next year's earnings to shareholders as dividends.
Recent Quarterly Results
Republic Services posted nice third-quarter results that showed the best organic top-line expansion in years and double-digit operating-income and earnings-per-share increases. We are retaining our position in our Best Ideas portfolio and see no reason to change our fair value estimate at this time.
Economic Profit Analysis
The firm's core pricing advanced 0.7% in the period (slightly lower than management's expectations), while fuel surcharges and commodities pricing added another 1.2% and 1.7%, respectively, to top-line growth. Republic's municipal solid waste landfill prices increased 3%, which improved sequentially. Core volume also nudged up slightly in the period, excluding the San Mateo and Toronto contract losses--the ninth consecutive quarter of volume improvement. Importantly, the volume increase compares to a 2.5% decrease in the year-ago period and may suggest the bottom might be in, as it relates to volumes. All-in internal growth was 2.6% in the period versus -0.6% in last year's quarter, so Republic's quarter could represent a nice inflection point in fundamental performance. In fact, the firm's internal growth in the period was the best since 2008.
The garbage hauler reaffirmed its 2011 financial guidance for adjusted diluted earnings per share, as well as its adjusted free cash flow outlook ($900 million at the high end), a forecast we believe is readily achievable--the firm has already pulled in over $700 million through the first three quarters. We maintain that Republic Services is a core position in our Best Ideas Portfolio on the basis of our DCF valuation process and think its recently increased dividend--it upped its dividend 10% earlier this year -- has further room to expand thanks to the firm's strong and predictable cash flow stream and comparatively low payout ratio.
The best measure of a firm's ability to create value for shareholders is expressed by comparing its return on invested capital (ROIC) with its weighted average cost of capital (WACC). The gap or difference between ROIC and WACC is called the firm's economic profit spread. Republic Services 's 3-year historical return on invested capital (without goodwill) is 16.6%, which is above the estimate of its cost of capital of 8.1%. As such, we assign the firm a ValueCreation™ rating of EXCELLENT. In the chart below, we show the probable path of ROIC in the years ahead based on the estimated volatility of key drivers behind the measure. The solid grey line reflects the most likely outcome, in our opinion, and represents the scenario that results in our fair value estimate.
Cash Flow Analysis
Firms that generate a free cash flow margin (free cash flow divided by total revenue) above 5% are usually considered cash cows. Republic Services 's free cash flow margin has averaged about 6.1% during the past 3 years. As such, we think the firm's cash flow generation is relatively STRONG. The free cash flow measure shown above is derived by taking cash flow from operations less capital expenditures and differs from enterprise free cash flow (FCFF), which we use in deriving our fair value estimate for the company. At Republic Services, cash flow from operations increased about 180% from levels registered two years ago, while capital expenditures expanded about 105% over the same time period.
Valuation Analysis
Our discounted cash flow model indicates that Republic Services' shares are worth between $29.00 - $49.00 each. The margin of safety around our fair value estimate is driven by the firm's MEDIUM ValueRisk™ rating, which is derived from the historical volatility of key valuation drivers. The estimated fair value of $39 per share represents a price-to-earnings (P/E) ratio of about 29.7 times last year's earnings and an implied EV/EBITDA multiple of about 9 times last year's EBITDA. Our model reflects a compound annual revenue growth rate of 1.8% during the next five years, a pace that is lower than the firm's 3-year historical compound annual growth rate of 36.7%. Our model reflects a 5-year projected average operating margin of 22.8%, which is above Republic Services 's trailing 3-year average. Beyond year 5, we assume free cash flow will grow at an annual rate of 1.5% for the next 15 years and 3% in perpetuity. For Republic Services, we use a 8.1% weighted average cost of capital to discount future free cash flows.
Margin of Safety Analysis
Our discounted cash flow process values each firm on the basis of the present value of all future free cash flows. Although we estimate the firm's fair value at about $39 per share, every company has a range of probable fair values that's created by the uncertainty of key valuation drivers (like future revenue or earnings, for example). After all, if the future was known with certainty, we wouldn't see much volatility in the markets as stocks would trade precisely at their known fair values. Our ValueRisk™ rating sets the margin of safety or the fair value range we assign to each stock. In the graph below, we show this probable range of fair values for Republic Services. We think the firm is attractive below $29 per share (the green line), but quite expensive above $49 per share (the red line). The prices that fall along the yellow line, which includes our fair value estimate, represent a reasonable valuation for the firm, in our opinion.
Future Path of Fair Value
We estimate Republic Services 's fair value at this point in time to be about $39 per share. As time passes, however, companies generate cash flow and pay out cash to shareholders in the form of dividends. The chart below compares the firm's current share price with the path of Republic Services' expected equity value per share over the next three years, assuming our long-term projections prove accurate. The range between the resulting downside fair value and upside fair value in Year 3 represents our best estimate of the value of the firm's shares three years hence. This range of potential outcomes is also subject to change over time, should our views on the firm's future cash flow potential change. The expected fair value of $48 per share in Year 3 represents our existing fair value per share of $39 increased at an annual rate of the firm's cost of equity less its dividend yield. The upside and downside ranges are derived in the same way, but from the upper and lower bounds of our fair value estimate range.
Pro Forma Financial Statements
Disclosure: I have no positions in any stocks mentioned, and no plans to initiate any positions within the next 72 hours.