Shares of Amazon.com (NASDAQ:AMZN) have been flat for the year, along with the rest of the market, as it closed 2010 just under $182 and currently trades around $180. The company seems to be making short-term sacrifices for the sake of long-term growth and sustainability. It is quite possible that the stock could close out a year in the red for the first time since 2008. The current share price may be reflective of the facts that its YOY earnings growth is off by 54% and the most recent quarterly earnings growth reflected a nearly 73% decline from the same period last year.
| | |
| --- | --- |
| Most Recent Income Statement: |   |
| Revenue (ttm): | 43.59B |
| Revenue Per Share (ttm): | 96.55 |
| Qtrly Revenue Growth (yoy): | 43.90% |
| Gross Profit (ttm): | 7.64B |
| EBITDA (ttm)1: | 1.75B |
| Net Income Avl to Common (ttm): | 870.00M |
| Diluted EPS (ttm): | 1.90 |
| Qtrly Earnings Growth (yoy): | -72.70% |
AMZN 52-Week Chart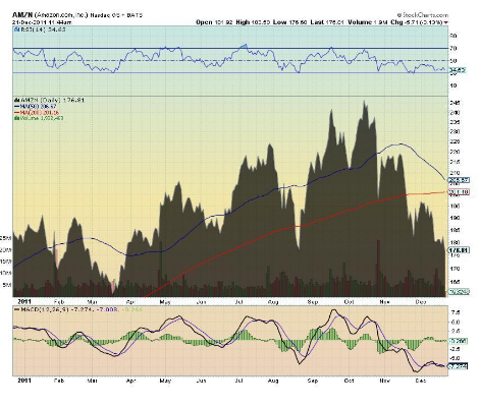 Though the stock is currently trading about 27% below its 52-week high, which was forged in mid October, and those with generally bullish 2012 outlooks may find current levels attractive, there are some reasons investors may want to stay on the sidelines for the time being and keep a close eye on the online retail giant's next big move, which may initially have a negative impact on the stock price.
2012: Major acquisitions in already the works?
| | |
| --- | --- |
| Balance Sheet: |   |
| Total Cash (mrq): | 6.33B |
| Total Cash Per Share (mrq): | 13.91 |
| Total Debt (mrq): | 0.00 |
| Total Debt/Equity (mrq): | N/A |
| Current Ratio (mrq): | 1.33 |
| Book Value Per Share (mrq): | 17.07 |
As the company looks to make further inroads into the tablet market, it seems equally focused on entering the mobile handset space by means of acquiring telecommunications companies and handset makers. This is in addition to its reported interest in acquiring companies like eBay (NASDAQ:EBAY) to gain access to additional sales platforms, payment acceptance methods, and sizable customer bases, among other items.
I had a good laugh on Tuesday when I read a report that Research In Motion (RIMM) had outright rejected buyout offers from the mighty Amazon, as RIM seems to believe that it can work its way out of its current mess on its own. It was RIM's best ideas that put itself in such an unenviable position in the first place. Why are we to believe it is capable of turning things around on its own? I suppose that's another story altogether. The point is, Amazon has its sights on competing with Apple (NASDAQ:AAPL) in the handset and tablet spaces, and I am of the belief that it will accomplish its objectives in 2012.
Though Amazon reported that it has been selling over 1 million Kindles a week recently, it surely realizes that the only way to truly go head to head with Apple and potentially eventually gain a competitive advantage over the iPad maker is to make some large acquisitions of telecommunications service providers and handset makers. Accordingly, I expect that the trend of short-term sacrifices for the long-term greater good will continue next year as it makes costly acquisitions that would likely not become profitable for the company for quite some time.
Under this potential scenario, tremendous buying opportunities may present themselves throughout 2012, as Amazon's share price may take some short-term hits as the result of any major M&A news which may come to surface.
I am a firm believer that Amazon's longer-term story will be one of many successes. As such, and given the above, I intend to buy some puts against my current holdings and will be on watch for oversold conditions and plan to buy any major dips.
Abbreviation guide for the above tables:
K = Thousands; M = Millions; B = Billions
mrq = Most Recent Quarter (as of Sep 30, 2011)
ttm = Trailing Twelve Months (as of Sep 30, 2011)
yoy = Year Over Year (as of Sep 30, 2011)
lfy = Last Fiscal Year (as of Dec 31, 2010)
fye = Fiscal Year Ending
1 EBITDA is calculated by Capital IQ using methodology that may differ from that used by a company in its reporting
Disclosure: I am long AAPL, AMZN.