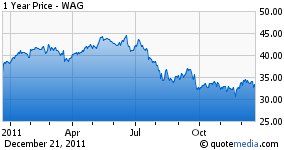 Walgreens (WAG) is in big, big trouble.
The company's dispute with pharmacy benefit manager Express Scripts (ESRX), under which the company won't be able to fulfill ESRX prescriptions starting in January, has already caused an earnings miss.
The company can either settle with ESRX on that company's terms or hope government action, like a delay in Express Scripts' acquisition of Medco (MHS), could help break the impasse on better terms.
Meanwhile, WAG shares are down 15% while those of rival CVS (CVS), which has a PBM in Caremark, are up 15% over the last three months. And Rite Aid (RAD), which might have made a good acquisition a few years ago, is circling the drain.
The problem is that, in order to save money on drugs, Americans are moving strongly toward PBMs, which often mail product directly and bypass stores entirely. Without a PBM in-house, or at least a good relationship with one, drug stores can no longer compete.
In preparation for this move, Walgreens had been moving toward becoming a first line provider of basic health services, not just a purveyor of medicines, as I wrote about in June. But if you took that as a buy signal, you're down nearly a third.
Drug stores are still drug stores.
The ESRX acquisition of Medco is getting close scrutiny with many in the antitrust field demanding it be prevented, but Medco shareholders formally approved it this week and the FTC is now expected to follow suit.
Even if that agency or Congress put the kibosh on the deal, Walgreen's dispute is with ESRX, and it still stands to lose unless that deal is turned around.
Walgreen's is losing in the market, and it's losing in Washington. Great damage has already been done, and more is likely to be. The failure to deal threatens WAG's move into health care services, and is very bearish for the stock.
I personally bought into Medco a few months ago, because I believe it will get done, but I plan on taking my profits once that happens.
Disclosure: I am long MHS.