Over the past 18 months American Tower Corp. (NYSE:AMT) has radically shifted its business, doubling the size of its overseas business. Overseas markets accounted for 15% of revenues in 2009 and now account for 30% of AMT's business. This has come at an enormous cost. Entering into new markets is expensive and managing assets in different markets presents many challenges. AMT has spent enormous resource acquiring assets and managing them in emerging and frontier markets. AMT's management has characterized this shift as part of their growth strategy going forward. There are two main problems with this:
At what cost is this growth worth having?
These acquisitions have not allowed AMT to leverage their SG&A costs, in fact quite the opposite.
Buying towers hand over fist in disparate operating environments can be value destructive if AMT pays too much for it. How much a tower is worth depends on AMT can do with it, and how much it costs to operate it. Judging from the prices paid recently for towers in Ghana, it looks like AMT is making unrealistic assumptions to justify the purchase price. In the case of Ghana where the company paid $273,077.00 each for 1,170 towers, it seems AMT used the same type of assumptions they did in Latin America where they said they could "Pretty much eliminate the SG&A". This is unfortunately not the case, and the numbers start to get big.
It is very difficult if not impossible to effectively leverage domestic SG&A into far-flung markets globally. This is borne out by the numbers. It is no coincidence that SG&A costs are growing 3x as fast as revenues are. The reason is that the company is duplicating their SG&A costs overseas, not leveraging it as they thought they could.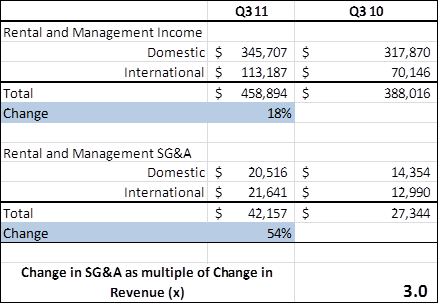 Source: Company Filings and Analytic Firepower Analysis
Follow the Money
One element of the SG&A cost is executive compensation. Currently AMT's executives are very highly compensated. In 2010 the CEO had total compensation of $6.2 Million, the top 5 executives at the company were paid over $18 million in total. The CEO has sold over $9 million of stock representing 78% of his vested holdings in the past 6 months.
According to AMT's latest proxy filing, management's performance is measured primarily by two line items, Rental and Management Revenue, and Adjusted EBITDA. AMT allows management to determine a reasonable goal and if they exceed it they are handsomely rewarded with bonus and incentive pay. It should come as no surprise that AMT manages to exceed both of these measures every year, given that they are determined by the same people who stand to benefit from the bonus. More disturbingly however is that the measurements which motivate management, are not directly related to adding value for shareholders.
Managements compensation being a function of revenue growth creates a perverse incentive to grow the top line without regard for the value addition of the growth. This is exactly what the company seems to be doing.
The CFO summed it up at a recent presentation when asked to encapsulate the strategy going forwards: "add as many assets as we can …"
Indeed the company has been very acquisitive, having added 12,000 towers in last 18 months. 11,000 of them internationally. My question is at what cost is this growth occurring.
It is possible to show enormous revenue growth and destroy shareholder value in the process. If I were to sell $10 bills for $8.50, I could show substantial revenue growth until I ran out of $10 bill to sell. Keeping with this analogy, if I knew that I could earn a bonus by showing even more growth even when I didn't have anything more to sell, I would borrow as many $10 bills as I could to earn my bonus.
AMT has become increasingly leveraged over the past few years. They have stated that their target gearing is 3.5-4x (Debt/EBITDA). With their recent acquisitions and their oddly timed $500 million bond offering in October, the company is now outside of this target range. This higher gearing limits their flexibility going forward and at least some market participants have started to notice.
AMT's cost of funding has increased radically. On September 30th their 4.5% notes of 2018 yielded 4.68%. 3 Days later the company issued $500 Million of 10 year notes yielding 5.9%.
Why would a company with such a rosy outlook need to sell that much debt in a hurry, on the day that Greece looked like it was falling off the map.
The answer is that they did the deal probably because they had to.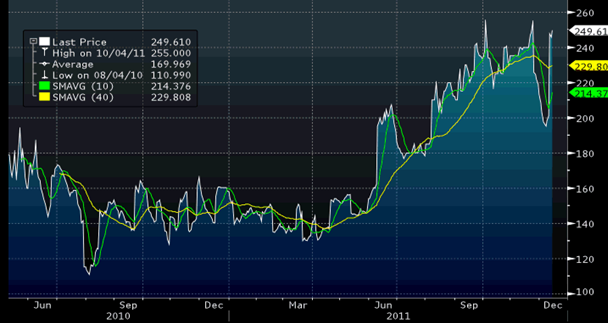 Source: Bloomberg
The bond market doesn't like what it sees, an interesting gauge I like to look at is the Credit Default Swap Spread. (CDS Spread) The CDS for AMT has widened by 100 basis points since the SEC subpoena. Maybe this is a coincidence, but probably not. In any event the clear perception in the bond market is that AMT is more risky and not less since June.
Welcome to India ...
Judging from the substantial F/X hit and the high level of activity the company has in emerging markets, it seems pretty clear that the company has short U.S. dollar exposure, most likely in the form of emerging and frontier market currencies where it is investing. (i.e. Columbian Peso, Indian Rupee etc). If I had to guess I suspect that the bulk of the exposure is against the Indian Rupee, which of course they do not disclose.
"For the quarter, the majority of our international new tower build (were in) India, where we are working on a built-to-suit project for both Reliance and Vodafone ..."
-AMT 3rd Quarter Conference Call
| | |
| --- | --- |
| USD vs. Columbian Peso | USD vs. Indian Rupee |
| | |
The bad news for AMT though, is that most likely they are notionally long all those Rupees by virtue of the stuff they own in India, the situation warrants far more concern that just calling it a one-off currency translation adjustment. India is dealing with a structural current account deficit primarily stemming from its negligible oil production and it's fuel-hungry economy. With a soft economy and high inflation (stagflation), the situation is likely to persist, the end result being that the value of both the Rupees and investments in India are worth less when measured in U.S. dollars.
More importantly is what has happened since the end of the quarter on September 30th. To date the Indian Rupee has depreciated a further 4.5% since Sept 30th. Let's just call that another $200 million F/X hit, but hey ... it's just f/x, or is it??
Next in this series on AMT ... REIT Deconstructed ... a good idea or just looking for the greater fool?
Disclosure: I am short AMT.I have negative net delta options position on AMT.