Cotton as with just about all commodities has optimal growing conditions, which are found in many places around the world. Cotton requires longer periods of sunny days and temperatures that don't dip toward frost or freezing. Cotton as a global commodity is impacted by climate (weather) change. But due to the growth of international trade, one area's short fall is made up by the bumper crop of another.
Here are (courtesy of indexmundi.com) 2010 – 2011 cotton production stats, exports, imports, and domestic consumption:
The top 5 cotton producing countries:
China
India
United States
Pakistan
Brazil
The top 5 cotton exporting countries:
United States
India
Australia
Brazil
Uzbekistan
The top 5 cotton importing countries
China
Bangladesh
Turkey
Indonesia
Thailand
The top 5 countries– cotton domestic consumption
China
India
Pakistan
Turkey
Brazil
Impact of La Nina on Cotton Supply Chain
Here are the two basic cotton supply chains:
Cultivation>Harvesting>Ginning>Raw Cotton (35 – 40%)>Textiles
Cultivation>Harvesting>Ginning>Seed Cotton (60 – 65%)>Linters (quality paper, industrial products, polymers) / Cotton Seed (Oil stearin, glycerin, cooking fat, cattle feed, fertilizer)
La Nina winters produce dry/drought conditions across the southern United States from Florida, to California. The graph below shows the latest forecast from the NOAA. While improvement has been seen in some areas the dry/drought conditions will persist throughout most of Texas, New Mexico, and Arizona. Southern California is expected to slip back under drought conditions.
Farms in Texas have been devastated and without sufficient rainfall the 2012 crop looks doubtful. California farms are not likely to be overly effected by a developing drought in 2012.
(Click charts to expand)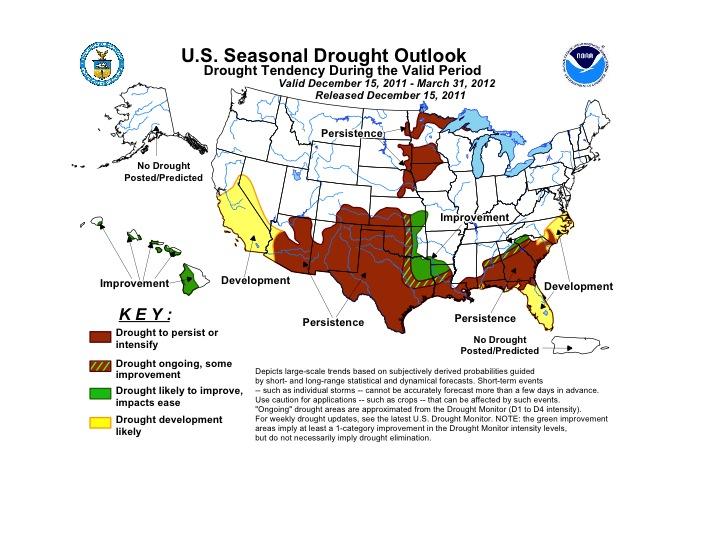 Source: NOAA and U.S. Department of Commerce
The impact of a continued La Nina "induced" drought spread across almost the entire cotton belt of the US. Texas, Alabama, Georgia and South Carolina, remain hard hit.
SUPPLY & DEMAND
The latest estimates from the US Department of Agriculture (USDA) and approved by the World Agricultural Outlook Board (WAOB) for world agricultural supply and demand estimates (source: WASDE – 501) reveal for cotton:
The 2011/12 U.S. cotton supply and demand estimates include lower production, domestic mill use, and ending stocks. Production is reduced 473,000 bales due to decreases in all regions except the far West. Domestic mill use is reduced 200,000 bales based on lower-than-expected use in recent months. The export estimate remains at 11.3 million bales. Ending stocks are now forecast at 3.5 million bales, or 23.5 percent of total use. The forecast marketing year average price received by producers of 85-95 cents per pound is narrowed 1 cent on each end of the range.
Lower consumption is boosting the forecast 2011/12 world ending stocks by 2.7 million bales this month. Beginning stocks are raised nearly 300,000 bales and world production is forecast nearly 500,000 bales lower, due mainly to the reduced forecast for the U.S. crop. World consumption is reduced sharply, reflecting continued weak mill demand owing to an uncertain world economic outlook.
World trade is revised up slightly, despite lower world consumption, due to strong import demand by China, which is supported by purchases for the national reserve.
World ending stocks are now forecast at 57.7 million bales, an increase of 27 percent from 2010/11, and accounting for 52 percent of world consumption."
Once again, the caveat seems to be Chinese demand. Although China is among the top 5 cotton producers it cannot meet domestic demand, placing China as the number one importer of cotton. How well the PRC handles domestic inflation will impact its economy which in turn (ripple effect) motivates consumers to spend.
The largest cotton grower in the U.S. is J.G. Boswell Co. (OTCPK:BWEL). JG Boswell is a very close-knit and tight-lipped company. Located in California, and Australia, the U.S. farms devote approximately 1/3 of 150,000 acres to cotton. Boswell mills Pima cotton and markets and sells to textile makers worldwide. Auscott, the Australian subsidiary, is a major grower, ginner and marketer of Australian cotton.
In addition to farming and processing its own cotton, the company crushes its cottonseed and safflower into by-products, which are in turn distributed within the "feed" and food sectors. Boswell is also a major grower and supplier of tomatoes from two farms in California. The company also has tomato processing plants and livestock facilities.
Outside of agriculture J.G. Boswell owns real estate development companies involved in both residential and industrial communities.
The table below contains companies that are focused (produce up to 50% of revenue from sector) in the Apparel sector and have a market cap of greater than $1 billion.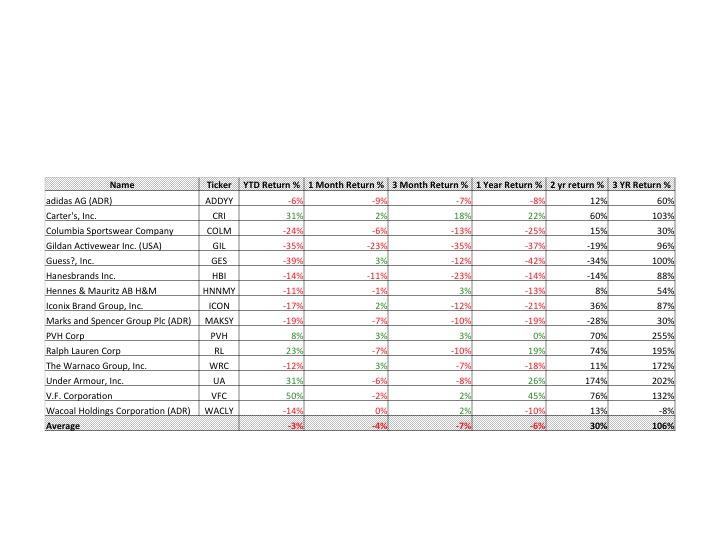 When cotton prices reached new highs in March 2011, retailers raised their prices to cover inventory costs. Now that cotton prices have dropped about 60% from the March 2011 high, expectations would be for the ripple to find its way back to the consumer level. Don't bet on it.
American Eagle Outfitters (NYSE:AEO) reported gross margins were "significantly pressured" by higher cotton prices while Philips Van Heusen (NYSE:PVH) had an easier time passing the cost on to its customers.
Gimme Credit states that PVH is likely to keep the higher prices even as the cost of cotton comes down. Why? "It's hard to get a price increase and once you get it you don't want to give it back."
Technical Outlook for Cotton and the Apparel Sector
Cotton prices peaked in March 2011 at 210.64 (basis the spot) and immediately turned and dropped 60% in nine months. The long-term technical outlook remains bearish for cotton prices. A near- to mid-term bounce is likely but overall expectations would be for the downside to ulimately drop prices back toward the 2001 lows at 26.27 (basis spot). Support along the way should be found at 70, 61, and then 26.
The apparel sector should continue to present some interesting opportunities over the coming quarter or two. Again, I concentrated on companies that are Focused (generate 50% of revenue) in the Apparel sector and have a current Market Cap greater than $1 billion.
The list is evenly split between companies that appear ready to correct and those ready to put in a rally. The two graphs below show the breakdown -
I strongly advocate doing due diligence before doing any trade to insure the trade fits your objectives, risk/reward profile, and portfolio ability. Commodities have long histories of sudden parabolic type moves in either direction.
Disclosure: I have no positions in any stocks mentioned, and no plans to initiate any positions within the next 72 hours.