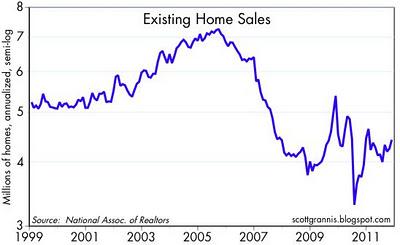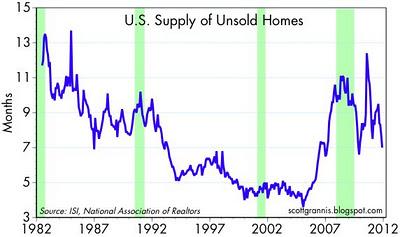 There were large revisions to the past few years' data on existing home sales, but the net result was a substantial reduction in the inventory of homes for sale. (See today's excellent posts on Calculated Risk for a detailed discussion of this.)
The current inventory is now back down to levels last seen in 2005, and that brightens the outlook for the housing sector. Even the shadow inventory of homes (those with serious delinquencies and very likely to be foreclosed and sold) has declined, though it remains substantial. And even though the current sales rate is still far below what we saw in the heydays of the housing boom, the month's supply of inventory (second chart above) is now substantially lower than the levels that prevailed throughout the 1980s, and that, in turn, diminishes the threat of the shadow inventory.

In sum, the housing market has undergone a gigantic and very painful adjustment, but the market is clearing, and the overhang of unsold homes now is on a par with what we have seen before and survived. Moreover, financing costs are at record-low levels, and the economy continues to grow and incomes continue to rise. Therefore I don't think it is likely that the existing and shadow inventory of homes for sale implies a further wrenching adjustment. I continue to believe that we have seen the worst for the housing market.