As worldwide labor wages rise, many companies are replacing workers with robots. Incorporating robotics into manufacturing is the only way to battle rising production costs long-term. China is no exception. It is expected to see the largest robotics growth even though its labor is currently cheap. Foxconn, a company that manufactures for Apple (NASDAQ:AAPL), Dell (NASDAQ:DELL), Hewett-Packard (NYSE:HPQ), and Nokia (NYSE:NOK) plans on replacing workers with 1 million robots in the next three years alone.
Adept Technology's (NASDAQ:ADEP) recent strategy involved two acquisitions to extend product offerings. InMoTx, acquired in January 2011, improves the robotic gripping technology of Adept's robots. Adept leads the natural food packaging market with the only USDA approved parallel robot, which has been further extended with this acquisition. Mobile Robots was acquired in June 2010 improving Adept's robotic capabilities into mobile applications. This move has already led to additional business. In August, Adept became the exclusive provider of autonomous mobile robots to Swisslog Healthcare Solutions. These robots are being used in hospitals, labs, and clinics to transport specimens, lab samples, and pharmaceuticals.
Growth in industrial robotics has done little to bring appreciation to Adept Technology, which has seen its share price deteriorate 55% from a high of $5.17 in 2011 alone.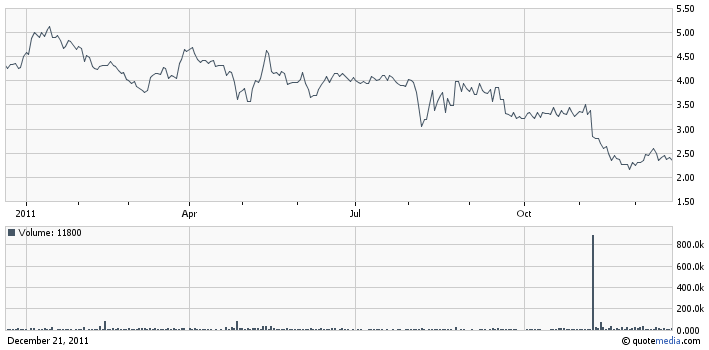 Hidden Value
Adept is poised to ride the impending wave of robotic automation in multiple industrial applications. With a current attractive share price, investors should consider a position. Adept Technology's hidden value lies in 20 years of experience with automation and over a dozen patents with smart camera systems used in robotic automation.
The XBOX 360 Kinect from Microsoft (NASDAQ:MSFT) uses digital camera recognition to play a video game. Adept's core competency involves extending this technology beyond entertainment and the potential is huge. For example, Google (NASDAQ:GOOG) is in the process of automating the car through the use of lasers, cameras, and various sensors. As automation technology increases, so does the reality of smart robots in everyday use along with Adept Technology's experience and intellectual property.
Disclosure: I am long ADEP.