Electronics retailer Best Buy (NYSE:BBY) once again has reported a disappointing quarter, but some wonder if the worst case scenario is now fully priced in. After all, BBY is now trading just a few points off of its 2008 lows. In 2008, the economy was much worse than it is now, and BBY was facing stiffer competition in the way of now defunct Circuit City. Below is a 5 year chart of BBY.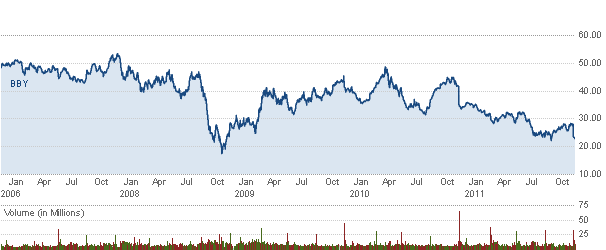 (chart: CNBC)
As you can see, shares of BBY have not fared well in 2011. However, some argue that while BBY certainly has problems the stock is too cheap to ignore. BBY is trading at a PE ratio of just 8 and pays a dividend of 2.84%. While these metrics suggest BBY is a value, there are greater issues under the surface that make BBY a sell.
Margin Problems
Revenue for Q3 rose 2% year-over-year to $12.1 billion, but profits declined 29% to $154 million. This is the result of stiffer competition from many fronts, but most notably Amazon (NASDAQ:AMZN) and Wal-Mart (NYSE:WMT). Operating margins for BBY now stand at just 2.7%, this is a decline from operating margins over 3% last year.
Lack of New Products
Right now, BBY lacks products in the store that will drive sales. For example in the past, BBY benefited from the craze over HD televisions, or smart phones, or more recently tablets. However, at the moment there is no new device to drive the traffic BBY desperately needs.
Becoming Amazon's "showroom"
BBY is becoming a place where consumers to test out devices that they ultimately buy on Amazon. This is a very dangerous thing for BBY and other retailers as discussed here.
Conclusion
BBY may appear to be cheap, but it is not. Going forward, earnings are likely to continue to disappoint leading to a lower stock price. BBY is not a broken stock, rather BBY is a broken company. Until there is real fundamental change to how BBY does business then the stock remains a sell.
Disclosure: I have no positions in any stocks mentioned, and no plans to initiate any positions within the next 72 hours.