By David Urani
On December 21, KB Home reported its fiscal fourth quarter 2011 earnings results. The company recorded revenue of $479.9 million, representing an increase of 6.4% year over year. The result exceeded the $470.5 million consensus estimate as well as our $455.5 million forecast. Home closings were up 4.0% year over year, while the average price per home sold increased by 3% to $238,400.
On the bottom line, KB Home reported net income of $13.9 million, or $0.18 per share, exceeding the $0.03 per share consensus estimate, which we also modeled for. The result included a $19.8 million pretax gain on the wind down of a joint venture, as well as a $2.5 million tax benefit. Gross margin (excluding charges) was down to 15.1% from 19.7% year over year while SG&A expenses rose by 340 basis points as a percentage of revenue.
President and CEO Jeffrey Mezger commented:
Our focus will be on driving growth in our sales and margins to optimize returns on the investments we have made in strategic land positions and in our new home communities. We anticipate that our companywide average selling price will continue to grow in 2012 as we heighten our concentration in our most desirable markets, particularly in our West Coast region which typically generates higher profits.

Sales Trends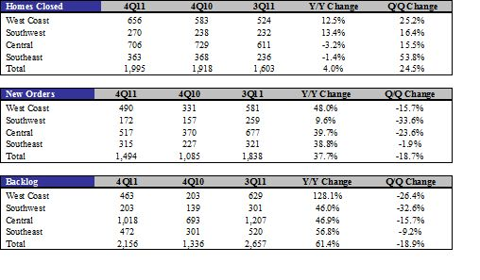 Economic Trends
New-home sales were up 8.9% year over year in October, according to the Census Bureau, and were up 1.3% sequentially. Gains in the Midwest and West offset a drop in the South, while the Northeast was flat. Sales have been somewhat stagnant all year, although compared to last year there has been a marked improvement, especially since cycling over the Federal tax credit last year. Seasonally adjusted home prices as measured by the Case-Shiller index fell for a fourth straight month in September, marking a new low for the current cycle. Although demand has been looking better, continued high levels of inventory and distressed sales have weighed on prices.
Opinion and Conclusion
KB Home showed a decent gain in sales year-over-year, and managed to beat the consensus estimate, which could be taken as a positive. Meanwhile, new orders looked relatively strong, going 38% higher than those of last year. That led to a significant 61% increase in backlog. Meanwhile, the average price per home sold is modestly higher. That being said, gross margin looked weak for the quarter, falling sequentially to 15.1% (excluding charges) from 17.2%, and from 19.7% year over year. We have noted weakness in prices nationally, and that pressure may be affecting KB Home's selling margins.
On the balance sheet, cash was down to $415 million from $904 million year over year, although debt went down by approximately $200 million to $1.58 billion from $1.78 billion. Meanwhile, inventories were up slightly to $1.73 billion from $1.70 billion. The company is making a clear move into the West, with backlog up 128% year over year in that region. Management hopes to find higher margins there, while certain markets in California are also selling well.
On the bottom line, the fact that earnings were down year-over-year remains somewhat discouraging, and especially when you consider the quarter included a $19.8 million joint venture benefit before tax. Gross margin weakness and increased SG&A costs were mostly to blame.
Overall, there was not a lot to get excited about in KB Home's results. Although sales came in satisfactorily, the bottom line result was underwhelming. While we do continue to see improving housing demand, prices remain a concern. We believe that the company's move further into the West can help to generate sales and margins relative to other regions, and therefore some operating improvement may be seen. However, we do not see a particularly high potential for significant profit growth.