Hewlett Packard (NYSE:HPQ) has lost a lot of value over the past 2 years, falling from over $50 a share to below $25. There have been a number of missteps and analyst estimate reflect that, with EPS projected to fall 16% in FY12. However, despite the negative sentiment, the company still has revenues of over $120 billion and stands at #11 on the Fortune 500 ranking.
HP is very large and its businesses are diversified. Its operations are organized into seven business segments: The Personal Systems Group, Services, the Imaging and Printing Group, Enterprise Servers, Storage and Networking , HP Software, HP Financial Services and Corporate Investments. In each of the past three fiscal years, notebooks, desktops and printing supplies each accounted for more than 10% of its consolidated net revenue. In fiscal 2010 and 2011, infrastructure technology outsourcing services also accounted for more than 10% of its consolidated net revenue. Industry standard servers accounted for more than 10% of our consolidated net revenue in fiscal 2011. Note, the company is currently exploring separating the Personal Systems Group through a spin-off or other transaction. Here are six reasons why I think the stock is attractive.
Valuation: HPQ is trading at the bottom of its five year valuation range based on P/E, P/S, and P/B. HPQ's current P/S ratio is 0.4 and it has averaged 0.9 over the past 5 years with a low of 0.4 and a high of 1.3. HPQ's current P/E ratio is 7.6 and it has averaged 13.4 over the past 5 years with a low of 7.6 and a high of 19.3. HPQ's current P/B ratio is 1.3 and it has averaged 2.5 over the past 5 years with a low of 1.3 and a high of 3.5. I think the recent purchase of the infrastructure software company, Autonomy, will be accreditive to earnings.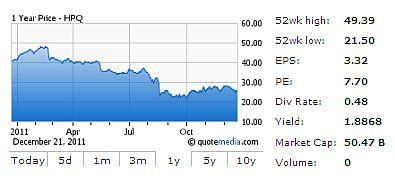 Price Target: The consensus price target for the analysts who follow HPQ is $31. That would be upside of over 20% from today's price.
Forward Valuations: HP is currently trading for just 6.2 times fiscal year 2012 EPS. Cisco (NASDAQ:CSCO) is trading for 10.1 times fiscal year 2012 EPS. Microsoft (NASDAQ:MSFT) is trading for 9.4x FY12 EPS. Intel (NASDAQ:INTC) is trading for 9.8 times fiscal year 202 EPS. IBM (NYSE:IBM) is trading for 12.1 times fiscal year 2012 EPS. Compared to other tech giants, this is a steal. If HPQ just reaches the low end of the valuation, Microsoft's at 9.4 times, the share price would have to jump over 50%.
Cash Flow: Hewlett Packard has strong cash flow to support its earnings. Over the past 3 years, Hewlett Packard has averaged free cash flow of $9.2 billion. That would be free cash flow of $4.43 a share or 3-year free cash flow multiple of 5.7.
Shareholder Friendly: Hewlett Packard has spent over $26 billion over the past three years repurchasing shares. It has decreased share count by 17% over the time period.
Price Action: Hewlett Packard is trading at a share price that it hasn't seen since 2005 when it was trading the $25 range. The stock set a new 6-year low earlier this year, reaching as low as $21.50. If a stock has ever been out of favor, Hewlett Packard is it. HP shares also seem to be forming a base around the $25 area.
Click to enlarge: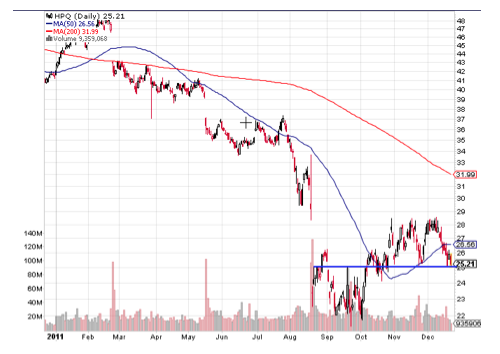 Disclosure: I have no positions in any stocks mentioned, and no plans to initiate any positions within the next 72 hours.