This is the 4th article in a series focusing on the investing opportunities in emerging markets presented by the large selloff during 2011. The first 3 articles focused on India, Brazil, and China respectively.
Russia will be the focus this time and the country is no different than the others where inflation has been a big factor to the market declines. Russia inflation fell to 6.8% in November.
In most economies, 7% inflation would be disastrous and even in other emerging markets like China and Brazil that amount would be extremely high. In Russia though, 7% inflation has actually been closer to the lows over the last couple of decades. See chart below: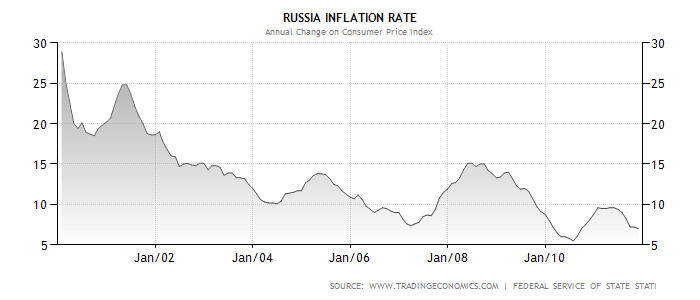 Click to enlarge
(Click to enlarge)
As one can see from the chart above, inflation has only been lower over the last decade during early 2010.
The Russian economy is highly dependent on oil and natural gas production so it isn't surprising that the markets peaked back in early May along with oil prices. The RSX (Market Vertocs Russia ETF) continues to falter even though oil has rebounded strong possibly providing a good buying opportunity.
1 year chart of the RSX (click to enlarge):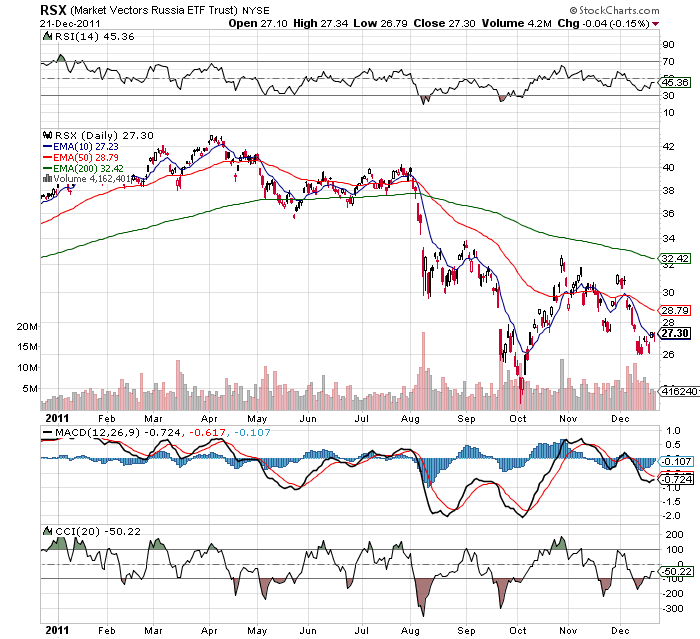 Click to enlarge
(Click to enlarge)
Below is a list of the more interesting stocks trading on US exchanges:
Mechel OAO (NYSE:MTL)
The company is a leading mining and steel operator in the Russia Federation and internationally. It operates steam and metallurgical coal and iron ore mines in both Russia and the U.S.
Mechel like other steel producers is trading near 2 year lows. The stock began the year in the $30s and has cratered to just above $8 now.
Revenue and EBITDA results in Q3 were solid, but the company was hit by a whopping $296M foreign exchange loss.
Vimpelcom (NYSE:VIP)
Company operates as a integrated telecommunications services provider, offering voice and data services through a range of wireless, fixed, and broadband technologies. It offers services in numerous countries including Russia, Ukraine, Kazakhstan, and now Italy with the recent Wind Telecom acquisition. Subscriber totals topped 200M in October.
Vimpelcom trades very close to yearly lows. With a market cap over $15B, it isn't a small stock. It does though trade at a forward PE of just over 7.
For Q3, the company reported a solid $500M profit when excluding non-cash losses. Revenue topped $6B, of which Russia only contributed $2.4B.
Clearly the stock trades based on the Russian economy and markets, but the company is now diversified outside Russia providing a good diversification away from any political risk if the current election doesn't go well.
Yandex (NASDAQ:YNDX)
The company operates the leading internet search provider in the country. It only recently had an IPO in May so its history in the US markets is still relatively short.
Revenue is estimated to grow 41% in 2012 and the stock only trades at a 22 forward PE ratio after the recent selloff pushed the stock to all time lows this week.
Q3 results were even stronger with most metrics showing 50% growth. Operating margins were a strong 34.5% showing that revenue falls to the bottom line at an impressive rate.
Analysts forecast a 5 year earnings growth rate of 37% which is considerably higher than the current forward PE of 22 providing what good be a steal.
The above the 3 stocks provide several diverse investment opportunities in Russia especially considering the stocks trade at yearly lows and the main engine of economic growth remains strong.
Disclosure: I have no positions in any stocks mentioned, and no plans to initiate any positions within the next 72 hours.
Disclaimer: Please consult your financial advisor before making any investment decisions.