Oracle's biggest earnings miss in a decade riled the tech market yesterday as concerns about a slowdown in corporate tech spending could impact other firm's earnings in this space. Oracle lost over $20B in market capitalization and the U.S. Software Index dropped 4.5%. Among the hardest hit stocks Tuesday were:
VMware (NYSE:VMW) lost 9% on concerns that any spending slowdown could impact its market leading server virtualization software. EMC (EMC), who owns 80% of VMW lost 4%.
Teradata's (NYSE:TDC) stock sold off 5.5% as it competes with Oracle (NASDAQ:ORCL) in the data warehouse space and markets to the same corporate customers.
Emerson Electric (NYSE:EMR) dropped 5.4% as it reported a drop in orders to big data centers.
Oracle's miss comes after disappointing guidance/comments from Hewlett Packard (NYSE:HPQ), Texas Instruments (NYSE:TXN) and Intel about corporate spending. It appears the outlook for companies that sell into this segment is cloudy. Two tech stocks that held up well yesterday and that should continue to outperform the overall tech sector due to a different customer base and also have low valuations are Apple and Microsoft.
4 reasons why Apple (NASDAQ:AAPL) is a great bargain at under $400 a share :
1. Although the company is making good inroads into the enterprise sector, it produces must have devices (iPad, iPhone, etc. …) for the consumer sector which is holding up strong.
2. It has a fortress balance sheet with over $70B in cash on the books. With Steve Job's unfortunate passing the possibility of a dividend in 2012 is increasing. This would allow the stock to appeal to growth, value and income investors.
3. Earnings estimates for 2011 and 2012 have increased significantly over the past 90 days. Apple is underpriced at 10 times forward earnings and a five year projected PEG of just .6.
4. Apple is selling under analysts' price targets. The median analysts' price target is $508 on the stock. Susquehanna just upped their outlook and price target on Apple to $545 yesterday as well.
4 reasons Microsoft (NASDAQ:MSFT) is solid value at just over $25:
1. Although Microsoft sells extensively to the enterprise sector, its bread and butter is driven primarily by Windows and Office on individual PCs. The software products it sells in the corporate sector have lower price points, is driven by licensing and should be much less impacted than those of vendors that sell hardware or enterprise software (Ex, SAP)
2. Microsoft has an AAA rated balance sheet, has $5 a share in net cash and yields 3.1%. It has also aggressively raised its dividend over the past five years.
3. Another floor for MSFT is its strong technical support at $24 (See Chart)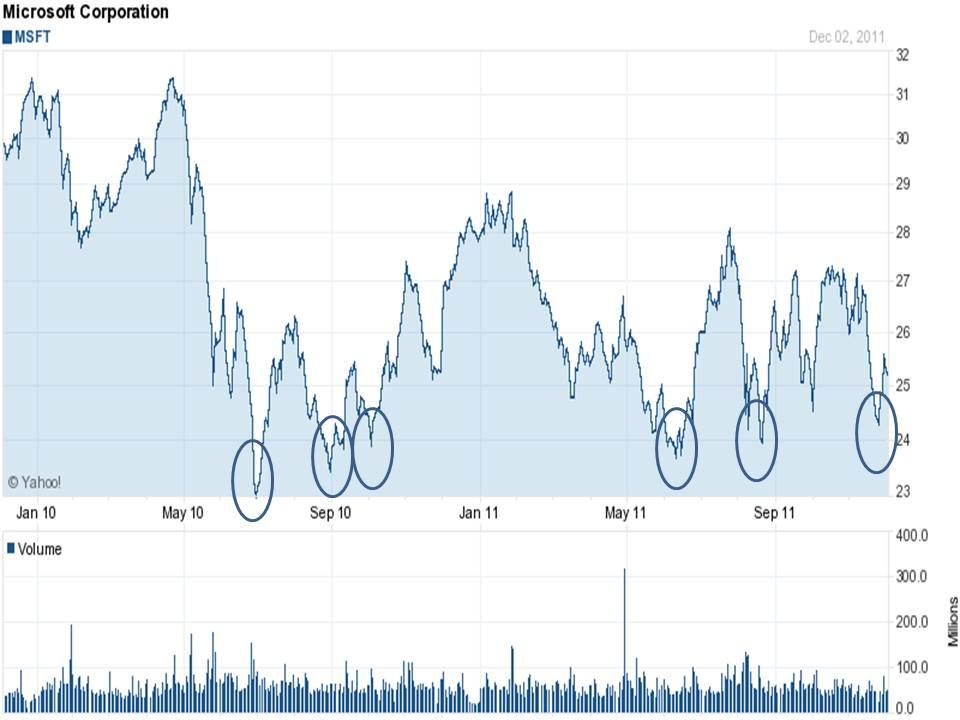 Click to enlarge
(Click to enlarge)
4. Microsoft is some 25% below median analysts' price target of $31.50. Credit Suisse has an "outperform" rating and a $35 price target on Microsoft.