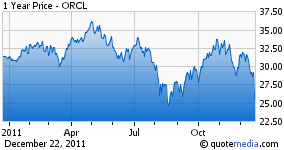 Faced with a grave threat to its survival, in the form of cloud computing, Oracle (ORCL) is going to spend 2012 trying to do what it has done with all previous threats.
Buy it.
There are two ways in which it can proceed.
It can buy up a bunch of open source cloud start-ups, mostly private companies like Eucalyptus or Cloudera, run it up on Sun hardware and call that a cloud.
It can make a big play for the biggest fish it can find in the space, as it did in open source by buying Sun Microsystems.
I'm guessing it will do the latter, because that's the way Larry Ellison rolls. That's the way Mark Hurd rolls. Don't do things by half. Play the "great game" openly.
Buy Red Hat (NYSE:RHT).
There is a big problem with this idea. Red Hat doesn't want to be bought. I truly believe that if Oracle made a huge bid for the Raleigh, N.C.,-based company that the next press release would be a friendly acquisition by IBM (NYSE:IBM), which has built its whole product line on Red Hat Enterprise Linux. This would not please IBM, it wouldn't please Red Hat, but it's the most likely outcome. Oracle could not win a bidding war with IBM.
Or buy EMC (EMC).
Buying EMC would also bring in VMWare (NYSE:VMW), a cloud software company that tries to lock-in its customers, a cloud company after Oracle's own heart. Buying VMWare through EMC makes sense because EMC's big share of the data server market would help sell a lot of Sun hardware, and EMC's executive and sales talent may be what Sun needs to get out of its rut.
The problem is that while RHT might cost $15 billion, after a bidding war (the present market cap is $8.3 billion) EMC would have to be a friendly deal, costing $60 billion, nearly one-half of Oracle's market cap of $129 billion. Figure most of Oracle's $30 billion in cash, plus stock equal to a 25% stake in the parent.
Or it could make a move on Hewlett Packard (NYSE:HPQ).
This would please Hurd, a former HP CEO. It would be sweet revenge. HP's data servers would fit into the product line as well as EMC's would. HP's EDS unit would be a welcome addition to the sales force. HP actually has something approaching a cloud strategy, although it's one subject to criticism. Buying HPQ probably wouldn't take a huge premium over its current market cap of $51.4 billion, because who else would want it?
But you're buying a lot of trouble there. HP failed in its attempt to sell the PC unit for anything like its value. What can Oracle do with the printer division other than spin it off? Maybe both PCs and printers could be gotten rid of that way. Watching Hurd try to extract value from that mess would make a heck of a story, though.
Oracle has to move because its customers know the company lacks a real cloud strategy. It has things it calls cloud, but they're all tied to expensive, proprietary hardware and software, not the commodity hardware and virtualized software that makes for a real cloud. The clock is ticking. The last quarter was a disaster.
Oracle will do something, and if your investments are in the line of fire, you can make a lot of money next year.
Disclosure: I have no positions in any stocks mentioned, and no plans to initiate any positions within the next 72 hours.