We identified a big rally brewing in the Canadian banks last week (click here). We started buying CIBC (CM) and TD Bank (TD) last Thursday.
We reported reasons for the rally last Monday in our BCMI Flash report. Add to these reasons the successful ECB three-year lending facility to European banks and the end of tax loss selling here in Canada.
CIBC is trading at $73.22 mid-day, down 42 cents but up 48 cents after going "ex" a 90 cent dividend today. (All dollars Canadian.) It's up almost $1 from where we recommended it (at $72.30) not including the dividend. As the bank is up on an "ex" date, it's a bullish signal.
I think institutions want to load up on stocks to make themselves look fully invested on December 31.
TD Bank is trading at $74.62, up $1.22 and up $2.00 from where we recommended it (at $72.62). I would be surprised if TD does not get to $75 near-term.
Click to enlarge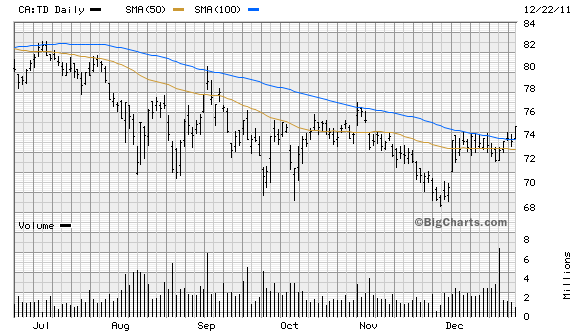 Sure the volumes are low pre-holiday, but my experience has shown you can get some big moves. The fact is these senior equities mitigate some risk holding them over the holidays, as you can always trade banks.
The Royal (RY) is leading all the Canadian banks today, at $50.73, up $1.70, but I am none too fond of Big Blue. It's the largest, but not the best, Canadian bank. It goes ex a 54 cent dividend on January 24.
Click to enlarge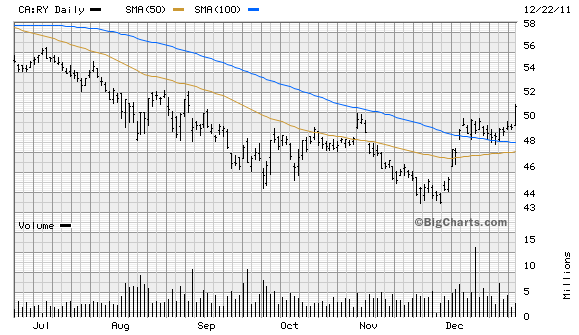 We've been buying BMO below $55 this week and again this morning at $55.05-6. BMO doesn't go "ex" its 70 cent dividend (the only bank that hasn't raised its dividend this year) until January 30. But the stock looks cheap here, yielding 5.09%.
We've been buying Scotiabank (BNS) below $50. It's currently at $50.50 up 76 cents. BNS goes "ex" 52 cents next Thursday so it has only one trading day "cum" dividend next week (Wednesday) when it will probably go up even more. Scotiabank is the most internationally-oriented Canadian bank, which adds risk in my opinion. That's why we don't talk about it as much as the others. But the BNS stock chart says "buy me."
Click to enlarge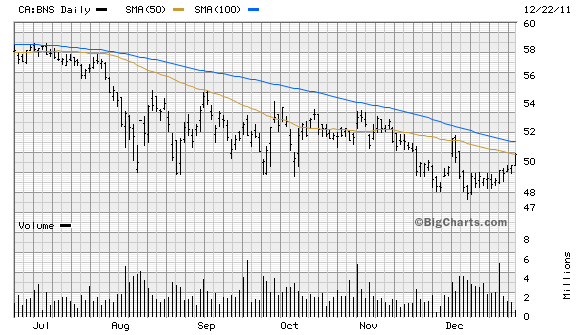 If you think you've already missed the boat on the Canadian banks, look at the charts and think again. The Canadian dollar is up 1% today so the currency is supportive of higher bank stock prices. We had excellent retail sales reported yesterday (up 1% and up 0.5% ex cars and gas), albeit two months old, for October. The Canadian economy continues to motor along and the higher oil prices are supportive of growth. October GDP will be announced tomorrow.
My guess is you've got another 5% upside here based on technical and fundamental factors, with dividend "ex" dates supportive in case we have another European upset.
Happy holidays to everyone and thank you Bank Stock Santa!