By Mark Bern, CPA CFA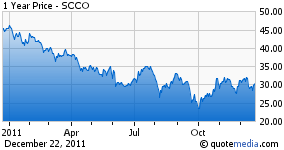 Southern Copper (NYSE:SCCO) is a large, integrated producer of copper, molybdenum, zinc and silver with operations in Peru and Mexico. The company is headquartered in Arizona but is 80% owned by Grupo Mexico through its subsidiary, Americas Mining Corporation.
Copper prices have fallen with the slowdown in the global economy, down to the $3.40 range from a high of over $4.50 per pound. Assuming no double-dip recession in the U.S. and gradual improvement in the global economy, I would expect prices of copper and other industrial metals to rise accordingly.
SCCO has some significant expansion projects underway aimed at increasing production in its Mexican and Peruvian operations by 35% by 2013. That should bode well for growth in both the top and bottom lines of the income statement. Also, once the capital investments are completed, cash flows should increase substantially as well.
Concerns over the Peruvian government's imposing higher royalties and taxes on large mining operations within its borders seem to have dissipated. A combination of effective lobbying and a better understanding of where the bread is buttered have likely brought leaders to their senses, at least for the time being. Higher royalties would impede further investment, reducing the future jobs outlook.
The trailing dividend of $2.19 is a whopping 7.2% on the current stock price of $30.44 (mid-afternoon on December 22, 2011). Be careful on this one. The dividend moves up and down with the level of earnings which are highly dependent on the price of copper. But the long-term trend for copper prices in still up and the long-term investor should be very well rewarded for patience and commitment to this stock.
The perceived weakness in the global economy may be giving us a good entry opportunity. If not, and the economy and equities fall further, SCCO is well capitalized and is very likely to rebound quickly. Emerging countries are still building out infrastructure and have a long way to go before their thirst for copper will be quenched.
Disclosure: I have no positions in any stocks mentioned, and no plans to initiate any positions within the next 72 hours.