The big cat, Caterpillar (NYSE:CAT), is on the prowl, and increasing revenue and earnings in spite of a worldwide recession. The market is always forward looking and CAT's price momentum seems to say the light is at the end of the tunnel. Since the market anticipated good results that was confirmed in mid-October the price has reacted positively: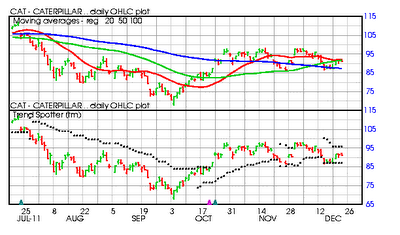 Business Description from Yahoo Finance:
Caterpillar Inc. manufactures and sells construction and mining equipment, diesel and natural gas engines, industrial gas turbines, and diesel-electric locomotives worldwide. It operates through three lines of businesses: Machinery, Engines, and Financial Products. The Machinery business offers construction, mining, and forestry machinery, including track and wheel tractors, track and wheel loaders, pipelayers, motor graders, wheel tractor-scrapers, track and wheel excavators, backhoe loaders, log skidders, log loaders, off-highway trucks, articulated trucks, paving products, skid steer loaders, underground mining equipment, tunnel boring equipment, and related parts. It also manufactures diesel-electric locomotives; and manufactures and services rail-related products and logistics services for other companies. The Engines business provides diesel, heavy fuel, and natural gas reciprocating engines for Caterpillar machinery, electric power generation systems, marine, petroleum, construction, industrial, agricultural, and other applications. It offers industrial turbines and turbine-related services for oil and gas, and power generation applications. This business also remanufactures Caterpillar engines, machines, and engine components; and offers remanufacturing services for other companies.

The Financial Products business provides retail and wholesale financing alternatives for Caterpillar machinery and engines, solar gas turbines, and other equipment and marine vessels, as well as offers loans and various forms of insurance to customers and dealers. It also offers financing for vehicles, power generation facilities, and marine vessels. The company markets its products directly, as well as through its distribution centers, dealers, and distributors. It was formerly known as Caterpillar Tractor Co. and changed its name to Caterpillar Inc. in 1986. Caterpillar Inc. was founded in 1925 and is headquartered in Peoria, Illinois.
Factors to Consider
Barchart technical indicators:
Barchart uses technical indicators from 7 days to 6 months to determine a stock's current price momentum
97% Barchart technical buy signal
Trend Spotter hold which is weakening to a buy
Although below its 20 and 50 day moving averages it has stayed above its 100 day moving average
21.71% off its 1 year high
Relative Strength Index is 49.45% and rising
Barchart computes a technical support level at 90.11
Recently traded at 91.22 with a 50 day moving average of 91.73
Fundamental factors:
18 Wall Street brokerage firms have assigned 24 analysts to run the stock's numbers
Revenue projections are for an increase of 37.20% this year and another 15.10% next year
Earnings estimates are for an increase of 63.60% this year, an additional 33.00% next year and an annual increase of 23.03% for the next 5 years
Those consensus numbers resulted in 6 strong buy, 10 buy, 8 hold and no negative or sell recommendations for their clients
The P/E ratio is only 13.18 - for a double digit growth stock compared to the 13.60% P/E ratio for the market it is a bargain
The dividend rate of 2.01% is not far off the market's dividend rate of 2.40% but is only 20% of projected earnings
The bright spot in the economy is natural resource and infrastructure companies and they are big buyers of CAT equipment
Not only is new equipment being bought but companies are upgrading old equipment and repairing older equipment - the parts business is soaring
Brasil's economy; although taking a temporary breather is still growing and is also the location of CAT's largest manufacturing facility
General investor interest:
I use Motley Fool as my crystal ball to what the individual investor is thinking
5,696 of their readers vote 96% that the stock will beat the market
The more experienced and savvy All Stars also voted 96% for the same result
Fool notes that 91% of the recent reports released on the company have been positive
I like to see how the price of a stock held up over he past year compared to their competition. CAT is only slightly down by 4%, while CNH Global (NYSE:
CNH
) is down 23%, Komatsu (
OTCPK:KMTUY
) is down 23% and Volvo (
OTCPK:VOLVY
) is down 36%: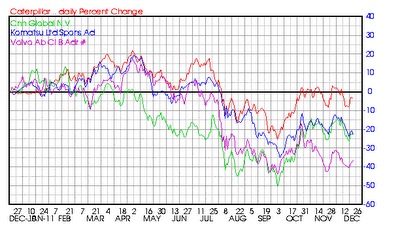 Summary: Caterpillar is a globally recognized brand that has a double-digit growth projections of both revenue and earnings that is selling at the same P/E ratio of the overall market. I'm not sure what else I can say except. "buy!" A look at the 14-day turtle channel provided by Barchart says get on board now or be left behind.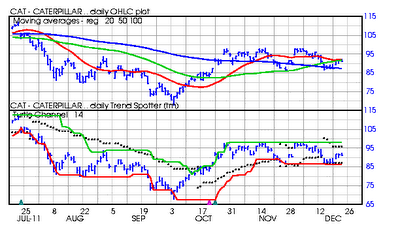 Disclosure: I have no positions in any stocks mentioned, but may initiate a long position in CAT over the next 72 hours.