In recent days, Seeking Alpha contributor Chris Katje published two excellent write-ups on stocks investors can buy to simulate ownership in professional sports franchises.
December 12, 2011 - Buy Madison Square Garden Shares And Own 4 Sports Teams
December 15, 2011 - Buy Shares Of Rogers Communications And Own Its Undervalued Sports And Media Segment
Because Katje did such a remarkable job covering the publicly-traded sports franchise-related landscape, I will not spend much time there in this article, other than to list the primary places where you can gain exposure to major professional teams.
Liberty Media Capital (LMCA) owns the Atlanta Braves of Major League Baseball.
Madison Square Garden (NASDAQ:MSG) owns the New York Rangers of the National Hockey League and the New York Knicks of the National Basketball Association.
Rogers Communications (NYSE:RCI) owns the Toronto Blue Jays of MLB and owns stakes in the Toronto Maple Leafs of the NHL and the Toronto Raptors of the NBA.
As part of its recent joint-purchase of Maple Leaf Sports and Entertainment with Rogers, Bell Canada (NYSE:BCE) owns stakes in the MLSE properties (Jays, Leafs). Separately, it owns a minority stake in the Montreal Canadiens. Because Bell's interest in the Leafs and Canadiens come in at less than 30%, in each case, it can maintain both investments.
Should You Buy Any Of These Stocks?
Ultimately, that's a question, as always, you need to answer for yourself.
I'm a pretty big Toronto Maple Leafs fan. So big that I traveled from Dallas to the final game ever at Maple Leaf Gardens in 1999. Years later, I made the red eye trek from California to see then-Phoenix Coyotes head coach Wayne Gretzky coach his first game in Toronto against the Leafs.
In 2012, I intend to open positions in RCI and BCE. I'm only waiting because I want to hold the stocks in an IRA to avoid the 15% tax the Canadian government slaps on dividends paid to U.S. investors. I can honestly say I am not making the investment because of my allegiance to the Leafs, hockey or my honorary home, Canada.
Why did I pick RCI and BCE over LMCA and MSG?
If you've followed my work on Seeking Alpha, you've seen three themes emerge as drivers that make me bullish about a company - ubiquity, synergy and growing revenues. Looking both near-term and over longer time horizons, the two Canadian firms blow both Liberty and MSG away. Also, because the "socialist" Canadian government allows Rogers and Bell to get away with the type of "world" domination legislators and regulators in the "capitalist" United States would never approve, they get the nod over Liberty and MSG.
First, I consider each company in terms of revenue growth. Then, I argue that there might not be another company in North America that enjoys a higher level of ubiquity, synergy and future synergistic potential than Rogers and Bell, thanks, in large part, to laissez-faire regulation.
LMCA revenue from its most recent quarterly report:
Click images to enlarge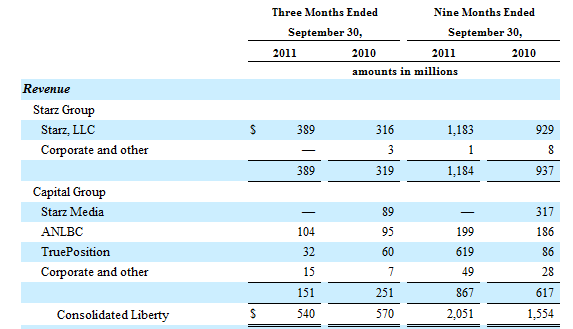 Because of a recent restructuring of its tracking stocks, LMCA's period-to-period revenues do not compare, particularly in relation to the way it reports its Starz segment numbers. And, to be brutally honest, I stay away from taking a position in LMCA because I do not understand its structure well enough just yet, though it's becoming clearer.
Ask Sirius XM (NASDAQ:SIRI) investors, Liberty's structure confounds. And you've got to think that it keeps retail investors, who might have an interest in indirect ownership of the Atlanta Braves ("ANLBC"), away.
MSG revenue from its most recent quarterly report:
Click to enlarge

BCE revenue from its most recent quarterly report:

RCI revenue summary from Katje's above-linked article: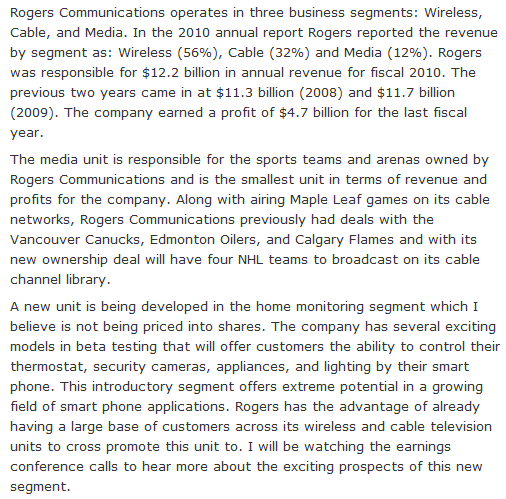 Keep in mind, the Rogers and Bell numbers do not include revenues each will derive from their joint-purchase of MLSE. I chuckled watching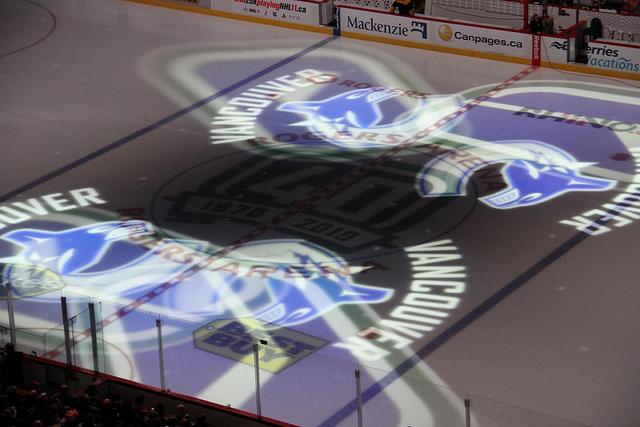 some factions of the Canadian media react in awe that these two adversaries would set aside their competitive skirmishes to go in on the buyout of MLSE. Why in the world wouldn't they?
Between both of them, Rogers and Bell absolutely dominate Canada's wireless, home phone, Internet, cable television, satellite television, media and major sports landscapes. Bottom line - if large numbers of Canadians care about it, Rogers or Bell is there, ubiquitously and aggressively. By the looks of things, the two companies probably share web designers and content teams:
Rogers or Bell simply could not happen in the United States. I am long Verizon (NYSE:VZ) and bullish on the company's potential, but there's no way in the world it or one of its peers ever comes close to the Rogers or Bell level. I hope Verizon pushes the envelope, but I have a hard time seeing it or anybody else for that matter gain relatively considerable traction.
Think about it. To put together an American version of Rogers or Bell, a U.S. telecommunications company would have to add something like DirecTV (DTV) or DISH Network (NASDAQ:DISH), a major mainstream broadcast network, Fox Sports or ESPN, several major sports and entertainment venues and a few major and minor professional sports teams to its wireless, wireline, cable/digital TV and Internet stable. If the Department of Justice will not let AT&T (NYSE:T) and T-Mobile merge, it's never going to let anybody create the scale and reach of Rogers and Bell.
The MLSE deal and each company's more-than-respectable and stable dividend represents icing on the cake. When you speak of ubiquity and synergy among U.S. companies, you automatically think of Apple (NASDAQ:AAPL). Just imagine what Rogers and Bell would do in revenue for a year if they had the world as their collective oyster, not just Canada's relatively modest population of roughly 34 million. Or vision how Apple might look and the revenues it would pull if it bought Verizon, entered the satellite television market and created a media division that controlled or owned meaningful portions of not only a nation's, but some of the world's most valuable and rabidly-followed sports franchises.
Few companies on the globe have the ability to cross-promote a slew of a country's top cultural and media institutions via multiple platforms to generate advertising revenues while they collect monthly subscription fees from, in some cases, more than half of a nation, on every service under the sun. While companies such as Telus (NYSE:TU) and Shaw (NYSE:SJR) compete admirably in some segments, nobody comes in at the magnitude of Rogers and Bell, particularly after the MLSE deal. By not balking at the MLSE acquisition, the Canadian government might have officially created a monster. It's these types of situations that warrant your attention for potential long plays outside of the domestic market.
Disclosure: I am long AAPL, VZ.
Additional disclosure: I plan to open a long position in RCI in January 2012 followed by a long position in BCE in an IRA.