The Long Term Refinancing Operation, or LTRO, facility by the ECB, just closed yesterday to the tune of 489 billion euros, can already be said to have had a strong impact on the markets.
Although most of the comments yesterday focused on how risk was being priced a bit higher on the day, upon the closing of the facility, this ignores the deep impact that could already be seen in the markets, with the most movement being registered in Spanish and Italian debt (Bloomberg).
Italian 2-Year Yields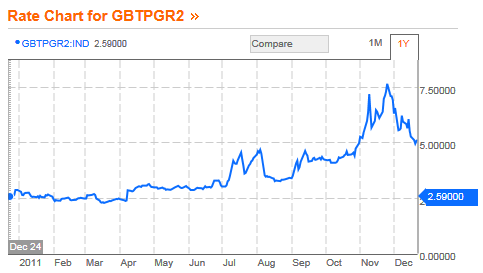 Spanish 2 Year yields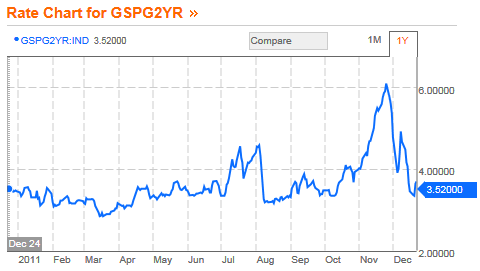 This facility can represent a tremendous boost to the profitability of the (European) banks using it. One just has to remember that the financing is at 1%, there is no maturity or rollover risk (the facility has a maturity of 3 years), and the money can be (and was) used to finance the purchase of debt yielding as much 5-7.5% (Italy) and 3.5-6% (Spain). Other yields and maturities were certainly also purchased with a view to use the LTRO, but even if we consider an average carry of 2%, the net interest margin on 489 billion euros with no risk could be as much as 9.78 billion euros per year.
And it doesn't stop here. In February there's another LTRO. So even if the markets get nervous again, the same impact we saw this turn should make itself felt again on the run down to February's operation. We saw that the present operation was preceeded by a full month of declining yields.
Conclusion
It would seem, given this new facility, a ceiling has been put in place by the ECB on how nervous the market can get before everyone starts buying again for the next round. This is an outright positive for all equity markets.