VIX - Market Sentiment:
Thursday saw a very slow pre-market as U.S. equities wind down prior to Christmas. The futures meandered throughout trading in the pre-market. The S&P was up in early trading when the U.S. unemployment number was reported at 364K versus an estimate of 376K. This trend continued into the midday as the SPX traded up to 1254 and continued to hold throughout most of the day.
With the December VIX settlement yesterday coming in at 21.36 the spot VIX again came in today trading down to 20.34. The very interesting part of this is January futures are actually up today on a down 3% day. This signals many traders have dropped their volatility hedges and may be under hedged moving into the New Year with futures more than 4 points above current spot VIX.
The 20 level will be very interesting as the direct VIX calls here are very difficult to trade. For example a trader could buy 25 VIX calls for say 2.00. These calls currently have a delta of .52 meaning if the VIX popped on a selloff of say 4 points one would think their calls would double. However, take this scenario for example. If the VIX popped to 25 and the futures only moved to 26.00 a holder of these calls would only get a return of 25%, not the 100% hedge one would think.
At these current spot VIX versus futures VIX levels a better hedge would be SPY puts outright or a SPY collar. An investor could sell the SPY 126 strike Quarterly call for 1.00 and buy the 124 puts of the same expiration for .92. This is a credit of .08 and getting paid to hold a hedge while giving you almost .70 of delta to the downside. Thus, you get a 1% return if SPY closes above 126 and if the market sells off the puts would explode in value and could not only possibly cover your losses but actually make you money. The reason I choose these strikes is it allows the math to work in my favor as we push up against the three-month declining wedge as shown below.
Click to enlarge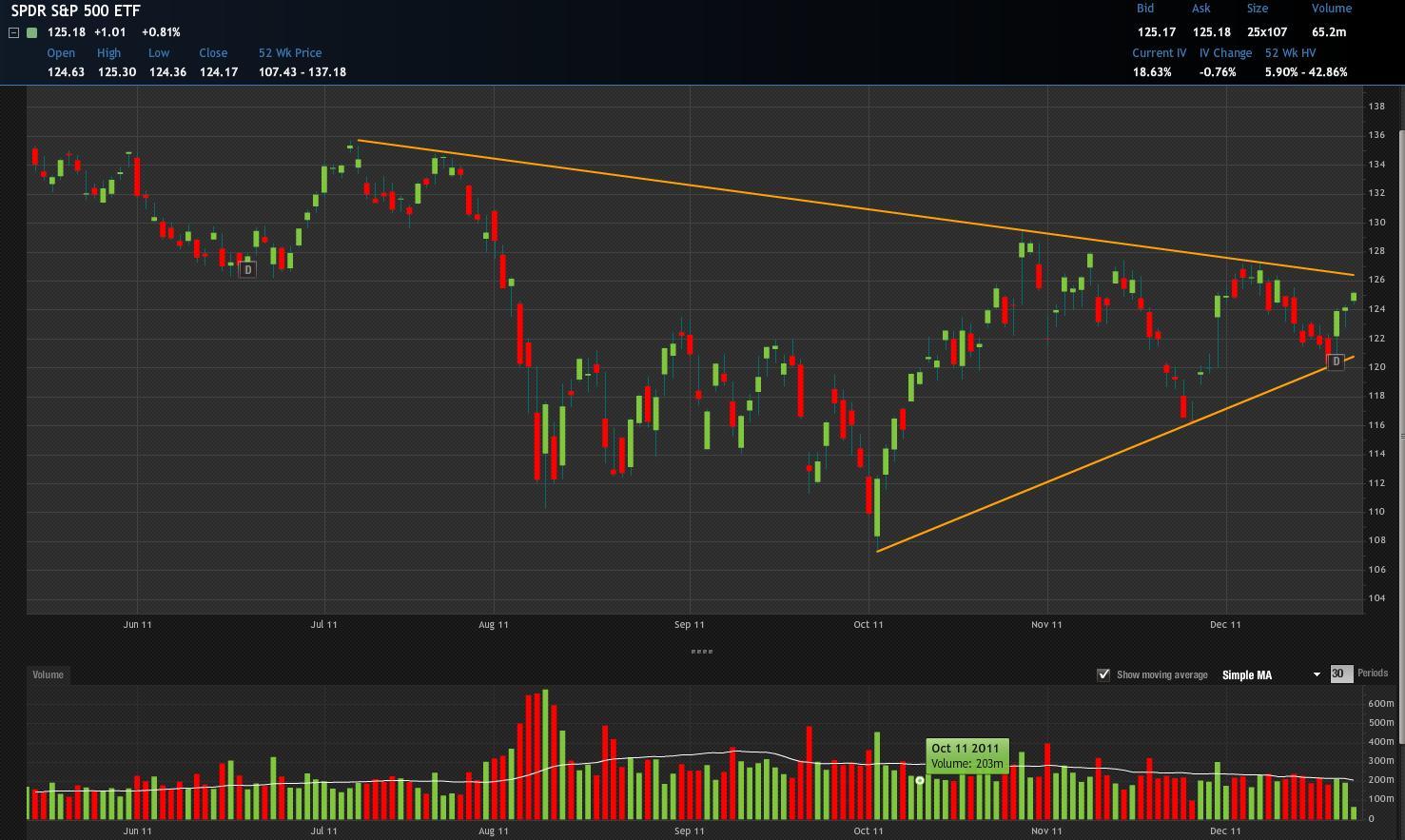 Chart courtesy of TradeMonster
Options Paper:
Homebuilders have been very hot in the options market recently and today was no different. Today Beazer Homes (NYSE:BZH) saw almost 5x normal option paper as bulls once again stepped into home builders looking for more upside. This time it was buyers of the Feb 3 call strike for .25. This was done around 2,000 times and looks for Beazer along with the home builders to recover prior to February expiration. I still am overall bearish on homebuilders in general as the recent economic numbers continue to show multifamily units are the key drivers. Until these numbers turn I will continue to be bearish on the homebuilders. I am short D.R. Horton (NYSE:DHI) through Jan 11 puts.
EnCana (NYSE:ECA) saw an absolute explosion in option paper today trading almost 15x normal option volume. On a typical day ECA normally sees just 3100 contracts cross and today saw more than 46K just after 1:00 EST. It appears someone shut down a short strike of the Jan 16 puts and rolled into what appears to be a risk reversal out to April. The April 15 puts were sold and the 23 calls were purchased around 15K times for a net cost of the trade being approximately zero. This allows a trader to risk nothing but profit on any type of run up to or north of 23 prior to April. I am going to watch the price action and may join in on this trade in the very near future, especially if we get a breakout above the 1260 range in the S&P.
Volatility Explosion:
Mead Johnson (NYSE:MJN) saw its IV almost double today as shares sold off more than 12.5%. Heavy put buying and call selling across the board occurred after Wal-Mart (NYSE:WMT) pulled the makers baby formula after a reported death. The January strikes were extremely active as the 65 puts exploded in value, gaining more than 1600% overnight. One could use this volatility to get long on this stock as selling puts here could be greatly profitable.
Volatility Implosion:
Finish Line (NASDAQ:FINL) reported good earnings last night and as expected the implied volatility got sucked right out of the options market. Initially FINL popped in early trading as large put hedges were sold for .50 to .40 for the Jan 20 strike. However, almost immediately after the seller came in shares began to sell off and continued to sell of throughout the day as FINL continued to weaken. FINL traded down more than 4% on the day. On a side note I expect to close my synthetic short on FINL today or tomorrow as I have the closing order in but it has not been filled.
Other Options Action:
The Germany ETF (NYSEARCA:EWG) which is one of my favorite short proxies for Europe, again today saw a 10:1 put to call ratio. Although the majority of EWG options trade in blocks and this number can be skewed, this has been more frequent on the call selling side and put buying side. It appears some traders are looking for the downgrade of European banks to potentially take this thing below recent lows. I personally sold the 19 calls and bought the 18 puts for a credit of .17. This synthetic short position will profit if EWG is below 19.17 prior to January expiration.
The Euro Currency ETF (NYSEARCA:FXE) again today saw a 6:1 put to call ratio showing added pressure for the euro to take another leg down. The interesting part about this trade is the FXE in weeks and months past has led the gains or the declines in the U.S. markets. However over the last couple of days the FXE has declined and our markets have actually held their gains. Watch to see if these continued bets to the downside pay off or we rally into the New Year.
Fortinet (NASDAQ:FTNT) as stated in my report yesterday saw some unusual call activity when the stock dropped below 19.00. Well turns out those calls have exploded and almost doubled in less than 24 hours as FTNT now trades north of 20.50. It appears some of those calls from yesterday are being unwound as the 19 strike calls today were sold. Keep an eye on this as speculation of takeover targets continues to run rampant in this market.
Disclosure: I am long SDS, HUN, AGNC, NLY.
Additional disclosure: I am short: INTC, DHI, LNKD, FINL, EWG, VXX. The opinions in this document are for informational and educational purposes only and should not be construed as a recommendation to buy or sell the stocks mentioned or to solicit transactions or clients. Past performance of the companies discussed may not continue and the companies may not achieve the earnings growth as predicted. The information in this document is believed to be accurate, but under no circumstances should a person act upon the information contained within. I do not recommend that anyone act upon any investment information without first consulting an investment professional as to the suitability of such investments for his or her specific situation.