After our bearish Fall attitude in corn and soybeans, due to our expectations of the "short crops have long tails" axiom and worries over the world financial situation, a developing drought in Argentina has the chance to rally corn futures at least 10% over the next few weeks. Why? Argentina and Brazil are then number 2 and number 3 exporter of corn in the world, and presently it is their summer growing season. I see a continuation of the drought expanding in most of Argentina.
This is the critical time for Argentina's corn crop to pollinate. January weather so important because severe soil moisture deficits can delay silk emergence and disrupt the synchrony of pollen shed and silk availability, resulting in poor kernel set.
The profit margins of chickens are related to the price of corn. In a nutshell, if corn prices fell 20% from current values, this would save poultry producers in the order of $600 million. However, higher corn prices could hurt poultry producers and have an inverse correlation for poultry companies' profits. For example, Sanderson Farms, Inc. (NASDAQ:SAFM), Cal-Maine Foods, Inc. (NASDAQ:CALM), and Tyson Foods, Inc. (NYSE:TSN) could see lower stock prices if corn futures rally.
Take a look at Tyson Foods, Inc. (TSN) stock price this year. Notice, the fall in prices during July, at a time when the U.S. corn belt had a severe drought and corn prices rallied. Also notice the recent rally in TSN since October, as corn prices fell some 20-30% on the world financial woes and poor demand brought on by big crops in China, India and Russia. Hence, if the Argentina drought worsens, TSN and other stocks may see lower prices later this winter.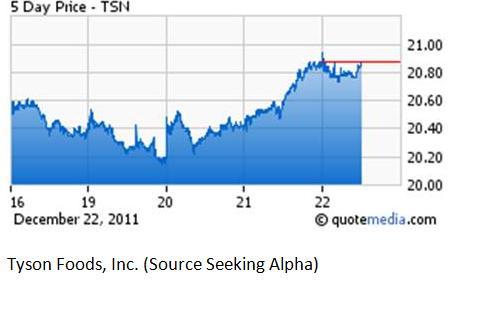 The best way to play corn strictly from the long side this is to buy The Teucrium Corn EFT (NYSEARCA:CORN). Referring to the chart below- (#1) shows a 20% move in this ETF last summer during the U.S. corn belt drought; (#2) The recent fall in prices that we predicted, due not only to world economic problems but to the "short crops have long tails" axiom. In other words, when the U.S. has a poor crop, if other countries around the world have big crops, it takes a longer time for the U.S. to export its grain. This hurts the demand side of the equation and is what happened the last few months, along with the stronger dollar on earlier European woes; (#3), corn prices have begun to rally off their lows.
Now, if we had dry weather in Brazil as well, then corn would really be off to the races. Parts of Brazil may have good crops. However, come spring, the U.S. snow drought could spell trouble for spring planting corn if it continues, and this is something I will need to watch closely. A dry Midwest spring (if it happens) would cause a lot of nervousness amount traders and a bullish move in grains.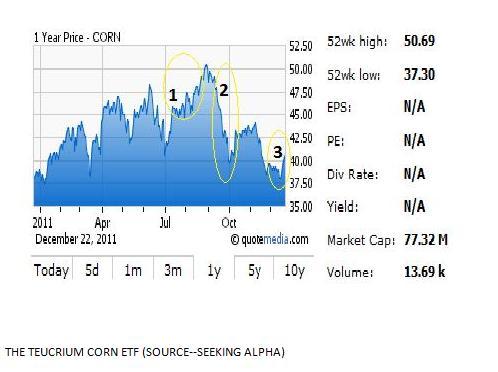 Seasonal Corn Prices During Argentina Droughts
While corn prices are often subject to the demand side of the equation in winter and U.S. producers rely greatly on imports from China and other countries, Argentina/Brazil is equally, if not more important for corn prices.
Corn prices move a lot on the weather. For example, the last drought in Argentina was during late 2008 and early 2009.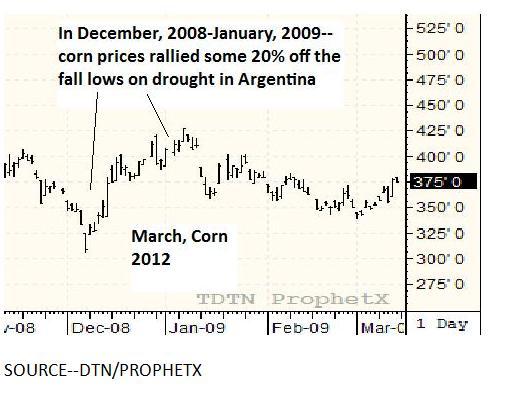 Corn Crops, Soil Moisture and Weather Factors
The photos below show a healthy corn plant during pollination (left) and one, in which extreme heat and dryness adversely affected yield in Argentina, during January, 2009. Also below this, we see where corn is grown in Argentina and a key area that has been drier than normal, since early December.

Source: Purdue University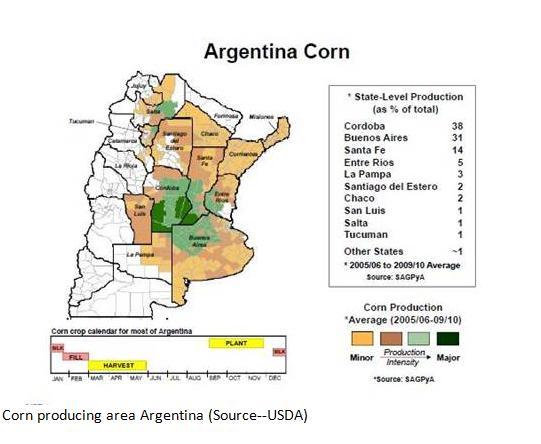 The map below as of mid-December, shows moderate to severe drought developing over portions of Argentina. This is denoted by the red areas.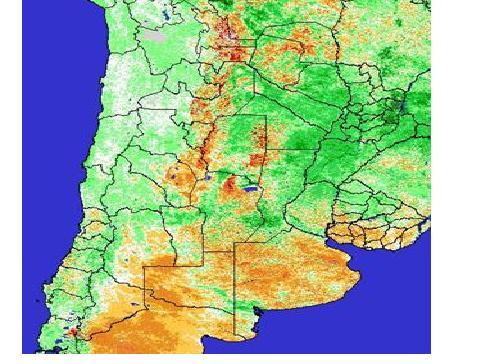 Source: FAS
So what factors influence the weather pattern for winter? La Nina, sea surface temperatures and other criteria are all important. Right now, one can see the warm ocean temperatures (yellow and red), just to the east of Argentina. This will tend to limit the amount of daytime heating variability in Argentina, between land and ocean and probably help to retard rainfall in coming weeks. If so, the result could be mostly below normal yields for corn that will likely give the corn market a boost.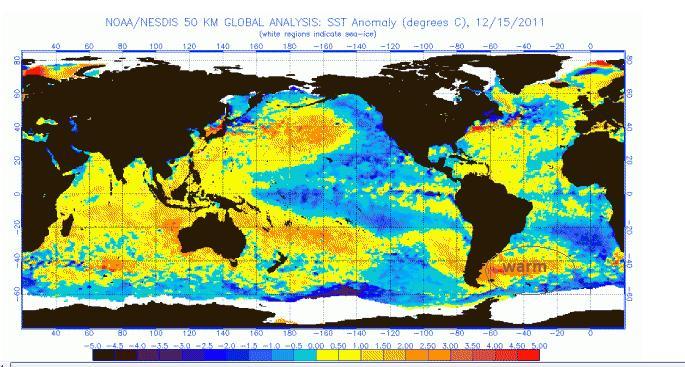 Source: NOAA/NEDIS
Disclosure: I have no positions in any stocks mentioned, and no plans to initiate any positions within the next 72 hours.