This morning I added Bristol-Myers Squibb (BMY) to the Barchart Van Meerten New High portfolio and to the managed accounts I have. The New High portfolio is a portfolio of stocks that continue to hit the most frequent new highs on Barchart and trade at least 100,000 shares a day. This stock was added strictly on price momentum, as this graph provided by Barchart shows: (Click to enlarge)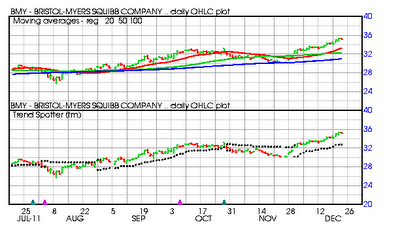 Bristol-Myers Squibb Company is a global biopharmaceutical company that discovers, develops, and delivers innovative medicines that help patients prevail over serious diseases. The company focuses on areas of serious unmet medical needs, such as cardiovascular disease, mental illness, cancer, HIV/AIDS, hepatitis B and C, rheumatoid arthritis, type 2 diabetes, solid organ transplantation, and Alzheimer's disease. Its principal products include Plavix for protection against fatal or non-fatal heart attack or stroke; Avapro/Avalide for the treatment of hypertension and diabetic nephropathy; Abilify, an agent for adult patients with schizophrenia, bipolar mania disorder, and depressive disorder; and Reyataz for the treatment of HIV.
The company's principal products also comprise Sustiva, for the treatment of HIV; Baraclude, an inhibitor of hepatitis B virus; Erbitux to target and block the epidermal growth factor receptor; Sprycel for the treatment of chronic myeloid leukemia in adults; Ixempra to treat breast cancer; Orencia to treat severe rheumatoid arthritis in adults; and Onglyza for the treatment of type 2 diabetes.
Its products under Phase III clinical trials include Eliquis, to prevent and treat venous thromboembolic disorders and stroke prevention in atrial fibrillation; Nulojix to prevent solid organ transplant rejection; Brivanib to block the VEGF and the FGF receptors; Dapagliflozin to treat diabetes; Yervoy to treat metastatic melanoma; and Necitumumab for anticancer treatment.
The company sells its products to wholesalers, distributors, retailers, hospitals, clinics, government agencies, and pharmacies. It has strategic alliances with Sanofi-Aventis (SNY); Pfizer, Inc. (PFE); AstraZeneca PLC (AZN); Otsuka Pharmaceutical Co., Ltd.; Eli Lilly and Company (LLY); and Gilead Sciences GILD), Inc. The company was formerly known as Bristol-Myers Company before merging with Squibb in 1989, changing its name to Bristol-Myers Squibb Company. Bristol-Myers Squibb was founded in 1887 and is headquartered in New York, New York. (Yahoo Finance profile)
Other factors to consider:
Barchart technical indicators:
Barchart uses technical analysis of various indicators from 7 days to 6 months to determine the current direction and strength of a stock's price momentum.

There's a 96% Barchart technical buy signal.

There's a trend spotter buy signal.

The stock is above its 20, 50 and 100 day moving averages.

The stock has made 15 new highs and is up 15.21% in the last month.

Relative Strength Index is 73.62%.

Barchart computes a technical support level at $35.02.

The stock recently traded at $35.11, with a 50 day moving average of $32.33.
Fundamental factors:
Eighteen Wall Street brokerage firms have assigned 22 analysts to monitor the stock's numbers.

Sales are projected to increase by 9.30% this year but decrease by 14.10% next year.

Earnings are estimated to increase by 6.50% this year, decrease by 12.60% next year and average an annual .04% decrease over the next 5 years.

Even with these lackluster consensus numbers, analysts issued six strong buys, five buys, eight holds and three underperform recommendations to clients.

The P/E ratio is 15.78, not too much above the market P/E of 13.80.

The dividend rate of 3.77% which is about 60% of expected earnings, is above the market dividend rate of 2.40%.

The company enjoys an A financial strength rating.

There seems to be enough new products in the pipeline to replace the drugs about to expire.
General investor interest:
I use the readers of Motley Fool as a barometer of what the individual investor is thinking.

Approximately 1,741 readers expressed a 94% vote that the stock would beat the market.

The more savvy All Stars voted 96% for the same result.

Fool notes that 86% of the articles about the stock have been positive.

Those high on the issue are Jim Cramer, Rick Pzena and Bill Nygren.
I always like to compare the price action of a stock over the past year to the price momentum of its major competitors. While Bristol-Myers was up 33%, Astra Zeneca was down 1%, Merck (MRK) was up only 3% and Roche (OTC:RHHBY) was up 16%: (Click to enlarge)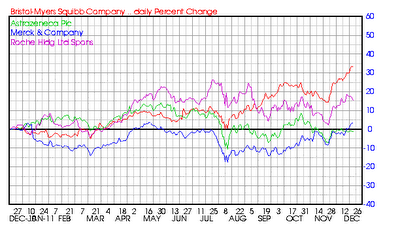 Summary: I bought Bristol-Myers Squibb (BMY) on price momentum alone, but I think the recent price momentum has some other factors besides a steady income stream built into them. Price action like this may be fueled by a little takeover fever. Hold it for the dividend as an income stock, but pray for a takeover bid. Watch the turtle channel to see when the takeover is no longer on the table: (Click to enlarge)