By Mark Bern, CPA CFA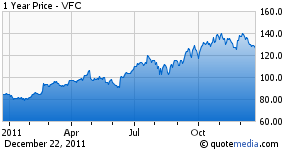 VF Corporation (NYSE:VFC) has evolved from being a glove maker in 1899 to being the world's largest diversified apparel company with more than 50 brands including Lee, Nautica, The North Face, Vans and Wrangler. The company derives about 30% of revenues from outside the U.S. VFC is a successful brand manager and offers much greater consistency relative to its peers. Its recent purchase of Timberland is expected to add over $1.7 billion in revenue in 2012 and over $1 in earnings per share (EPS).
I should mention that the shares have become slightly over-valued in the near term as the price-to-earnings ratio (P/E) currently rests at about 20 while the historic average is closer to 14. Thus, I don't recommend that investors add this one just yet. Rather I think it would be better to wait for more of a dip to get the P/E into historical range. But the P/E doesn't need to drop much to create a good value since the forward earnings expectations would put it below 14 by the end of fiscal 2012. I'll be a buyer again if the price comes down below $115. That would bring the yield up to 2.5%.
The dividend is currently $2.88, based on the most recent quarterly increase, which provides a yield of 2.2% on the current price of $126.64 (as of the close on December 22, 2011). Dividends have increased by an average of 17.5% annually over the past five years. Earnings have increased by about 7% over that same period. The company's management and board are committed to consistently increasing the dividends, having raised the dividend for 39 consecutive years. The most recent increase was 14% and occurred on October 23, 2011. I expect the payout ratio to be about 32% this year, a very manageable level.
The company continues to expand internationally and open new company-owned retail locations in select areas. Both efforts should continue to fuel future growth. Additionally, I expect VFC to make further strategic acquisitions that will provide excellent returns on capital. Management seems to have the formula for making smart moves in this area.
I own the stock and have enjoyed both the dividend increases and the appreciation. I expect the total return on this stock to average at least 10% annually over the next five years. The ride may be a little volatile but the end result should be a good one. And the dividends just keep rising along the way.
Disclosure: I am long VFC.