Now this makes my blood boil. There was a front page story in the Huffington Post stating that Netflix (NASDAQ:NFLX) "CEO Reed Hastings will pay a $1.5 million penalty for blunders that alienated the video subscription service's customers and pulverized its stock." Digging deeper, we find that Mr. Hastings will receive $1.5 million in stock option allowance in 2012 instead of the $3 million allowance he received in 2011. Now if you call that a penalty, then someone please sign me up.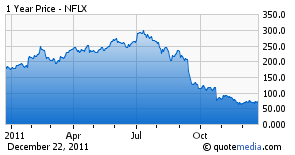 For the all the blunders he made this year which led to several respectable publications and commentators naming him one of the worst CEOs of the year, Mr. Hastings should have lost his job, not receive a $1.5 million stock option allowance in addition to his $500,000 base salary. In fact, as a face saving gesture, if I was his advisor, I would have recommended that he give back his stock options and salary for the year and modify his contract to receive $1 in salary a year until Netflix gained back its lost reputation on the Street. Trust me, Mr. Hastings can afford the temporary pay cut. Until recently, he had scheduled a stock sale of 20,000 shares every two weeks and had reportedly amassed $100 million in stock sales over time.
Mr. Hastings's boneheaded moves, which have cost the shareholders a combined $12 billion, have been well documented on this site and I will not bore you all with the details. But I would just like to discuss the capital management blunders made by Mr. Hastings and his team during the last year. As I predicted in a previous article, the company had to raise capital ($400 million in a stock and debt offering) to bolster its balance sheet. Now, there is nothing wrong with that. Every company needs to raise capital to generate future growth.
What I do have a problem is the fact that the company is now issuing shares at $70 share to raise $200 million. This, after the company bought back $199.7 million worth of stock at an average price of $222 per share during the first nine months of the year. Now that's a great investment Mr. Hastings – a loss of 68% to the shareholders on that $199.7 million investment. It sure did go a long way in helping improve my impression of Cisco's (NASDAQ:CSCO) historical stock buyback. The prudent thing to do would have been to issue shares when the stock was trading at $300 a share earlier this year. The company could have raised approximately $850 million by issuing the same number of shares as that issued in November this year which would have gone a long way towards meeting the $3.45 billion in streaming content obligations due in the next 5 years.
At the very least, NFLX should not have repurchased shares at all. As recently as the last reported quarter (3 months ending Sep 30, 2011), NFLX repurchased 182,000 shares at an average price of $218 per share for a total of $39.6 million. That is inexcusable in my opinion. If you cannot project your cash needs 3 months in advance, then are you are probably not fit for the job.
The company now expects to report a loss during FY 2012 primarily due to increased investments in the international segment. While the Street projects a loss of $0.23 a share on revenue of $3.62 billion, I estimate that the company will report a loss of $0.46 a share on earnings of $3.24 billion. Based on my updated valuation model which assumes a long term growth of 14% (compared to analyst average growth rate of 20%) and a 15% discount rate (to account for the high risk associated with the stock), I estimate a fair value of $59 a share. In my opinion, the recent uptick in stock price from a low of $62.37 a share to its current price of $73 presents a good opportunity to short the stock. Although there might some sporadic appreciation in stock price, I believe that the stock is headed lower in the medium to long term.
Disclosure: I am long CSCO.