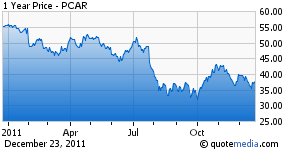 On Tuesday, commercial truck maker Navistar International (NYSE:NAV) reported earnings that blew past analysts' expectations ($3.48 per share versus a consensus estimate of $3.08). The company's CEO emphasized the resilience of the truck industry even during tough economic times. A need to replace aging fleets in North America has led to 17 straight months of rising truck sales, and S&P notes that "truck revenues will rise 60% in 2011...[and] 37% in 2012."
Navistar however, is not the way to go if you want to invest in truck manufacturers--it has a sky high long-term debt to cap ratio and low net margins, both of which are particularly bad for industrial companies. A better bet seems to PACCAR Inc. (NASDAQ:PCAR), maker of Peterbilt and Kenworth highway trucks. Although the company's retail truck sales are down from their five year average, sales rose 17% in 2010 and PACCAR expects 2011 retail sales to rise approximately 50% in 2011. According to S&P The company has achieved a net income compound annual growth rate of 10% over the past decade and guards against downturns by focusing on assembling trucks rather than manufacturing parts.
The company's long term debt to cap ratio is relatively low and analysts expect PACCAR's earnings to grow by nearly 25% in 2012 to around $3.40 per share, meaning that the company trades for 11 times forward earnings. 57% of firms covering the company rate it a buy/hold or better and no analyst has a 'sell' rating on the company. For its part, S&P has a target price on the shares of $66, nearly 80% above its current level, and the company pays a 1.94% dividend.
The company has also repurchased 8.4 million shares this year and has approved the repurchase of $300 million more shares going forward. The company also notes on its website that its stock has averaged a 16.2% shareholder return over a ten year period, has paid a dividend for 71 straight years, and has turned a net profit for 72 straight years. Also, as of October 25, the company had operating cash flow of $1.15 billion.
As a final note, it is worth mentioning that earlier this year, Jim Cramer advised investors to buy Cummins over PACCAR. While Cummins may indeed be a better company, PACCAR is one of Cummins's customers, so I'm not entirely sure it is as simple as owning one company at the expense of the other. In any case, PACCAR seems to be a solid company with good long-term potential. At just 11 times 2012 earnings, now is a good time to begin averaging into the shares.
Disclosure: I have no positions in any stocks mentioned, and no plans to initiate any positions within the next 72 hours.