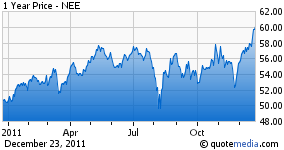 NextEra Energy (NYSE:NEE) may be a new company on your radar, but that's deliberate.
This is, in fact, the former Florida Power and Light, a major political player in the sunshine state, which has been expanding its footprint in a variety of areas of power generation, including wind power.
Unlike other companies involved in renewable energy, NEE has a stable balance sheet, the gift of being a regulated utility. It can pay a dividend. This means it can get financing, $234 million in this case covering wind plants in Oklahoma and California generating a total of 237 megawatts.
Critics will say this isn't a renewable story at all. They would be right.
It's true that over half the energy NEE generates is produced by natural gas. But this too is part of the profit story that generates a PE of over 16. Natural gas is cheap. Only 13% of its supplies are from oil and coal, combined, against 21% generated through renewables, including hydropower and solar cells. All this means it has relatively low costs, thus higher margins, when compared with other utilities of similar size.
Its growth story is also fueled by good contacts in Washington, not just Tallahassee. The Department of Energy has greenlighted a 300 MW solar project it's building on public land in Arizona. Those contacts are important because NextEra also owns the controversial Seabrook Nuclear Plant in New Hampshire.
So, is this a renewables company, or is it an efficient utility? Mainly it's the latter, which gives it the cover to be the former. But the change it is making in the energy landscape is relatively minor and scaled – it still prefers large projects situated far from population centers, requiring many miles of AC power lines to reach market, power lines which lose some of that power as they travel.
They're not out to change the world, they're just out to make money.
And if you're looking for some numbers to justify investment interest, how is this? The company has the lowest EV/EBITDA ratio in the power industry, a number generated by putting enterprise value over earnings before interest, taxes, depreciation and amortization. It's 4.59.
The bottom line is this is a value play with a bit of a renewable upside. You can buy it as a utility with a growth story, you can buy it for its investments in renewable power, or you can buy it for the fat 3.58% yield.
Disclosure: I have no positions in any stocks mentioned, and no plans to initiate any positions within the next 72 hours.