An exchange traded fund that tracks Brent crude futures is up nearly 20% this year while the WTI version is in negative territory with the outperformance driven by Middle East tensions.
U.S. Brent Oil Fund (NYSEARCA:BNO) is up 19.6% year to date.
However, from a technical perspective, some analysts see a bearish pattern playing out that could take Brent down to $96 a barrel, according to a Bloomberg report.
U.S. Oil Fund (NYSEARCA:USO) tracks futures based on light, sweet crude oil delivered to Cushing, Okla. The ETF is down about 2% this year, according to investment researcher Morningstar. Since the ETFs invest in futures contracts which are "rolled" to maintain exposure, they can be hurt by "contango" in the futures market.
Over 2011, the price of Brent crude has oscillated between $92.4 and $127 a barrel as traders sent the price swinging after disruptions from the high-quality Libyan crude and the following quick resolution to the country's social unrest, Middle East riots, U.S. credit-rating downgrade and the ongoing eurozone debt crisis, reported Selina Williams for The Wall Street Journal.
Brent crude is trading around $107 a barrel.
For 2012, new geopolitical risks, especially an embargo on Iran - along with unrest in Middle East countries and supply disruptions from Syria, Yemen and Libya - may all contribute to higher prices. However, prices could be tempered by slow economic growth in the eurozone as the debt crisis lowers demand.
"There are lots of key risks for next year: downside is macro, upside is geopolitics," Amrita Sen, oil market analyst at Barclays Capital, said in the report. "That key tug of war over the latter half of this year will definitely continue, at least into the first half of next year."
Analysts believe oil prices will be softer going into the first quarter due to EU problems and weak oil demand on warm weather.
Goldman Sachs projects Brent crude to average $120 per barrel next year and Barclays Capital estimates Brent to average $115 a barrel. According to a recent Reuters poll, analysts expect Brent to average $105 per barrel in 2012, said Zaida Espana for Financial Post.
"We expect a mild recession across the OECD next year to put a damper on demand and consequently prices," David Wech of BC Energy said in the Financial Post article. "Nevertheless, the risk to oil prices is definitely on the upside given a still troubled geopolitical environment."
Glen Ward, head of retail derivatives at London Capital Group, also expects the upside risks on oil prices to outweigh the downside and that traders will feel more comfortable with long positions.
The International Energy Agency calculates that an EU embargo on Iranian crude could cut 600,000 barrels a day of imports, which would further tighten markets and inventories. Tensions between the West and Iran over the country's nuclear program has also raised fears that the Strait of Hormuz, the world's largest shipping channel for oil, may be closed.
The Reuters poll reveals that analysts expect the premium for Brent over U.S. crude will average $8.20 per barrel in 2012, down from the average $15.70 year-to-date in 2011. The spread is expected to further narrow as the U.S. Seaway pipeline reversal comes into effect and Libyan crude returns to market.
U.S. Brent Oil Fund

Click to enlarge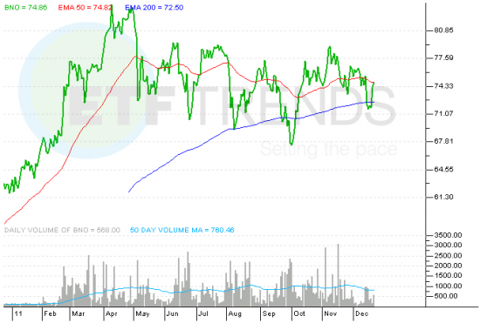 Max Chen contributed to this article.