This morning I added DUSA Pharmaceutical (NASDAQ:DUSA) to the Barchart Van Meerten speculative portfolio on positive price momentum. The portfolio features stocks trading below $10 per share that are hitting the most frequent new highs in the past month. As shown in this graph provided by Barchart, it seems to be hitting on all cylinders: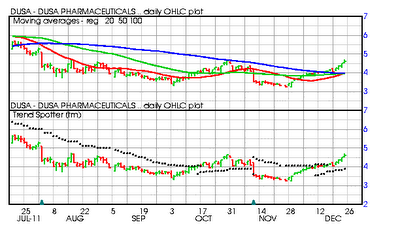 DUSA Pharmaceuticals, Inc. (DUSA), a vertically integrated dermatology company, develops and markets Levulan photodynamic therapy (PDT) and other products for common skin conditions primarily in the United States, Canada, and Korea. Its products include Levulan Kerastick 20% Topical Solution with PDT and the BLU-U brand light source for the treatment of non-hyperkeratotic actinic keratoses of the face or scalp. The company also markets the BLU-U without Levulan for the treatment of moderate inflammatory acne vulgaris and general dermatological conditions; and non-PDT drug products, such as ClindaReach and AVAR products. DUSA Pharmaceuticals, Inc. was founded in 1991 and is based in Wilmington, Massachusetts.
Factors to Consider
Barchart technical indicators:
88% Barchart technical buy signal
Trend Spotter buy signal
Above its 20, 50 and 100 day moving averages
18 new highs and up 38.25% in the last month
Relative Strength Index 72.79% and rising
Barchart computes a technical support level at 4.45
Recently traded at 4.61 with a 50 day moving average of 3.97
Fundmental factors:
Only 1 Wall Street brokerage firm is following this stock
The analyst projects sales will increase by 17.50% this year and another 20.70% next year
Earnings are estimated to increase by 100.00% this year and an additional 81.80% next year
The P/E ratio of 14.57 is at a slight premium to the market P/E ratio of 13.80
No dividend
General investor interest:
I use the readers of Motley Fool to gauge the sentiment of the individual investor
25 readers are following the stock and voted 92% that the stock will beat the market
3 of the more experienced and savvy All Stars also follow it and all 3 think it will beat the market
It is always important to compare the stocks price action over the past year to its competition and while DUSA is up 87%, Pharmacylics (NASDAQ:PCYC) is up 142%, PhotoMedex (NASDAQ:PHMD) is up 156% and QLT (NASDAQ:QLTI) is up 8%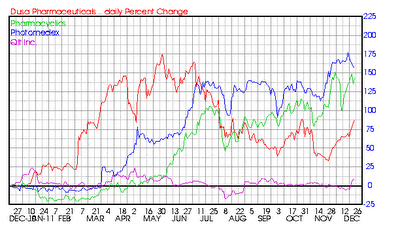 DUSA Pharmaceutical is having a recent run up in price based on projected double digit increases in both revenue and earnings. Looking at the 14 day turtle channel tells me not to wait around for a dip in price to happen: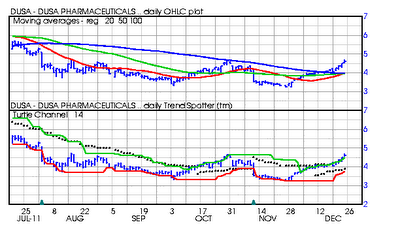 Disclosure: I have no positions in any stocks mentioned, and no plans to initiate any positions within the next 72 hours.