On Wednesday reports circulated that Yahoo!'s (NASDAQ:YHOO) board was weighing offers to unload the bulk of the company's holdings in Alibaba Group and Yahoo!'s Japanese partner.
These transactions could infuse Yahoo! with $17 billion, which would give the company cash to rebuild its efforts in the U.S. market.
Still, would divesting itself of these assets be a smart play? In all actuality, Yahoo!'s Asian holdings may be the company's most valuable assets. Shedding them for cash would leave Yahoo! with what? A broken U.S. business model?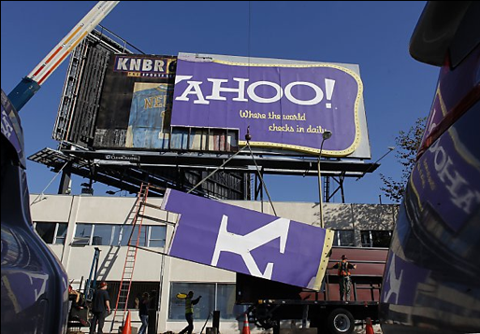 Click to enlarge
Is Yahoo! worth saving? While readers of ZeccoPulse may also be frequent visitors to the Yahoo! Finance website, the rest of the company has atrophied significantly since the company's hey-day at the turn of the millennium.
Its search business has long been outdone by Google (NASDAQ:GOOG), which maintains a commanding 65% market share. Yahoo!'s advertising revenue has long fallen off, and while competitors were moving into new territories like social media, Yahoo! has mostly stayed pat—failing to innovate an industry that thrives on innovation. Even the iconic Yahoo! sign in San Francisco that stood tall as a symbol of the internet for more than a decade, is now gone too.
Wednesday's report was yet another in a long string of rumors swirling around the company. The once darling of the NASDAQ has slowly faded into obscurity while market intensity over the company's ultimate fate has heightened.
This was intensified when the company fired CEO Carol Bartz earlier in the year. The outspoken Bartz was quick to retaliate, placing much of the blame for the company's failings on the board its self.
Activist investor Daniel Loeb of Third Point Capital has taken an interest in the company, penning letters deriding Yahoo!'s management for its failings.
By Paul Quintaro
Along with Third Point, Silver Lake has also taken an interest in the company, going so far as to offer to purchase the company for $16.60/share.
Another rumor surfaced that Yahoo! was considering merging with AOL (NYSE:AOL). The rumor proved false, but may have struck a chord with investors intrigued by the prospect. It would seem almost poetic to have two former titans combining forces to halt their declines.
At any rate, although Yahoo!'s business may be slowly coming unglued, traders may wish to keep the stock on their watch list.
The rumors do not seem to be going away anytime soon, and the stock could benefit from a lot of volatility. That may make it unattractive to long term investors, but shorter-term speculators could find opportunity if the stock continues to undergo intense shifts – up or down.
Ultimately, the company could become a buyout or takeover target in some capacity, and bring premium to shareholders. Meanwhile, the company's board has seemingly accomplished few positives in recent years.
Important Note
Content, including research, tools and securities symbols, is for educational and informational purposes and should not be intended as a recommendation or solicitation to engage in any particular securities transaction or investment strategy. You alone are responsible for evaluating which securities and strategies better suit your financial situation and goals, risk profile, etc. The projections regarding the probability of investment outcomes are hypothetical and not guaranteed for accuracy or completeness. They do not reflect actual investment outcomes and are not guarantees of future results, and do not take into consideration commissions, margin interest and other costs that will impact investment outcomes. Content may be out of date or time-sensitive, and is subject to change or removal without notice. Supporting documentation for any claims made in this post will be supplied upon your email request to editor@zecco.com.
At the time of distribution of the material contained herein, neither Zecco Trading nor Zecco Forex was a market maker or acted as the contra-party for customer transactions through the firm's principal accounts for the securities discussed.
Zecco Holdings, Zecco Trading, Zecco Forex, and their officers/partners/employees may hold a nominal financial interest in any of the securities discussed herein, with the nature of the interest consisting of, but not limited to, any option, right, warrant, future, long, or short position.
Neither Zecco Trading nor Zecco Forex has participated as a manager or co-manager in public offerings of the securities mentioned herein within the last twelve months.