I have written several articles about Sirius XM Radio (NASDAQ:SIRI) in the past year (click here to read). I began tracking Sirius after fellow Seeking Alpha contributor Rocco Pendola brought up Sirius in the chat room, and wrote an article with his thoughts. We have not always agreed about Sirius, but I have him to thank for bringing the company to my attention.
One article in particular about Sirius I wrote is titled "The Smart Phone Threat To Sirius XM" and I wrote it in March of this year when I started covering Sirius. As we begin to close out this year and look toward 2012, it would appear to be a perfect time to review the current status with smart phones and satellite radio.
With AT&T (NYSE:T) recently giving up on a T-Mobile takeover, and U.S. regulators clearly signaling their desire for central planning of the cell phone industry, we can expect more of the same based on the path carriers are on.
T-Mobile for example offers an unlimited plan including "high speed" and "low speed' for about $50 a month per line with family plans. I called and talked to T-Mobile about using Pandora after the high speed is used up. I was advised I could expect very little to no problems with Pandora while using a smart phone while streaming through the slower data rate.
As a former customer (who may be moving back) I have no reason to doubt what T-Mobile advised me. Sprint (NYSE:S), the service I use, offers unlimited wireless data. I stream Pandora and other online radio stations often while driving, cooking in the kitchen or out in the yard and it works great. AT&T does not offer unlimited streaming based on my review of their website, but with its 4GB plan a consumer may stream four hours a day on average without going over the 4GB limit. Obviously enough streaming radio for most people and likely to be a de facto "unlimited" plan for the average smart phone user.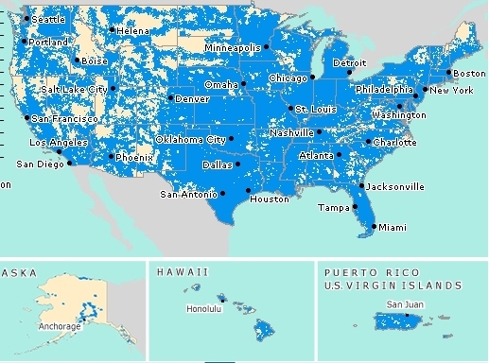 Along with AT&T, Verizonc(NYSE:VZ) offers a similar plan. What can be said is with at least two carriers offering unlimited streaming, almost the entire population is able to get an unlimited plan if they choose to.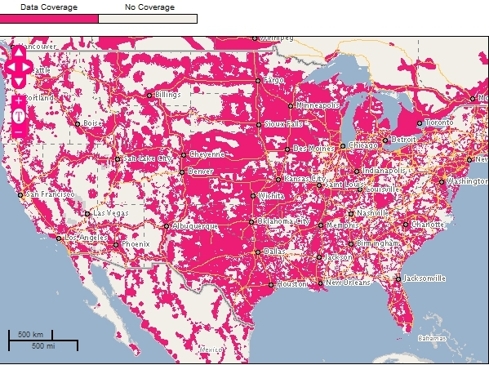 Since my last article, Apple (NASDAQ:AAPL) products may now be found in three locations. AT&T, Verizon and Sprint all offer iPhones. This should in theory make iPhones lower in price to the consumer as the three companies battle it out for market share. This should also create greater competition with cell phone plans. With three carriers, Verizon can no longer have as easy of a time holding prices as high due to an exclusive or near exclusive with Apple products.
When comparing Internet radio verses Sirius radio, many people will bring up the financial results of Pandora as proof Internet radio is not the future, much less a viable threat to Sirius. This is a very poor theory to base an argument that demonstrates Sirius is a good investment.
First, a rising tide lifts all boats. If the competition is indeed struggling, it means less - not more - opportunity for Sirius shareholders. Secondly, there are many other players in the market beyond Pandora. For example, Apple iTunes became the largest distributor of music in the world this year. Along with Apple's continuation of market share gains, Google (NASDAQ:GOOG) is creating a newer "music mouse trap" called Google Music Service and it's out of beta. The great thing about Google Music is a user can upload all music and play what they want when they want. Add in a smart phone along with Sprint service this includes traveling on the road.
In 2009 less than one out of five cell phones in use were smart phones and now for the period ending October of 2011 the use has moved up to 44%. With smart phone purchases the greatest among the youngest demographics, we can expect the trend to continue.
The problem SIRI faces with all the other listening options available is similar to what the railroads faced when the interstate system was built. Sirius is burdened with paying the whole freight of building and maintaining the content delivery system. As time goes on, more people can be expected to get to know and use Internet radio. Without having commercial free radio as a competitive advantage over others, Sirius will be left to premium content as the primary means to separate itself from the rest. Content like Howard Stern and sporting events are likely to keep a full blown migration away for the time being.
But what happens when Internet radio moves into this arena? With several public and private internet radio providers already able to reach a large critical mass of listeners, Sirius can expect to face greater competition, and hence, lower margins for premium content. Sirius may have been the only real option for Howard Stern to sign with in the latest contract, but don't doubt for a minute other options will be available when the contract expires. This holds true for other artists and exclusive content generators as well.
Sirius stock has languished for months in a trading range of about $1.60 to $2.00 per share. With a few very brief moments above and below to confuse traders, the trading range is well entrenched. Even the 200-day moving average has virtually flat lined near $1.88.
My previous articles suggested the January $2.00 and $2.50 strike price call options may be worth looking at as a short sale. One can currently exit the positions with gains on both series and at an asking offer of only $.01 for the $2.50 call and an offer price of $0.03 for the $2.00 strike price. I believe due to the lack of additional premium to be gained, it's a good time to look at rolling over these options into the March 2012 expiration date.
The problem we run into becomes obvious when looking at the moving averages. There is no one paying for premium. While I believe it's time to bail out of the January series, I am not ready yet to short Sirius (or any other stock) when the premium is this low. If anything I am likely to buy premium on the cheap with the goal of trying to sell it later after a move higher or lower. Meanwhile, I am holding the powder dry with Sirius, and waiting for a spike in price higher to sell call options into.
While the numbers have yet to show it, there is a lot to like about Pandora. First, it's now discounted from the IPO price. Secondly, they have huge amounts of inventory to sell. While a sample size of one is not something to be given a lot of weight, I have also read the same and my experience has been very few commercials during the music. The market has greatly discounted Pandora and it trades with a lot of volatility. I like Pandora longer term and with March $9 put options selling for about $1.15 I can gain exposure with a total risk of $7.85 a share. This provides a lot of breathing room if the stock continues to remain weak.
I continue to remain bullish with Google and I am currently reviewing the $595 strike price January Monthly put option contract trading near $7.60. Along with many other aspects about Google, I expect Google Music to overcome expected legal hurdles, and if Google Apps and the Android platform are guides, Sirius has a lot to be concerned with.
I remain bullish with Apple, but hold no position and will not re-enter into another position absent a pull back in price.
Do you have a company you want me to review? Let me know in the comments below.
I use a proprietary blend of technical analysis, financial crowd behavior and fundamentals in my short-term trades, and while not totally the same in longer swing trades to investments, the concepts used are similar. You may want to use this article as a starting point of your own research with your financial planner.
Disclosure: I have no positions in any stocks mentioned, but may initiate a short position in SIRI over the next 72 hours.
Additional disclosure: I may initiate a long position with AAPL and or P over the next 72 hours.