S&P 500 Volatility drops to its lowest level since late July
On Friday, December 23rd, risk-averse investors received an early gift: stock market volatility, as measured by the VIX S&P 500 volatility index, declined to its lowest level since late July, as shown by the chart below: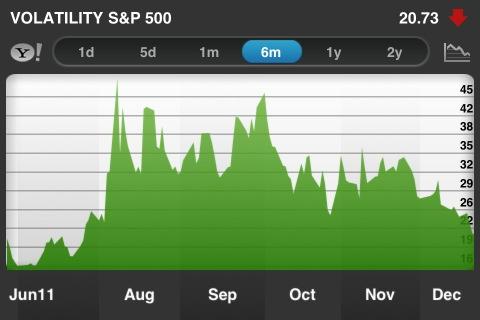 This is good news for investors looking to limit risk, as, all things equal, hedging costs tend to be lower when volatility is lower.
Hedging a handful of S&P 500 Components
To give a snapshot of hedging costs with the VIX hovering near 20, the table below shows the costs of hedging a handful of the most widely-traded S&P 500 components against greater than 20% declines over the next several months, using optimal puts.
Comparisons
For comparison purposes, I've also added the costs of hedging the SPDR S&P 500 Trust ETF (NYSEARCA:SPY) and the SPDR Dow Jones Industrial Average ETF (DIA). First, a reminder about what optimal puts are, plus a note about why I've used 20% as a decline threshold here. Then, a screen capture showing the optimal puts for one of the S&P 500 components listed below, Exxon Mobil Corporation (XOM).
About Optimal Puts
Optimal puts are the ones that will give you the level of protection you want at the lowest possible cost. Portfolio Armor uses an algorithm developed by a finance Ph.D. to sort through and analyze all of the available puts for your position, scanning for the optimal ones.
Decline Thresholds
In this context, "threshold" is the maximum decline you are willing to risk. You can enter any percentage you like for a decline threshold when scanning for optimal puts (the higher the percentage though, the greater the chance you will find optimal puts for your position). I've used 20% as a threshold here. Essentially, 20% is a large enough threshold that it lowers hedging costs, but not so large that it precludes a recover during a bear market rally.
The Optimal Puts For XOM
Below is a screen capture showing the optimal put option contract to buy to hedge 100 shares of XOM against a greater-than-23% drop between now and July 20, 2012. A note about these optimal put options and their cost: To be conservative, we calculated the cost based on the ask price of the optimal puts. In practice, an investor can often purchase puts for a lower price, i.e., some price between the bid and the ask.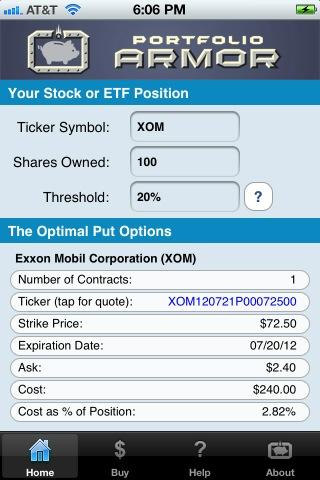 Hedging Costs As Of Friday's Close
The hedging costs are as of Friday's close and are presented as percentages of position value.
| | | |
| --- | --- | --- |
| Symbol | Name | Hedging Cost |
| PFE | Pfizer, Inc. | 2.02%* |
| T | AT&T | 1.91%** |
| VZ | Verizon Communications | 1.95%** |
| MSFT | Microsoft, Inc. | 2.65%** |
| XOM | Exxon Mobil Corporation | 2.82%** |
| WMT | Wal-Mart Stores Inc. | 1.02%* |
| SPY | SPDR S&P 500 | 2.10%* |
| DIA | SPDR DJIA | 1.91%* |
*Based on optimal puts expiring in June, 2012
**Based on optimal puts expiring in July, 2012
Disclosure: I have no positions in any stocks mentioned, and no plans to initiate any positions within the next 72 hours.