In September, I wrote favorably about the transition that J.C. Penney (NYSE:JCP) was undergoing and expressed my excitement about incoming CEO, Ron Johnson (J.C. Penney's New Lease On Life). None of that has changed. What has changed is the price of J.C. Penney's stock. Since I wrote favorably about the company, the stock is up more than 42%.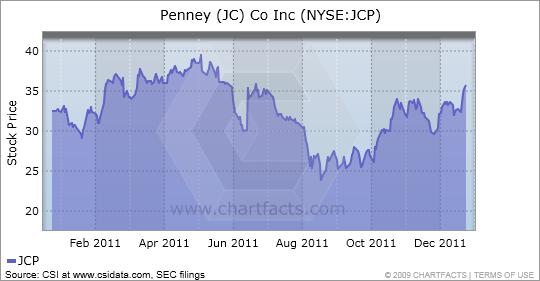 Normally I am a very long term investor, and rarely consider selling a stock after only three months. However, retail stocks are a different breed and J.C. Penney shares have priced in a lot of success. Retail stocks typically fare best in late fall through the end of the year, before they report fourth quarter earnings. J.C. Penney is in the process of what I still believe will be a remarkable turnaround, but it may take several quarters for its success to unfold.
J.C. Penney is working with a new store-within-store format with such retailers as Sephora, owned by Louis Vuitton Moet Hennessy (OTCPK:LVMUY), and Martha Stewart Living Omnimedia (NYSE:MSO). The MSO deal was announced this month, but J.C. Penney won't actually be selling the merchandise until 2013. Ron Johnson seems to be making the right moves to increase J.C. Penney's appeal to a younger more affluent customer. I place a lot of faith in the former head of Apple's (NASDAQ:AAPL) retail stores.
Shares of J.C. Penney have likely priced in more than the company can deliver over the next twelve months. I see the retailer's turnaround taking at least two years to complete. In the meantime, I see risk that the stock trades lower after retailers are finished reporting holiday sales.
J.C. Penney now trades at almost 40 times earnings and almost 22 times projected earnings. The stock still appears attractive on a EV/EBITDA basis, trading at about 7 times. J.C. Penney's price-to-earnings growth (PEG) ratio has increased to about 1.5.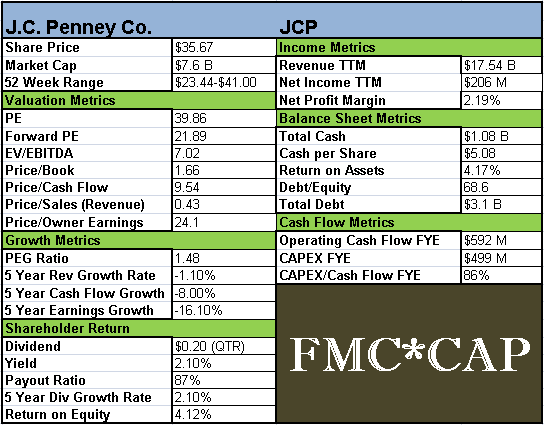 As the share price has increased over the excitement about J.C. Penney's transformation, so have expectations. Although it's likely this will be a very different company and retail experience from the past, the risk is high that investors could be disappointed over the short-term. Investors may want to consider getting in the check-out line with shares of J.C. Penney and ringing up some nice gains.
Disclosure: I am long AAPL.