Bank stocks have had a very difficult 2011, vastly underperforming the overall market all year. I believe 2012 should be a much better year, especially for small and regional banks. They should be less affected by all the new financial regulations being applied to large financial institutions. They also do not have investment banking and trading arms that will have to be reduced or divested. Two small banks I like due to their regional focus, reasonable valuations and high dividend yields are the following:
People's United Financial (NASDAQ:PBCT) – "People's United Financial, Inc. operates as the bank holding company for People's United Bank that provides commercial banking, retail and business banking, and wealth management services to individual, corporate, and municipal customers". (Business description from Yahoo Finance)
4 reasons PBCT is a long term value at under $13:
1. The stock has an A- rated balance sheet, a low beta (.33) and provides a generous 4.9% dividend yield.
2. People's United Financial is selling at the bottom of its five year valuation range based on P/E, P/B, P/CF and P/S.
3. Numerous insiders picked up new shares in the second quarter at slightly higher prices.
4. It has a five year projected PEG of under .9. It also has credit quality and capital levels above its regional peers.
Hudson City Bancorp (NASDAQ:HCBK) – "Hudson City Bancorp, Inc. operates as the bank holding company for Hudson City Savings Bank that provides retail banking services in the United States. Its deposit accounts include passbook and statement savings accounts, interest-bearing transaction accounts, checking accounts, money market accounts, and time deposits, as well as IRA accounts and qualified retirement plans". (Business description from Yahoo Finance)
4 reasons why HCBK is a solid long term buy at $6 a share:
1. The stock appears to be building a technical base in the $5 to $6 share level (See Chart).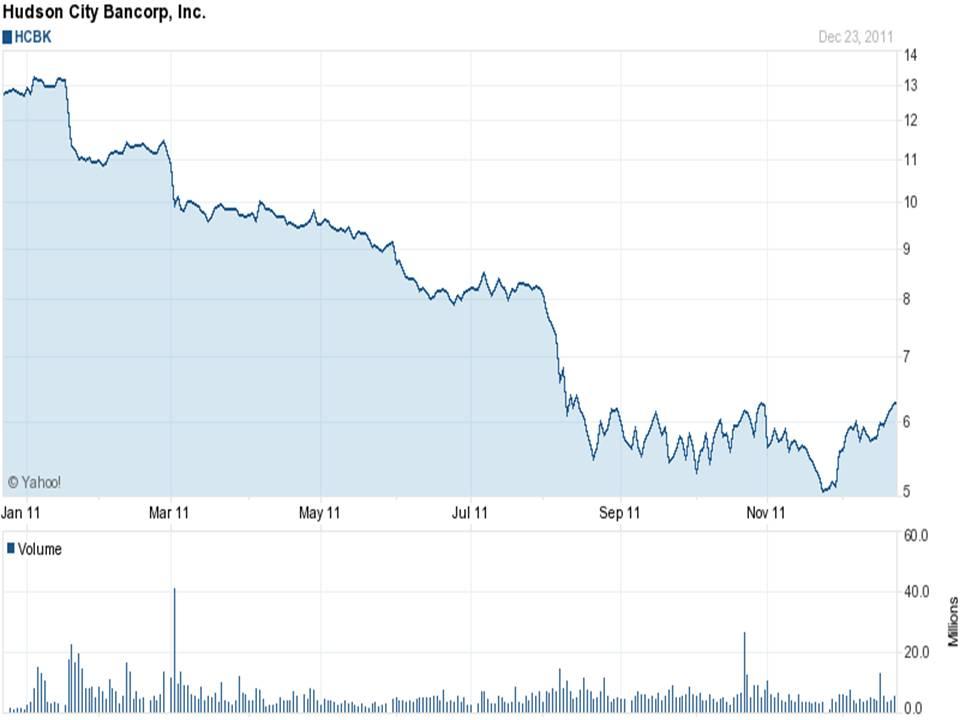 Click to enlarge
2. Its robust 5.2% yield should put another floor another the stock
3. The stock has a reasonable forward PE of under 10 and is selling at just 63% of book value.
4. Given its low market capitalization and its 135 branches in metropolitan New York, I could see the company being a strategic acquisition for a larger financial player.
Disclosure: I have no positions in any stocks mentioned, and no plans to initiate any positions within the next 72 hours.