Company Summary
Cooper Tire & Rubber (NYSE:CTB) is North America's fourth largest replacement tire manufacturer and marketer (ninth largest in the world). The two business segments are divided geographically, North American Tire and International Tire, which make up 67% and 33% of net sales respectively. CTB's stock price has rebounded considerably from a <$4 low in 2009 to over $14 per share today, while both key valuation and growth metrics have improved beyond pre-recession levels. Additionally, the next couple of months will make for a great entry into this market due to the dramatic drop in natural rubber prices.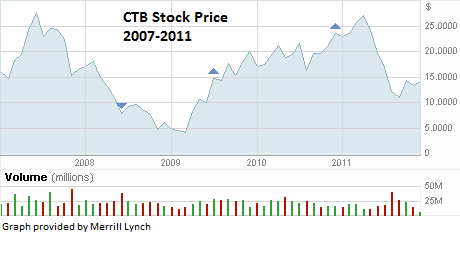 Valuation
CTB is low on debt, with a current ratio of 1.70 and a debt to equity ratio of 0.46. Given a revenue CAGR of 6.9% from 2006-2010 and 8.6% from 2002-2010, this is solid positioning, especially for an asset-laden industry such as tire manufacturing. A valuation comparison of CTB with one of the few publicly listed competitors, Goodyear Tire & Rubber (NYSE:GT), can be seen below: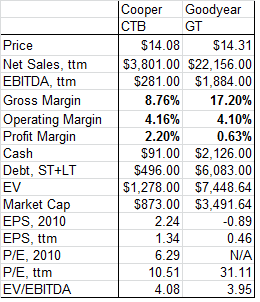 The drop in cash from $413M in 2010 to $91M this past quarter is due to a number of things: (1) purchasing the rest of Kenda Rubber Industrial's share of a JV Chinese plant, (2) a 58% stake in COOCSA, a Mexican tire producer, (3) a number of capital expenditures expanding original plant capacities, and (4) a drastic rise in the cost of natural rubber, which will be discussed later. The capital expansion will be justified so long as its matched with increased returns on assets; either way, the expansion of CTB's global network will likely decrease costs in the long term and reach new customers in the short term.
The P/E and EV/EBITDA metrics show that both companies are generally undervalued. CTB's more attractive level of debt should make it a much more attractive buy, despite a proportionate level of net sales differences. Additionally,A closer inspection of Goodyear shows it is riddled with pension liability issues, which this article doesn't go into. On the other hand, I should note here that if you remove Goodyear's 4Q2010 EPS of -0.73, then Goodyear's P/E ttm crashes to ~12--a much more attractive multiple.
Rubber Prices and Entry Timing
The most striking (per-unit) difference between CTB and GT is in their gross margins. These margins have always been historically low, though they are nearly at their lowest in the past five years excluding 2008. Tire manufacturing margins are heavily tied to commodity prices, especially natural rubber. Manufacturers use futures contracts to purchase for a given quarter and to hedge for large price changes. From early 2010 to mid 2011, when the price of natural rubber rose 80%, CTB's gross margins collapsed. Competitors like Goodyear and Continental AG were less hurt from the price spike was because of their much larger economies of scale and their longer term contract pricing.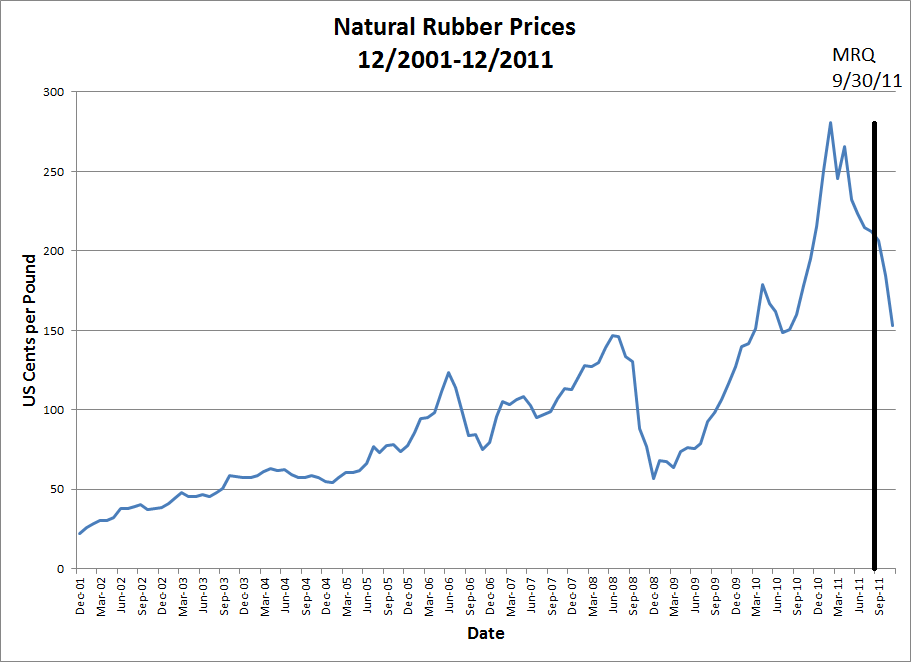 Click to enlarge
Despite a 09-10 net sales increases YoY of 21% and an EPS increase from 1.02 to 2.24, a seemingly lackluster performance has scathed CTB's 2011 thus far. This pessimism is mostly built up in the low 2011 margins and low resulting EPS. Net sales, however, are still on pace to grow 13% and gross margins will rebound following drastically lower rubber prices.
A regression analysis of percent changes in gross margins on percent changes in price (see results below the scatter plot) shows the likely effect on margins of the 25% fall in prices we've seen during Q4 2011. The confidence interval (NYSE:CI) t statistic is generated from a 95% significance level. Additionally, a hypothesis test that B1=0 can be rejected at this same level. The quarters used were from Q1 2006 to Q32011, excluding 3Q2008-1Q2009 because of the dramatically higher absolute value percentage changes in margins.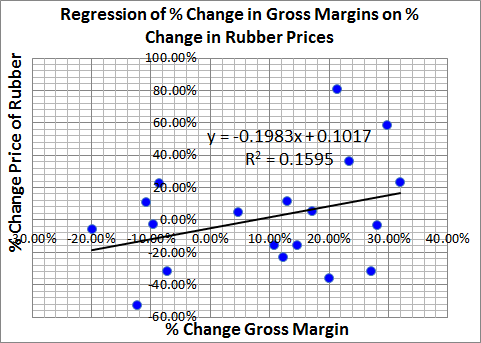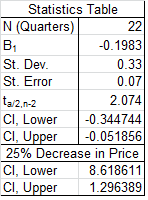 Thus, a 25% reduction in the price level for a given quarter is likely to have anywhere from a 1.3% to 8.6% rise in gross margin. If we take the average, roughly 5%, then our price fall should more than double gross margins next quarter. This should have a significant impact on net income.
Another Kicker
Finally, Cooper Rubber & Tire is in a prime position as a takeover candidate. Low cost Asian competitors, such as Hankook Tire and Kumho Tire, are visibly taking market share from the US and Japanese giants such as Goodyear and Bridgestone. Global competition will likely force a consolidation of tire manufacturers in the coming years, making Cooper Tire & Rubber a solid candidate at a P/E of 6.4, an EV/EBITDA of 4, and a generally depressed stock price.
Conclusion:
Buy CTB before their 2011 financial statements come out, as 4Q and 2011 net income is likely going to be higher than much of the market expects. Even if rubber prices settle between $1.50-$2.00, CTB has strong financials, low debt, and promising growth to position it well into the long term. It's value as a takeover candidate should only add to this margin of safety.
Disclosure: I am long CTB.