Shareholders of Research in Motion (RIMM) have seen their stock value minced into chutney this past year. We thought the stock looked undervalued in June, but the following two quarterly earnings reports (Q2 &Q3 2012) went from bad to ugly.
Making matters worse is that management seems to be in denial of the fact that the ship is heading straight for the rocks.
We wrote in June that "RIMM needs to focus on their core strengths." Unfortunately, the only bone being thrown investors is the announcement that the co-CEO's will each receive a salary of $1. Getting paid $1 for having their heads in the sand seems like two bucks too much in our view.
Now that shares are trading closer to tangible book value, what are the options for this fallen smart-phone maker? From a financial statement perspective, RIMM also has attributes that may be appealing to a potential private equity suitor: declining earnings, but productive operational assets.
The question is can management or a potential white-knight kick-start the growth story or at least monetize asset value before it's too late?
Takeover chatter a 'plenty: On December 18, Seeking Alpha contributor Bret Jensen made a plausible argument for Amazon (NASDAQ:AMZN) to acquire RIMM. He observed that while such a union was a "radical thought", Jensen did paint an intriguing portrait as to how it might unfold. M&A rumors involving other potential suitors have also been active lately.
More recently, we are hearing that RIMM management is not interested in a deal at this time, preferring to fix their problems internally.
Valuation: The Merriam Report's dual cash-flow and accrual analysis of RIMM (for 7 seven quarters through Nov. 26, 2011) indicates a potential estimated fair-value of $18.85 per share (net of IP value*).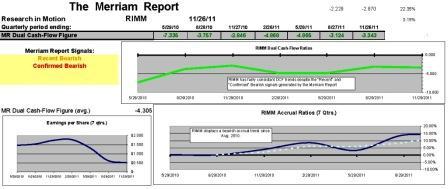 *The estimated value of RIMM's patents vary; given that net intangibles are 17% of total assets, we assign an estimated range of $ 7-10 per share for RIMMM's patent portfolio.
Despite glaring management missteps, eroding market share and disappointing guidance, we believe investors are ignoring the consistency and historical strength of RIMM's operating cash-flow (OCF). This can be seen in the chart below. Notice the widening spread between cash-flow generated from operating activities and "cash" created by balance sheet maneuvering.
click to enlarge

Rising Accruals: One concern offsetting strength in our cash-flow scenario is a recent increase of RIMM's accrual ratio during the previous two periods. In addition, we note the company experienced some mild deterioration in capital productivity and a spike in cost-of-sales for the recent third quarter ending November 26th.
Summary: During the past six months, our fair value estimate for RIMM has declined from the $40 area to a current estimated FV of $25-28. While hopeful that management might have been more proactive in fixing their myriad of problems, this has not been the case in recent quarters.
Adding insult to injury, the board's "symbolic" CEO compensation gesture of $1 reveals an apparent disregard of its fiduciary responsibility to shareholders. At best, it is a thinly disguised mea culpa which also telegraphs the message "don't expect a dividend either".
While a management change (either via miracle or by proxy) would provide a welcome catalyst to push shares higher, it is also difficult to expect the stock will reach our fair-value estimate anytime soon. Keep in mind RIMM is a broken stock, solidly in "falling knife" territory.
Nonetheless, amidst the dour sentiment, RIMM looks by our reckoning to be currently trading at a 26% discount to the cash-flow earnings potential of its operating assets.
Disclosure: I am long RIMM.