Actionable Items:
Highest Positive Spread: BlackRock Floating Rate Income Trust (NYSE:BGT)
Lowest Negative Spread: Gabelli Global Utility & Income Fund (NYSEMKT:GLU)
Focus Stock of the Week: Gabelli Global Utility & Income Fund (GLU)
Last Week's Focus Stock: The Thai Capital Fund (NYSEMKT:TF-OLD)
CEF Weekly Review: On average, the 13 closed-end fund (CEF) types registered a share price increase of 1.7% for the week ending 12/23/11. The high-low spread (percentage price change difference between the highest and lowest fund types) registered this week was a 3.2% versus a wider +5.2% the previous week. On an aggregate unweighted basis, the weekly average price change for the 500 plus CEFs in the GrowthIncome database was up 1.4%.
The PowerShares CEF Income Composite (NYSEARCA:PCEF), an ETF that invests in taxable income CEFs, advanced 3.3% for the week. PCEF is down 6.9% YTD based on share price and up approximately 1.5% when its current annualized yield of 8.4% is considered as part of a total return calculation. S&P 500 advanced 3.7% this week and YTD crossed over to a record a gain 0.6%.
(Click Here for YTD CEF Performance. See, "Research" Menu; "CEF Weekly Information" tab)
The Eqcome CEF Fear Index eased on the upside. The average CEF unweighted price increased 1.4% while the average related NAV advanced 0.6%. The VIX continued its downward trajectory. It sank an additional 14.3% this week to 20.73 in response to a follow through on Tuesday's rally of 3.0%.
CEF Weekly Fund Type Performance: In a week fueled by a 3.7% rise in the S&P 500, one would have expected equity-oriented funds to lead the pack. Instead, LoanPartFnds was the run-away leader with PrefStkFnds in the second spot at 3.8% and 2.2%, respectively.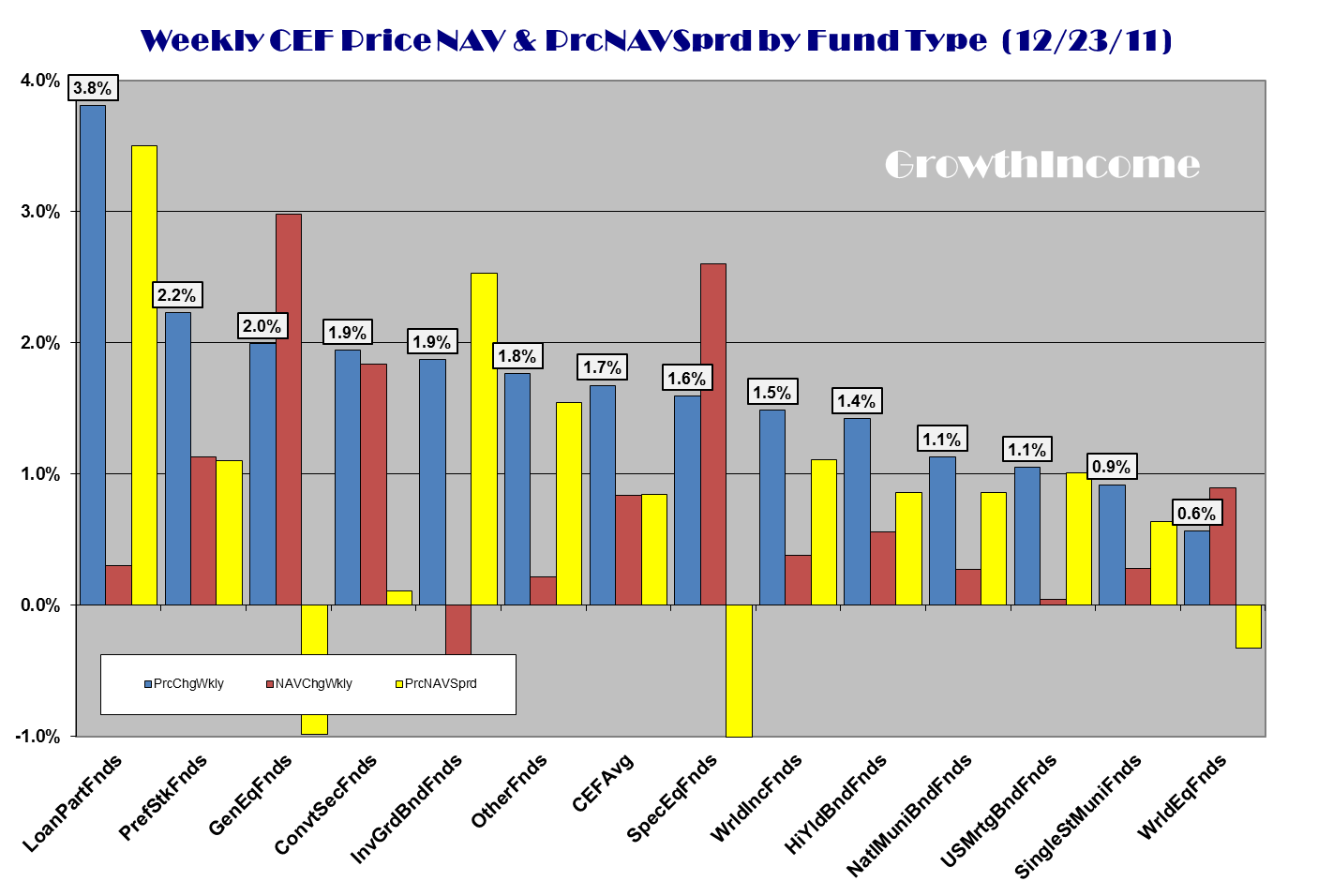 The prospects for higher interest rates may have provided an impetus for investors wanting exposure to an interest rate sensitive sector such as floating-rate loans. The ProShares Short 20+ Year Treasury (NYSEARCA:TBF) advanced 3.3% for the week indicating the possibility of higher rates.
GenEqFnds posted in the "show" position with a 2.0% advance. SpecEqFnds performance was 1.6% and below the average 13 CEF funds types. It was weighed down by the CEFs investing in utilities and precious metals. The improving investor mood may suggest investors are lightening up their positions in defensive sectors.
WrldEqFnds continue to be under selling pressure as this YTD lagging sector. Such CEFs may have become victims of year-end tax-loss selling pressure as investors typically like to unload their losers into any type of Santa Claus Rally.
Weekly CEF Winners and Losers: One of the CEFs with the greatest positive PrcNAVSprd for the week was BlackRock Floating Rate Income Trust (BGT). BGT's price increased 8.9% while its NAV advanced 0.4% generating a positive PrcNAVSprd* of 8.5%.
As indicated above, LoanPartFnds, like BGT, was a strongly performing group this week. BGT is sponsored by a strong advisor and has approximately $500 million in assets which are underleveraged at 26%. Its annualized monthly distribution rate is 6.7% and it is currently traded at par. The stock goes ex-dividend on Wednesday the 28th on both its regular monthly distribution of $0.0775 per share and on a year-end distribution of $0.165 per share.
A CEF with the greatest negative PrcNAVSprd for the week was Gabelli Global Utility & Income Fund (GLU). GLU's price decreased 5.1% while its NAV increased 2.9% generating a negative PrcNAVSprd of 8.0%. It's sister utility fund, Gabelli Utility Trust (NYSE:GUT), suffered a similar consequence with its share price declining 2.3% while its NAV increased 4.4% generating a negative PrcNAVSprd of 6.7%. (See "CEF Focus Stock(s) for the Week", below)
Economic & Earnings Outlook: (Click here [1] for next week's economic calendar; click here [2] for earnings' announcements and estimates.)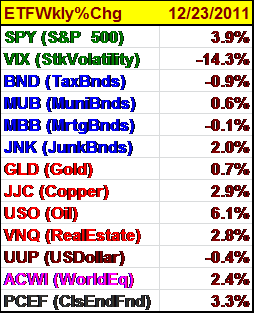 ETFs: For a more detailed EFT performance by sectors, click here—see, "Research" Menu; "ETF Weekly Information" tab.)
Insider Trading: The largest insider trading for the week took place in TICC Capital Corp (NASDAQ:TICC) where two of its officers and a director added 55,000 shares at an average share price of $8.49 for a capital outlay of $467,019. There has been fairly consistent buying in the shares by insiders since about August of this year.
DST Systems, Inc. (held by West Side Investment Management, Inc.) continues to aggressively add to its positions in both Liberty All Star Growth Fund (NYSE:ASG) and Liberty All Star Equity Fund (NYSE:USA) in the month of December—both a continuation of buying that took place in November.
In the case of USA, DST most recently added 15,380 shares at an average price per share of $5.07 accumulating 48,891 shares so far this month. It now holds 503,889 shares.
DST has been more aggressive in its insider buying of ASG. It added most recently 62,942 shares and has accumulated 170,903 shares during December. It now holds 2,354,060 shares in ASG.
Both CEFs are advised by ASPS Advisors, Inc., a subsidiary of ALPS Holdings which in turn is a wholly owned subsidiary of DST Systems, Inc. (NYSE:DST).
Another meaningful position was accumulated this week in Royce Focus Trust (NASDAQ:FUND). George W. Whitney purchased on behalf of his wife indirectly 20,000 shares at an average price of $6.25 per share for an expenditure of $125,000. Mr. Whitney owns 1,256,269 shares both directly and indirectly (898,491 shares for his wife and children). His holdings represent approximately a 15% ownership stake in FUND.
(Click here for a hyperlink to the Joe Eqcome's CEF Weekly Insider Report—see, "Research" Menu; "CEF Weekly Information" tab.)
CEF Distribution Announcements This Week: (Click Here for Joe Eqcome's Weekly CEF Distribution Announcements—see, "Research" Menu; "CEF Weekly Information" tab.) CEF Focus Stock(s) for the Week: The focus stock this week is Gabelli Global Utility & Income Fund (GLU). As previously mentioned, it was the CEF with the greatest negative PrcNAVSprd this week.
GLU is the smaller of the two Gabelli utility funds with only $63 million in unleveraged assets. It pays an annualized distribution yield of 5.8% under a managed distribution program. It is currently trading at a 1.6% premium. GLU has already pre-announced its next three monthly distributions into 2012 (January, February and March) at distribution amount of $0.10 per share.
The downward price moves in both GLU and GUT this week was in stark contrast to the SPDR's utility ETF (NYSEARCA:XLU) which advanced 3.7% for the week. Both GLU and GUT saw their respective daily trading volumes spike mid-week. This could possibly indicate a meaningful shareholder exiting a positions in these stocks as part of a year-end portfolio clean-up and window dressing.
Last Week's Focus Stock(s): The Thai Capital Fund (TF-OLD) was last week's focus stock. We believed the stock was attractive as a long-term investment for the following reasons:
TF appears oversold and now trades at an attractive valuation: TF, along with other WrldEqFnds, have been this year's worst performers. Such price laggards are likely a subject of tax loss selling at year-end depressing its current price. Additionally, TF is currently trading at a 14% discount which is close to its 52 week low.
Its share price may have reached an interim bottom (see separate report).
A Bounce Back From the Recent Catastrophic Flooding: Both the government's quick response to the devastation on both a short and long-term basis and the rebound in the chip manufacturing business will aid a quicker than anticipated rebound.
WrldEqFnds, like TF, are being held hostage to the political drama of the euro zone and its resolution and its implications for a global economic slowdown.
The stock volume is thin and the volume continues to be tepid this week. The stock advanced 1% which is approximately the width of its spread
Joe Eqcome (Owns a diversified portfolio of CEFs and ETFs and is long stocks in the CEFBig10™ and CEFMuni10™.)
The first is a balanced equity-income portfolio (CEFBig10™) and the second a tax-exempt income portfolio (CEFMuni10™).
[*] All things being equal, price and NAV should move in tandem. A price movement greater than the NAV generates a positive PrcNAVSprd and may be interpreted as negative on a near-term basis and indicate that the stock is overvalued relative to its NAV which in theory is the stock's intrinsic value. The opposite would be true for a negative PrcNAVSprd.