Wall Street analysts are either too optimistic, or are in need of lowering price targets for companies listed in the resource sector. Five companies trading at prices well below their target are:
| | | | | |
| --- | --- | --- | --- | --- |
| # | Company | Dec 21 2011 Price Target | Dec 23 2011 Price | Difference (%) |
| 1 | Consol Energy Inc | $61.04 | $38.05 | -60% |
| 2 | Chesapeake Energy | $35.54 | $23.73 | -50% |
| 3 | Newfield Exploration | $58.00 | $37.59 | -54% |
| 4 | Johnson Controls Inc | $41.86 | $30.82 | -36% |
| 5 | Abercrombie & Fitch | $64.08 | $48.53 | -32% |
Consol Energy (CNX), a diversified fuel producer, is trading nearly 70% below its $60.04 target price. Analysts are positive about the rising production for coalbed methane and conventional gas, along with exploration and development of shale acres. Consol's latest exploration project is a $3.4B joint venture with Noble Energy (NBL) for 663,350 Marcellus Shale acres in Pennsylvania and West Virginia.
As a natural gas and coal play, Consol trades at a P/E of 16.05, pays a $0.50 dividend to yield 1.31%, and is trading at a mid-point of its 52-week low (up 24.87%) and high (down 31.95%). The stock recently closed at $38.05.
Just like natural gas play Consol Energy, Chesapeake Energy (CHK) continues to spiral away from its $35.54 price target. Analysts reduced the price target by a mere 0.40% on December 21. Chesapeake was over 55% below Analyst target prices until shares rallied back to a recent close of $23.73 on December 23.
Investor dislike for the company's CEO, excessive acquisitions, and a drop in natural gas prices are some of the reasons why Chesapeake keeps falling. A chart of the Henry Hub Natural Gas Spot Price illustrates that weight on shares from acquisitions, against falling natural gas prices: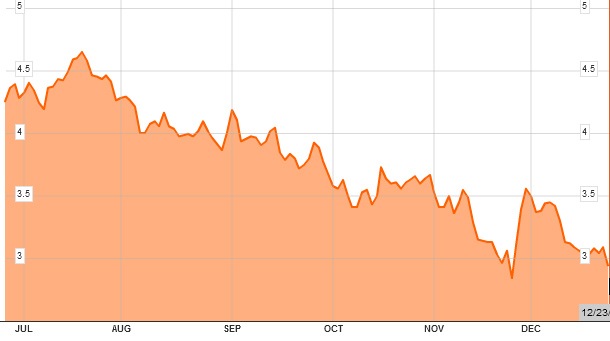 Range-bound in the $35-45 share price level, Newfield Exploration (NFX) is 54% below its $58 consensus price target. Shares trade at a reasonable P/E of 10.30, and are off 51% from its 52-week high. Most recently, the company announced a crude oil supply agreement with Tesoro (TSO) to provide 18,000 barrels per day of supply.
Johnson Controls Inc (JCI) rallied in recent days to be 6% closer to the $41.86 price target. Analysts reduced the price target by 0.20%, as shares closed at $30.82. The stock is still 36% below its target price. Johnson Controls pays a $0.72 dividend, a 2.32% yield. This represents a $0.02 dividend increase. A risk for investors is the fact that both automotive and construction represent a large segment of the company's business.
In the consumer products space, Abercrombie & Fitch (NYSE:ANF) is 32% below its $64.08 price target. Analysts raised the price target from $63.92 on December 21, or up 0.3%. Abercrombie has a strong brand name, especially overseas, and its style is consistent. In contrast, Aeropostale Inc. (ARO) has a more dynamic and diverse style. The difference between the two companies may be seen in its DSO (days sales outstanding). Abercrombrie has a DSO of over 100 days, compared to around 30 days for Aeropostale.
Investors buying Abercrombie will not have much exposure to Europe or Asia. The European financial crisis will create a recession in the region. For Aeropostale, the company reported strong direct sales (up 19%) and it will find growth in Asia. Aeropostale recently launched in Singapore.
Disclosure: I have no positions in any stocks mentioned, and no plans to initiate any positions within the next 72 hours.