The technology sector was jolted when Oracle (ORCL) reported earnings results that did not meet its already lowered guidance. Oracle dropped over $3 to $25.77 when it reported on December 21 2011.
Jim Cramer, host of CNBC's Mad Money, ranked Oracle a "sell" when he mentioned the company as a stock investors might lose sleep over. Cramer favored stocks that pay good dividends, growth stocks and companies with a good product pipeline to look forward to.
| | | | |
| --- | --- | --- | --- |
| # | Name | Call | Date |
| 1 | Oracle Corporation (NASDAQ:ORCL) | Sell | 12/20/2011 |
| 2 | Apple Inc. (NASDAQ:AAPL) | Buy | 12/16/2011 |
| 3 | Google Inc. (NASDAQ:GOOG) | Buy | 12/22/2011 |
| 4 | Activision Blizzard, Inc (NASDAQ:ATVI) | Sell | 12/16/2011 |
| 5 | Texas Instruments Incorporated (NYSE:TXN) | Sell | 12/19/2011 |
| 6 | E*TRADE Financial Corporation (NASDAQ:ETFC) | Sell | 12/15/2011 |
[1] Oracle experienced weakness from U.S., Europe and Japan. EPS grew 6% to $0.54 (non-GAAP), while free cash flow grew 45% to a record $12.6B. The company now has $31B in cash, or $7.87 cash per share.
Oracle's quarterly dividend of $0.06 yields just 0.90%. During its quarterly call, the company indicated weakness in its hardware business. Investors willing to pay a P/E of 14.82 would be bullish on its Exalogic and Exadata systems. The executives think that the business can grow by around 2.5 times.
The earnings disappointment for Oracle is a contrast to investors looking for predictability. Cramer suggested that [2] Apple (AAPL) and [3] Google (GOOG) will prove to be consistent winners. Cramer called both Apple and Google a "buy," but thought Apple lost some luster in recent months.
NPD reported that Apple's iOS market share was 29% for Q3, unchanged from Q2. Conversely, Android market share rose to 53%, up from 52%.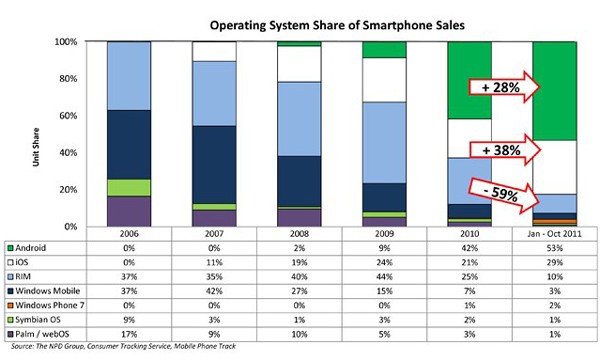 Cramer's bearishness on technology stocks extended to gaming stocks. He said that "the gaming group is no good," negative specifically on [4] Activision Blizzard (ATVI). The market saw the Zynga (ZNGA) IPO last week. Zynga peaked at $11.50, only to fall to $9.39 in recent days. Early venture capitalists already profited around 100 times from Zynga and other IPOs. This would imply that Zynga's shares are not discounted in today's market.
In the semi-conductor space, Cramer said that [5] Texas Instruments (TXN) was a "sell." Texas Instruments, whose shares will be moved from the NYSE to the Nasdaq exchange, already announced weak earnings and a weak outlook. Its negative outlook is consistent with the challenges for earnings growth in 2012.
In the online brokerage space, Cramer called [6] E*Trade Financial (ETFC) a "sell." E*Trade recently reported weak DARTs (Daily Average Revenue Trades). In November, DARTs were 141,361, down 10% sequentially and 11% year over year. In September, DARTs was 165,000. E*Trade brought in $600M in new accounts in November, and holds a total of $120B in brokerage assets.
Disclosure: I have no positions in any stocks mentioned, and no plans to initiate any positions within the next 72 hours.