In part one of this two article series, I made the case for Canada's oil sands region as a center of growth in the energy industry. I also presented Suncor Energy (SU) and Statoil (STO), two large integrated energy companies that are likely to be profiting off of this growth.
In Part II of this article, I will present Provident Energy (PVX) and Penn West Exploration (PWE) as two further companies that could derive profit growth from the development of the Canadian oil sands. These two companies were formerly Canadian Royalty Trusts but both have since converted to corporations.
Provident Energy Ltd
Provident Energy is a former Canadian Royalty Trust, but the company converted to a corporation on January 1, 2011. Unlike the other companies discussed here, Provident does not produce any crude oil from the Athabasca oil sands. In fact, Provident Energy no longer has any upstream producing assets as the company has sold or spun them all off in the last few years.
So, if Provident does not actually have any production in the Athabasca oil sands then why is it included in this article? In a previous article, I made the case for Provident Energy becoming a support player for other companies operating in the Athabasca region.
To understand how Provident can become a supporting player in the development of the Athabasca region, it is important to be familiar with the nature of the resources in the oil sands. Unlike conventional sources of oil, the oil sands do not contain liquid that flows easily through pipelines. The deposits in the oil sands are made up of bitumen, which is an extremely heavy form of crude oil. This bitumen has a very high viscosity and as a result, it cannot flow easily through pipelines. This makes it more difficult to transport the oil sands resources than it would otherwise be. Provident Energy offers a solution to this problem.
Provident Energy is a midstream producer of natural gas liquids [NGLS]. One such liquid is condensate. Condensate can be used as a diluent to lower the viscosity of the bitumen found in the Athabasca oil sands. This makes the crude flow much easier, allowing it to be pumped down pipelines. Pipelines are the most cost-effective way to transport crude and so this is typically the preferred method to use. Provident can thus profit by providing this condensate to producers operating in the oil sands.
Analysts expect Provident to earn $0.53 per share this year and $0.52 - $0.54 per share next year. This gives the stock a forward P/E ratio of 18.42 at current prices. Provident Energy pays a dividend of CAD $0.54 per year, paid monthly. At the current exchange rate, this converts to an annual dividend of $0.53 for U.S.-based investors, giving the stock a 5.48% yield.
Penn West Exploration
Penn West Exploration is another former Canadian Royalty Trust that converted to a corporation following the "Halloween Massacre" of 2006. Penn West was the largest of the Canadian Royalty Trusts and today boasts a market cap of $9.57 billion.
Penn West has an extensive resource base, with production operations spreading over much of western Canada. The company's upstream operations are found in the Western Canadian Sedimentary Basin, which covers most of the western part of the country. Penn West does not focus exclusively on the oil sands and, in fact, most of their production comes from more conventional sources.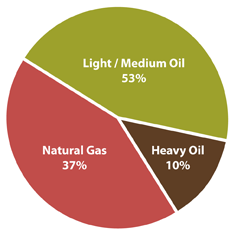 Source: Penn West Exploration
Penn West does, however, maintain a project to recover heavy oil from the Peace River oil sands (located near the Athabasca). Although Penn West had to sell a 45% stake in the project to the China Investment Corp. in 2010, it remains a very promising project for the company. Penn West could also potentially use the skill and knowledge that it gains from this project to develop further production operations in Canada's oil sands.
Analyst expectations for Penn West vary widely. The expectations are that the company will earn between $0.79 and $1.61, with most analysts leaning towards the higher number. Analysts expect Penn West to earn $0.43 - $0.97 next year, with most favoring the higher number once again. Penn West pays a dividend of CAD $1.06 annually. At the current exchange rate, this converts to an annual dividend of $1.04 for U.S.-based investors, giving the stock a 5.07% yield.
All analyst estimates in this article come from Zack s Investment Research. All dividend information comes from the respective companies.