The graph below, created by Chart of the Day, shows stock market rallies that followed massive bear markets. A 'massive' bear market is defined as a decline of greater than 50%.
"Since the Dow's inception in 1896, there have been only three bear markets whereby the Dow Jones Industrial Average declined more than 50% (early 1930s, late 1930s until early 1940s, and during the very recent financial crisis)," said Chart of the Day. The rally that followed the dot-com bubble during which the Nasdaq declined by 78% was also added to the chart.
Interestingly, the current Dow rally has followed a middle of the road path, tracking most closely the rally of the Nasdaq that commenced back in 2002.
If the current cyclical bull market were to continue to follow the post massive bear market pattern, one would expect the market to remain in an upward trend for most of 2012.
Click to enlarge: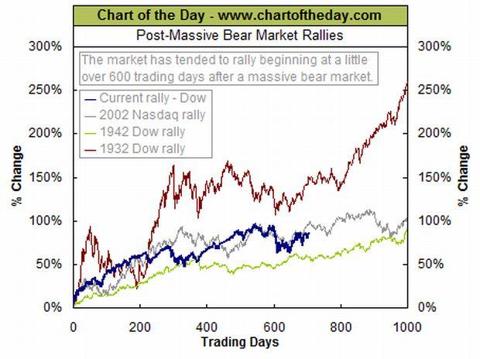 Click to enlarge
Source: Chart of the Day, December 23, 2011.