Perhaps many of you are not aware of the ongoing battle that has been taking place in South Florida. The biggest gaming corporations have been eyeing South Florida as the next major expansion to grow their revenues and profits. MGM (NYSE:MGM), Wynn Resorts (NASDAQ:WYNN) and Las Vegas Sands (NYSE:LVS) seem to be the most active and most vocal about the future of gaming in South Florida (aside from the State Government of course). It might mean that they already have positions with builders, already have large real estate holdings, or have been actively pursuing them. After all, why would they be so interested in getting their foot in the door at the stage Florida is in right now; a vote on the ballot for slot machines in various locations in Palm Beach County.
I believe, according to all news articles I have read (I live in South Florida), that Las Vegas Sands has the keenest interest in coming to Florida; South Florida to be more accurate, from Miami up to the northern border of Palm Beach County. This is where most of the largest luxury resorts are, the density of population far exceeds that of anywhere north of the Orlando area, and it has most of the State's very active and beautiful beaches. Las Vegas Sands : Price- $43.54/share, Dividend Yield: N/A, ESS Rating- Bullish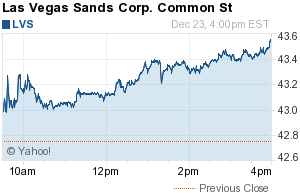 Why Buy LVS Shares Now
Its recent growth in Macau has been adding to its bottom line more than is reflected in the PPS.
The 52 week PPS shows a relative flat-line of between roughly $39.00/share to $51.00/share, and since April, the price of the shares has done nothing.
Its 5 year high of $139/share has never been on the radar since hitting it back in late 2007.
27 analysts cover LVS, and there are 23 buys or strong buys, 4 holds and no sell recommendations.
LVS seems to have prime locations everywhere that gaming is on the front burner, and Florida is a huge one.

As the economy gets stronger, so will the public appetite for gaming just about everywhere.
Many of you might not think these are reasons enough to buy shares of LVS, but the big equation in all of this is Florida. If Florida approves gaming, I believe that LVS will be ready to capitalize on it before any other gaming corporation. They have the track record of doing it the last 5 years, and they have participated in most of the forums held in Florida over the past few years.
On another note, why would one of the wealthiest men on the planet, Sheldon Adelson (CEO and Chairman of LVS) be so opposed to online gaming if it were not for the possibility that his expansion plans for enormous brick and mortar casinos in Florida would be hurt before they were even up and running? My guess is that even though Florida might not have settled the issue, LVS is well ahead of the curve and has plans in place. Is it conjecture? Of course, but isn't that what gambling is?
Actually it is not that far of a stretch to see how lucrative gambling casinos would be in South Florida. The State has everything to offer the entire East Coast (and even the Central USA).
The South Florida Attraction
3 major airports that have basically every carrier coming and going to and from anywhere.
Some of the most luxurious hotels in all of the US that already have prime locations.
The density of population that rivals only Southern California and the New York City area.
It is currently 4th on the most populated States list and within an eyelash of beating out New York State for 3rd place.
The consistency of warmer weather and beautiful beaches is attractive.
A retired population that seems to gravitate to gaming locations, and with the wealth of South Florida seemingly so apparent, the consumers are already there.
A premier vacation destination for visitors from around the globe.
My Opinion
Looking out into 2012 and beyond, I see the need is greater than ever to increase revenues within each State in our Union. Gaming is a source of revenue that has a long list of positives that bring increased revenue; mainly job creation and tax revenue. In Florida, it could only add to the state's already enormous attraction as a vacation destination. It has everything to offer, already in place.
If and when (I believe "when" is the key word) gambling casinos do come to South Florida, LVS is the company that is well positioned to benefit rapidly from an enormous growth opportunity.
LVS just might be worth a bet

*Please do your own research before buying or selling any security. This is not a recommendation to buy or sell any stock and is only the opinion of the author.
Disclosure: I have no positions in any stocks mentioned, and no plans to initiate any positions within the next 72 hours.