Rumors are beginning to swirl around Wall Street regarding a potential February 2012 announcement date for Apple's (AAPL) newest incarnation of the iPad. More specifically, some now anticipate that Apple will unveil the iPad 3 on February 24, which, by chance, is also the day Steve Jobs was born.
Beyond being Steve Jobs' birthday, Apple has released things on February 24 in the past. This year, Apple updated the MacBook Pro on February 24, and the company announced Safari 4 on the same date in 2009. Apple also has a history of its shares running up in advance of device announcements.
Below is a recent chart of Apple's share performance (click to enlarge):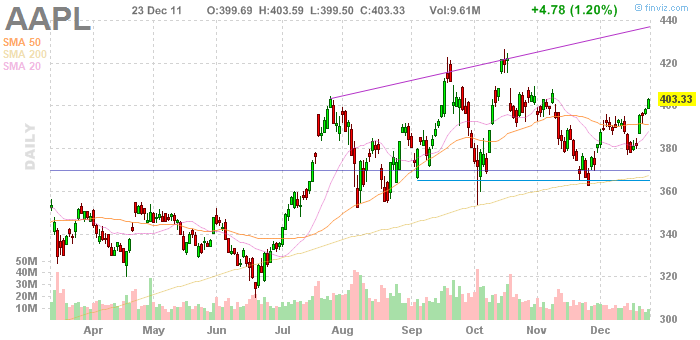 Many have also begun to speculate that the widespread expectation of a forthcoming iPad 3 kept many consumers from purchasing the iPad 2 for Christmas. Similarly, Apple recognized a drop in iPhone 4 sales during 3Q 2011, while consumers waited for the update that was launched late in the quarter.
The same thing also occurred with MacBook Air and Mac Mini sales during the first half of 2011, as consumers waited out updated versions of the computers. Despite the occasional slow-downs, these products all continue to sell extraordinarily well.
It is unclear what advancements the iPad 3 may hold. One likely upgrade will be to the screen so that it can match the quality of the current iPhone's Retina Display. Other features present on the iPhone 4S are also likely to be included in the newest iPad, such as iCloud inclusion and an 8 mega-pixel camera.
Some have also speculated that the tablet may house a quad core A6 processor. It was also recently discovered that the A5 chips that power the iPhone 4S are made in Texas by Samsung (OTC:SSNLF), one of Apple's greatest competitors in the smartphone and tablet categories. It is also believed that Apple will stick with Samsung for its next generation of chips.
What remains most unclear is whether Apple will finally opt for a smaller version of its popular tablet. Presently, the iPad is only available in a 9.7-inch screen. Meanwhile, several other makers of tablets, such as Samsung, Amazon (AMZN) and Barnes & Noble (BKS) have opted to offer a 7-inch tablet. Due to Samsung's participation in Apple's product line, it appears Samsung has some of the broadest exposure to growth in both smartphones and tablets.
In fact, early holiday sales reports indicate that 7-inch tablet sales growth has exceeded 9.7-inch models, and that more 7-inch tablets were purchased in November of 2011 and possibly also in December. The popularity of 7-inch models may compel Apple to enter the sub-category, possibly offering an iPad mini.
Steve Jobs discussed 7-inch tablets during an Apple conference call in 2010 and claimed that Apple's test studies indicated that the small tablets would not compete. Such has clearly not been the case. Many users prefer a smaller device that can fit into a coat pocket, and are willing to sacrifice some application richness for the enhanced portability. Additionally, many large-screen smartphones have begun to successfully compete against the iPhone.
Another rumor out in the ether is that Apple may introduce a smaller iPad, potentially at the 7.85 inch size, some time before the fourth quarter of 2012, after the release of the iPad 3, but just in time for next year's Christmas shopping.
Disclosure: I have no positions in any stocks mentioned, and no plans to initiate any positions within the next 72 hours.
Disclaimer: This article is intended to be informative and should not be construed as personalized advice as it does not take into account your specific situation or objectives.