Its sad to think that treasuries can rise any more than they are, considering their current price. The treasury bonds almost act as if they are about to reach a peak and the bubble will burst. However, I do believe that for the year of 2012 that treasuries will rise even higher.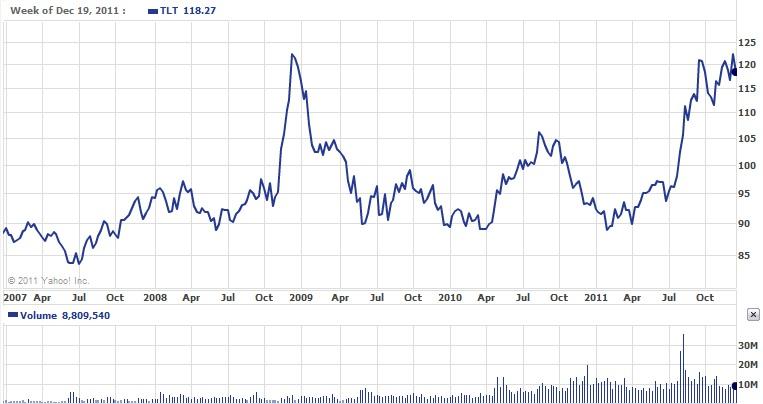 The iShares Barclays 20 Year Treasuries (NYSEARCA:TLT) tracks the 20 year bonds. As you can see from the chart, the bonds are already higher now than they were at the peak of the recession, but I believe that, contrary to many analysts, the bonds will continue to go higher. I know this does sound farfetched if we look at the relative treasury prices, but based on the current global economic trends this is a likely scenario. Investors are selling European bonds due to the risk that it carries. Its hard to believe, but it seems that the U.S. may be one of the safest countries in the world to park your cash. The yields are extremely low, but a chance of default is very unlikely. Italian bonds have been yielding between 6.5% to 7%, which makes their debt fairly expensive.
Even Germany, regarded as the safest country in Europe, last month saw a poor bond offering. Germany tried to raise 6 billion euros, but ended up only raising 3.9 billion euros. Investors believe that the PIIGS will drag down even the stable countries such as Germany and France. This is why investors have been jumping to U.S. treasuries. The TLT being higher than its previous peak during the recession tells us that confidence in U.S. government debt is strong. In 2009, the European debt crisis was not really an issue and wasn't even seen as a potential problem. Even at these levels the TLT will be a great hedge against a drop in equity and bond markets.
Another commodity that should rise in 2012 will be gold. Gold has been on the rise over the past five years and based on the current global economy should continue to rise like the TLT.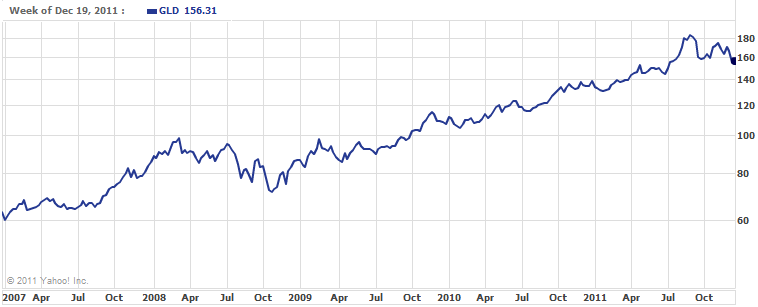 There is a direct correlation between inflation and gold prices. With an increase in stimulus amongst the global economies, inflation is set to rise considerably. Investors will need a strong hedge and gold is said to fill that niche.
Not only will speculation drive up demand for gold, but also there is a lack of supply. Standard Charted PLC predicts that gold supply will increase 3.6% each year for the next five years, while demand is set to outpace that by a wide margin. This is why buying the GLD will be a great way to get exposure on a very highly sought after commodity.
Every investor should consider holding a portion of their portfolio in treasuries and gold. With the European debt crisis the way it is, a slowdown in India and China, and rising inflation, investors are in need of safe havens to store their cash. I believe that treasuries and gold will go higher for the year of 2012.
Disclosure: I have no positions in any stocks mentioned, and no plans to initiate any positions within the next 72 hours.