Once again I am reading all sorts of negative articles about the hazards of owning REITs. Especially Annaly Capital Management (NYSE:NLY). Actually, now is the time to BUY Annaly for 2012 and beyond.
Price: $16.94/share, Dividend Yield: 13.6%, ESS Rating Neutral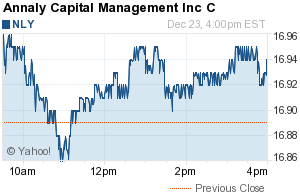 Any of us who have owned Annaly shares and other mREITs, as well as a few non mortgage related REITs, are already acutely aware of the potential headwinds and risks associated with owning shares.
My opinion is that there are no equities anywhere without some sort of risk. If you know of ONE, please let all of us know. It would be the "alpha" we are all seeking: risk free equities that offer capital appreciation and regular dividends.
The major argument of the gloom and doom crowd of mREITs is that the business model will fall apart and they will become unprofitable as interest rates rise, and they can no longer use the yield curve to leverage their business.
There are a bunch more risks as I have outlined in this article, but I would like to specifically address the main core argument of the flattening yield curve that will make it impossible for mREITs to make money.
The Truth of The Matter
The yield curve is flat.
Well, that is simply not true. The yield curve is not quite as steep as it was a year or two ago, but that is and always has been the nature of the fluctuating yields of longer term rates vs the short term rates. Those rates have now been artificially tinkered with by the Fed action of buying bonds longer out on the curve, thereby lowering the yield. The yield of the 10 year bond was hovering around 2.2%, and is now hovering around 2.0% give or take a .10-.15 basis points depending on the day and mood. Operation "Twist" might impact the yield by .10-.15 basis points (as it did when it was last used in the early 60s) but keep in mind, the Fed itself promised to keep short term yields at or near zero for at LEAST 2 more years. That to me is money in the bank right there.
NLY cannot make money with this spread.
This is also not the case. Annaly has navigated difficult environments in the past and has always made a profit. They tend to be more conservative and not abandon their business model by going further out on the curve to achieve temporarily higher returns because shorter terms gives them more flexibility to turn them over. Sort of like keeping a tighter stop loss but giving up some upside potential, but being more conservative at the same time. Mitigating SOME risk. I believe it to be a prudent strategy.
The dividends will be cut.
Yes, this is true. When the mREITs make less profit they will give less out simply because of the special tax status afforded to them by the IRS. There is a mathematical formula that is used in determining what the dividends will be. The Board of Directors of any of these companies do not wake up one day and say "hey, let's give our shareholders LESS this quarter so we can keep more!". It simply does not work that way. The mREIT, NLY in this case, earns less at approximately the same ratio that the dividend is being lowered. Thank goodness, because we WANT them to be able to afford to continue giving us some of the most spectacular dividends on a regular basis. The formula that has been set for them by the government to maintain their special tax status forces them to stick to this plan. Annaly dividends have fluctuated just about every year since they went public.
As dividends get cut, shareholders will sell.
This is also not the case. Just after Annaly announced their 3 cents per share cut, to .57/share, the stock has been bid up, not down. More folks are buying now. This usually happens around ex dividend date for NLY, yet if the consensus was that the "salad" days are over, the price would be bid down right now. That being said, the PPS does tend to dip after ex dividend date, which is a really good time to pick up some shares that might be considered "on sale".
As pre payments increase the company is less valuable.
Again, this is simply not true. Actually, it has the reverse affect in that the BV tends to increase since the company now will have more cash reserves to deploy at the right time to maximize future earnings. The money keeps flowing back into the business, not out of the business. It becomes a good time for more shares to be issued to raise even more capital without diluting the value of the company. While it is true that dividends will need to be reduced as this trend continues, my argument is that given its business model, where else will you find regular dividends of 6-16% regularly in just about any yield environment?
My Opinion
Those investors who seek a steady stream of higher dividends would be hard pressed to find investments that offer these returns with less risk (junk bonds for example), as well as a potential for capital appreciation, although that is not the main reason to own mREITs.
As an income seeking investor, Annaly offers a solid management team, a wonderful track record,the unquestioned 'best of breed" and a current yield at a current price that make it as attractive as ever to own, which I certainly do.
*Please do your own research and understand your own individual investment goals, as well as risk tolerance prior to making any personal decision to buy or sell any equity.
Disclosure: I am long NLY.