Recently, I was asked my opinion on Geron (NASDAQ:GERN) which is a biopharmaceutical company that develops biopharmaceuticals for the treatment of cancer and chronic degenerative diseases. The company has a licensing agreement with Merck & Co. (NYSE:MRK) to develop telomerase cancer vaccine. GERN recently made some major changes that were announced on November 14, 2011; the company will focus on its first-in-class oncology programs. Those include imetelstat for advanced breast cancer, advanced non-small cell lung cancer, a blood-clotting disorder called essential thrombocythemia and multiple myeloma, a bone marrow cancer, and of a therapy called GRN1005, for cancer that has spread to the brain from the breast or lungs.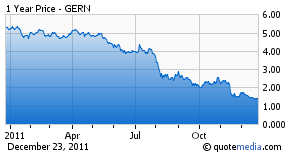 As a consequence, the company will discontinue further development of its stem cell programs and is seeking partners for GRNOPC1, an early-stage human embryonic stem cell-based therapy for acute spinal cord injuries, as well as four other programs with indications including heart disease and diabetes. These novel assets could potentially bring in a decent amount of money for GERN as it may be able to sell the program to a bigger company, such as Teva Pharmaceuticals (NASDAQ:TEVA) or Pfizer (NYSE:PFE).
"Stem cells continue to hold great medical promise," said Geron's CEO, John Scarlett. But a scarcity of capital and economic uncertainties have convinced the company to focus on its two mid-stage cancer candidates, Imetelstat and GRN1005. Geron anticipates having $150 million left at the end of 2011, enough to fund it through important clinical development milestones for both during the next 20 months.
Scarlett said:
By narrowing our focus to the oncology therapeutic area, we anticipate having sufficient financial resources to reach these important near-term value inflection points for shareholders without the necessity of raising additional capital.
Unwinding its stem cell program will cost about $8 million and eliminate about 66 full-time jobs, 38 percent of its workforce, the company estimates.
After the above news, J.P. Morgan downgraded GERN from Overweight to Neutral and removed its GERN December, 2012 price target of $6 in a research report. In the report, J.P. Morgan stated,
As we first indicated after Monday's close, we feel that management's decision to halt its stem cell program and focus solely on the oncology pipeline will be good for GERN in the long run. However, in the near-to intermediate term, we are concerned that the potential lack of strong retail support (which had been driven by the company's cutting edge cell therapies) could leave shares range bound until the cancer pipeline can demonstrate proof-of-concept.
The average price target by analysts is now $4 a share.
In the last 6 months, GERN's stock price has dropped from the $4 level down to a recent low of $1.35. In my opinion, the current stock price of $1.41 represents a bargain buy considering GERN has a $150M cash on hand and a current market-cap of $185M and trading just above its book value of $1.34. I believe buying the stock under its 50 day moving average of $1.73 is a bargain. I would be a seller around the 200 day moving average of $2.69.
GERN insiders currently hold 10.3 million shares or 7.8% of outstanding shares. Director Thomas Kiley purchased 64,275 shares on November 22nd, 2011. This is in addition to the 50,000 shares that he purchased at $2.03 on Oct 5, 2011, increasing his holdings to 314,059 shares. The total 114,275 share purchase by Mr. Kiley is significant given that it is the only insider purchase in at least the last eight years. The share purchase is also a sign of confidence in the company.
Disclosure: I have no positions in any stocks mentioned, but may initiate a long position in GERN over the next 72 hours.