AT&T (NYSE:T) has struggled: It famously failed to acquire T-mobile from Deutsche Telekom (OTCQX:DTEGY) and lost its iPhone monopoly. Definitely not a good year for this Bell. Verizon (NYSE:VZ) shares have outperformed AT&T: Over the last 2 years, Verizon is up 27% while AT&T is up only 5%. Is it time for AT&T to play catch-up?
Both AT&T and Verizon are big telco companies which have bet the ranch on wireless. In comparison to Verizon, AT&T appears undervalued by PE, Price/Book, and fP/E. It has an attractive yield of 5.8%. Recently, it bumped the dividend by a penny, its 28th consecutive yearly increase. Verizon doesn't have this strong record of raising the dividend. With AT&T, you can count on a raise every December. Over time, these additions mount up. The dividends look very attractive compared to AT&T bonds: Even if you buy callable AT&T bonds maturing in 2097, you're only going to get a 5.6% yield!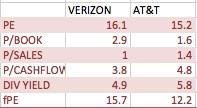 The company has been done well in the smart phone arena, something investors shouldn't discount. It's a story about improving margins from wireless customers.
AT&T like Verizon has gained wireless customers, leaving Sprint (NYSE:S) behind.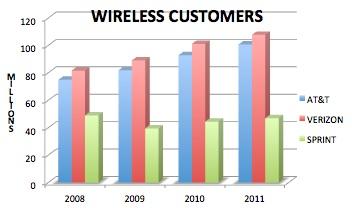 AT&T announced it sold 6 million smart phones after completing just two-thirds of its quarter, driven in large part by Apple's (NASDAQ:AAPL) 4s iPhone. The record for any AT&T quarter is 6.1 million. This quarter should be a strong one, factoring out the one-time loss from the T-mobile breakup fee.
Each year, AT&T is earning more from each wireless customer. Verizon has stalled here while Sprint is in decline.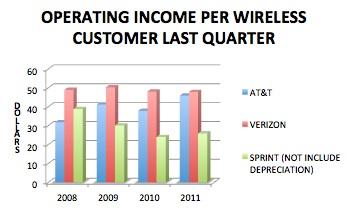 AT&T has improved its wireless segment margins while Verizon's have plateaued.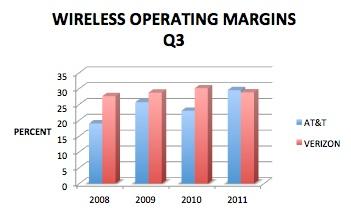 So far, the market has favored Verizon over AT&T. It's a good bet investors will forgive AT&T its recent missteps and focus on its strong wireless business and steadily improving dividends. For investors looking for yield, AT&T is an excellent stock choice.
Disclosure: I have no positions in any stocks mentioned, and no plans to initiate any positions within the next 72 hours.