Research in Motion (NASDAQ: RIMM) has fallen from first among Canadian companies in terms of market capitalization to 57th at just over $7 billion. Quarterly, BlackBerry sales remain as high as they've ever been begging the question, is the fall the result of a fundamental problem or just bad public relations? Mike Lazaridis once said "maybe we're just not good at promoting ourselves, maybe that's the Canadian way" to which I say "yes and no".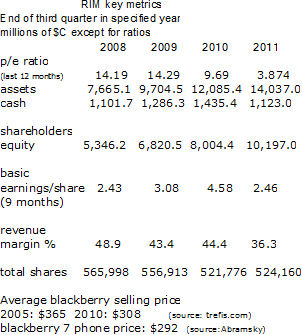 Much of the negativity surrounding the company seems to stem from a slightly negative earnings outlook, but is that really fair? The latest report on revenue is in line with expectations and the company is still a cash cow with $579 million in reported profit since May 28. In fact, RIM has yet to earn less than $265 million in a quarter and that's meaningful considering key competitor Nokia (NYSE: NOK) has two straight quarterly losses under its belt. Nokia's market value and P/E ratio have not fallen to levels seen at RIM despite not having its own dominant platform or prospects of a new one being introduced. Nokia is also increasingly reliant on a less popular Microsoft (NASDAQ: MSFT). Comscore estimated RIM's share of the market for platforms at 18.9% and Microsoft's at 5.6%. The Comscore study also showed that Apple (NASDAQ: AAPL) is the only top five original-equipment-manufacturer gaining market share in the United States. Software applications were also a concern at RIM given that its Apps World only has one sixth as many applications as Android's but that is no longer a problem since RIM now allows Android apps to work on some of its newer products. BlackBerry 7 phones have been shown to be 40% faster than the six and twice as fast as the five, proving that system speed is steadily improving. Sales of the latest BlackBerry 7 phones were seen as healthy by the Royal Bank of Canada and that pushed sales up by 3.5 million units in the third quarter (10.6 to 14.1).
The non-US market should garner a lot of attention considering 64% of 2011 first quarter revenue originated there. Is that really surprising though? Not if you're one of the few who knows that RIM has a 30% market share abroad. This means that unlike Palm, RIM's future doesn't ultimately depend on the North American market. BlackBerry has an impressive six million users in Indonesia, making it the most popular brand in the world's fourth most populous nation. Bandwidth is more limited in developing countries than it is in America and that's good news for BlackBerry which runs on a system that's ten times more efficient than the competition. I think that RIM's advantages in encryption security makes it a major long term player in the United States as well where 90% of companies were hacked in 2010. Don't forget that seventh generation phones also include an additional security upgrade in the form of near field communications.
The pessimist sees fifty-one cents a share earnings as an obvious sign of decline while the realist sees it is an aberration that takes into account unusual occurances. During the third quarter, RIM suffered a $485 million loss on unsold tablets and another $50 million attributable to an October outage. Even the casual observer can see inconsistencies in the valuation with higher valued Motorola Mobility Holdings (NYSE: MMI) reporting a 10.7 cents per share loss and 21 times P/E ratio Nokia coming off its second quarterly loss in a row. Even Google (NASDAQ: GOOG) saw its net income slip 29% in the first quarter as compared to the one prior. RIM's high end products are still in demand and that couldn't be more evident than in Indonesia where a half price sale on the $540 Belagio was enough to cause a stampede in November.
Revenue margin remains healthy at 36% for the last nine months which is only 7% lower than it was in 2010. Apple's iPhone 4 was rejected by America's sixth largest carrier United States Cellular (NYSE: USM) because of issues regarding profitability, meaning RIM is not the only company dealing with tight margins. According to Brigantine Adversors, RIM's sales stabilized in the third quarter, consequently pushing its 2012 outlook up to $19.8 billion from $19.4 billion. Assets actually increased 9% quarter on quarter reaching $14.037 billion and cash nudged back above the billion dollar mark.
Though analysts can't seem to reach a consensus on the price tag for RIM's 1400 patents, the spat between Google and Apple proves there's a market for them. Apple has been on the losing end of patent wars in Germany while HTC Corporation (TSEC: 2498) is suffering the consequences of Apple's patent war with Android and that could keep a couple of new products from reaching the market. Google is also facing mounting pressure from Microsoft which has a claim against newly acquired Motorola Mobility Holdings.
The successor to BlackBerry's current platform will support BlackBerry's own enterprise server giving current IT clients a reason to stay with BlackBerry. New BBX based phones will have the same resolution as the tablet and that puts them on an equal footing with new phones from Apple and HTC. In fact, the next generation of phones might even be thinner than the iPhone.
Now on to tablets. Only Apple appears to have broken through in this market with the iPad 2 expected to dominate again in 2012. iPad may have as much as 90% of a market that will be 42% bigger. Strong growth figures in tablet sales means that even companies with declining market share like RIM can still hope to see shipments increase or at the very least stabilize. Other projections have the iPad at only 60% if Android tablets like Kindle Fire prove popular. Another factor to keep in mind when sizing up the Playbook's success is that top US carriers Sprint (NYSE:S) and Verizon (NYSE:VZ) have yet to sign on, meaning RIM has to do all the advertising on its own.
The company is still focused on innovating as evidenced by the 3.4% growth in spending on research and development. RIM's piece of the pie is a mere one-percent, but even that is enough to give it tablet sales of 150,000 over the last three months. Amazon's (NASDAQ:AMZN) Kindle Fire reported 4G network internet connection glitches leading to a number of complaints and that sparked rumours that returns may cut into profits. RIM's $369 million spent on research in development represents 3.4% growth and means that it's still innovating.
2011 will go down as a strange year for RIM. Investors responded to a 35% increase in subscribers and no significant fall in BlackBerry unit sales by pushing the price down 77%. BlackBerry quarterly sales ended the year at 14.1 million which compares nicely with the record 14.2 million last year. So go ahead and value the company at liquidation prices, but you could be remiss. Low end price estimates for RIM can be calculated using the net present value of future earnings or simply by adding up the sum of its parts which is probably between $15 and $18 a share.
Disclosure: I have no positions in any stocks mentioned, and no plans to initiate any positions within the next 72 hours.