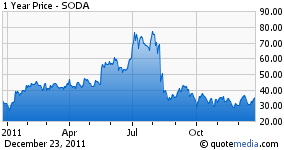 SodaStream (NASDAQ:SODA) has received a lot of popularity as of late and was considered to be one this year's hot gifts during the holiday season. Since the beginning of August, the stock dropped by over 50 percent after an earnings report that failed to impress investors. However, there is some merit to SodaStream being a product that can be on the market for a long time. In this article, I explain why SodaStream is currently a "Strong Buy."
SodaStream has only one system, but essentially sells four different products. These are soda makers, CO2 cylinders, carbonation bottles, and flavor bottles. The soda maker is a one time cost to the consumer at $50. The CO2 cylinders, carbonation bottles, and Flavor bottles are consumable products. SodaStream expects an average American user to use 4 CO2 Cylinders, 2 carbonation bottles, and 8 flavor bottles per year. CO2 cylinders are given through an exchange program, carbonation bottles retail for about $10 each, and flavor bottles retail for about $4.99 each. The most recent SodaStream 6K claims that it will generate $34.75 in revenue per consumer per year after the initial soda maker purchase. A complete starter kit costs $79.99 on www.bestbuy.com and is $20 cheaper than the competing Genesis Home Soda Maker starter kit. The SodaStream website claims it costs consumers about $0.25 for a can's worth of soda and $0.25 for a liter of sparkling water, which is significantly cheaper than buying soda at the supermarket.
What has made SodaStream so attractive to investors is how the company redefined the industry value chain. With transportation costs becoming more expensive, transporting an inexpensive liquid like soda seems foolish when there are other alternatives. SodaStream has been around for over 100 years, but the system adds a lot more value when high transportation costs come into play. For example, most restaurants use fountain beverages to cut down on beverage costs. Coca Cola (NYSE:KO) and PepsiCo (NYSE:PEP) have historically only produced concentrates and syrups and then had independent bottlers bottle the beverages (Pepsi recently acquired its bottler). SodaStream has simply applied what Coke and Pepsi have done to a household level.
When looking at SodaStream from a valuation standpoint, there's a lot to consider. Carbonated beverages are a $264 billion industry dominated by 2 companies. If you've asked yourself why SodaStream does not distribute its product through grocery stores, it's mainly because of the presence of Coke and Pepsi in supermarkets. SodaStream currently occupies less than 0.1 percent of the industry and revenue is expected to increase by 24.4 percent to $262.86 million in 2012. SodaStream currently trades at a P/E ratio of 26, with a 1 year forward P/E ratio of 23.84. The company is accurately valued based on analyst estimates. Investors will see big returns on SODA only if the company can significantly beat earnings. With SodaStream's business model playing into a "green household" (the company claims on its website it has saved customers over 1.5 billion bottles), I believe that the product will become more popular and it can potentially beat earnings over the next few quarters. I firmly believe that SODA can be a $50 stock again in 6 months from now with its high margin products, large reach, and unique position in such a large market.
Disclosure: I have no positions in any stocks mentioned, and no plans to initiate any positions within the next 72 hours.